Despite the COVID-19 pandemic interrupting the majority of industries across the globe, home building witnessed a boom not seen since before the Great Recession in 2008.
Now there are clear signs that momentum is waning, according to an analysis by NeighborWho.
We examined the number of single-family home building permits issued in recent years in 384 metropolitan statistical areas (MSAs) across all 50 states and the District of Columbia. While most states saw double-digit growth in new building permits last year, in the first four months of 2022 only five states and the District of Columbia had double-digit growth; 37 states have seen declines this year.
Key takeaways
At -25.8%, Pennsylvania had the largest percentage decline in building permits issued in 2022 so far. Iowa saw the second-largest decline in building permits issued (-23.4%). Finishing out the top-five states for declines are Delaware (-20.9%), Minnesota (-20.8%) and Michigan (-19%).
Nationally, there were 377,713 new home permits issued from January through April, a decline of 1.7% from the same time period last year.
Other key takeaways
New Mexico was the runaway leader in year-over-year increase in building permits issued at 47.9%. This represents a whopping 73% margin over second-place Montana (27.6%). The District of Columbia ranked third, with 16.5% growth. The other three states that have posted double-digit growth thus far in 2022 are Wyoming (15.5%), North Carolina (14.1%) and Florida (10%).
Texas, Florida and North Carolina see the most total new home permits so far this year. Texas (64,222) and Florida (51,200) both authorized over twice as many permits as third-place North Carolina (25,534), followed by the most populous state, California (23,313), and Georgia (18,106).
The Houston metro area is top for total number of planned-housing starts. No metro area has been as aggressive in recent years in issuing home-building permits than the Houston metro area, with 19,841 new home permits so far this year.
"This metro area has been the top home-builder the past two years, with more than 100,000 approved housing starts since 2020," said Julianne Ohlander, a data analyst for NeighborWho. "The trend is continuing this year with nearly 20,000 permits issued so far, which is over 10% more compared to the first four months of 2021."
Ranking second was the Dallas-Fort Worth area (17,898), although the year-over-year growth in this MSA was less than 1%. Next were the Phoenix (12,872), Atlanta (10,137) and Austin, Texas (8,441), metro areas, yet all three saw year-over-year drops in new building permits.
Smaller metro areas saw the largest percentage increases and decreases in new home permits. With 610 building permits so far this year, the Hickory-Lenoir-Morganton metro area in North Carolina had the highest percentage increase so far, with a 15,150% increase after having only four building permits issued during the first four months of 2021.
St. Cloud, Minnesota, was second, with a 6,550% increase, followed by Lima, Ohio (5,000%), the Kingsport, Tennessee, metro area (3,928.6%) and St. Joseph, Missouri, metro area (2,900%). "All of these smaller metros had very few permits issued the previous year, hence the huge percentage increase," Ohlander said.
The largest year-over-year decreases were found in the Albany-Lebanon, Oregon, metro area, with a 61.5% decline, followed by Springfield, Ohio (-57.8%), Kokomo, Indiana (-44.7%), Trenton-Princeton, New Jersey (-44.3%), and Yakima, Washington (-41.7%).
While new-housing starts shot up due to increased demand during the pandemic—eclipsing one million home starts last year for the first time since 2005—moves by the U.S. Federal Reserve to rein in inflation appear to be breaking the home-building momentum.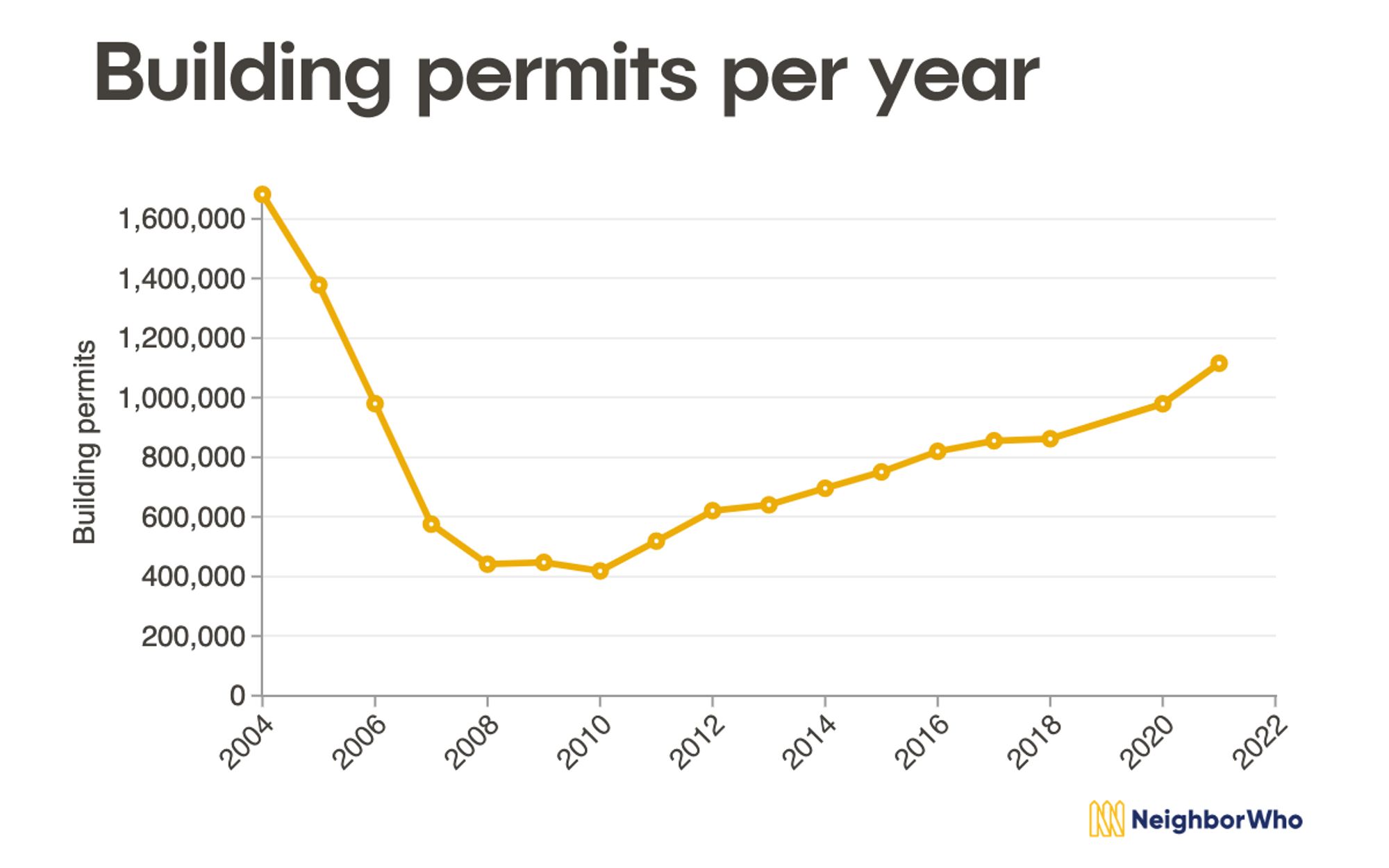 Median home prices rose 21% the past year. Coupled with rising interest rates, that represents a $660 monthly payment increase, according to Realtor.com. "Many prospective buyers who were once on the brink of being able to afford a monthly mortgage suddenly found themselves priced out of home ownership due to 30-year-fixed-mortgage interest rates nearly doubling, from 3% to 5.47%," Ohlander said.
Meanwhile, the U.S. Commerce Department recently reported that the backlog of uncompleted homes is at a historic high due to continued supply-chain issues and home-builder labor shortages. "So inventory of new homes remains low compared to demand," Ohlander said.
"The potential silver lining for prospective homeowners is that higher interest rates may cool skyrocketing property listing prices as new inventory slowly makes its way onto the market," Ohlander said. "But that remains to be seen."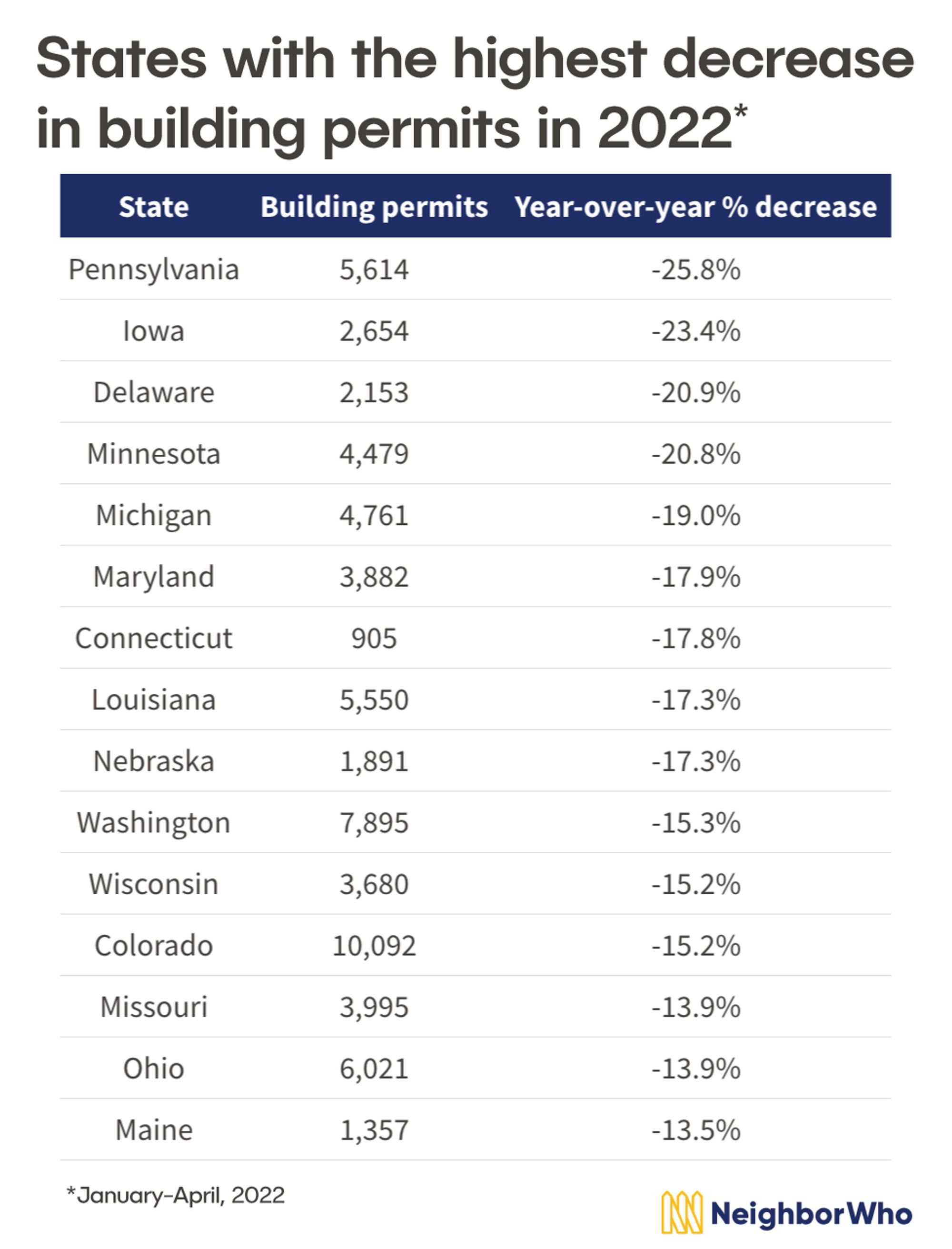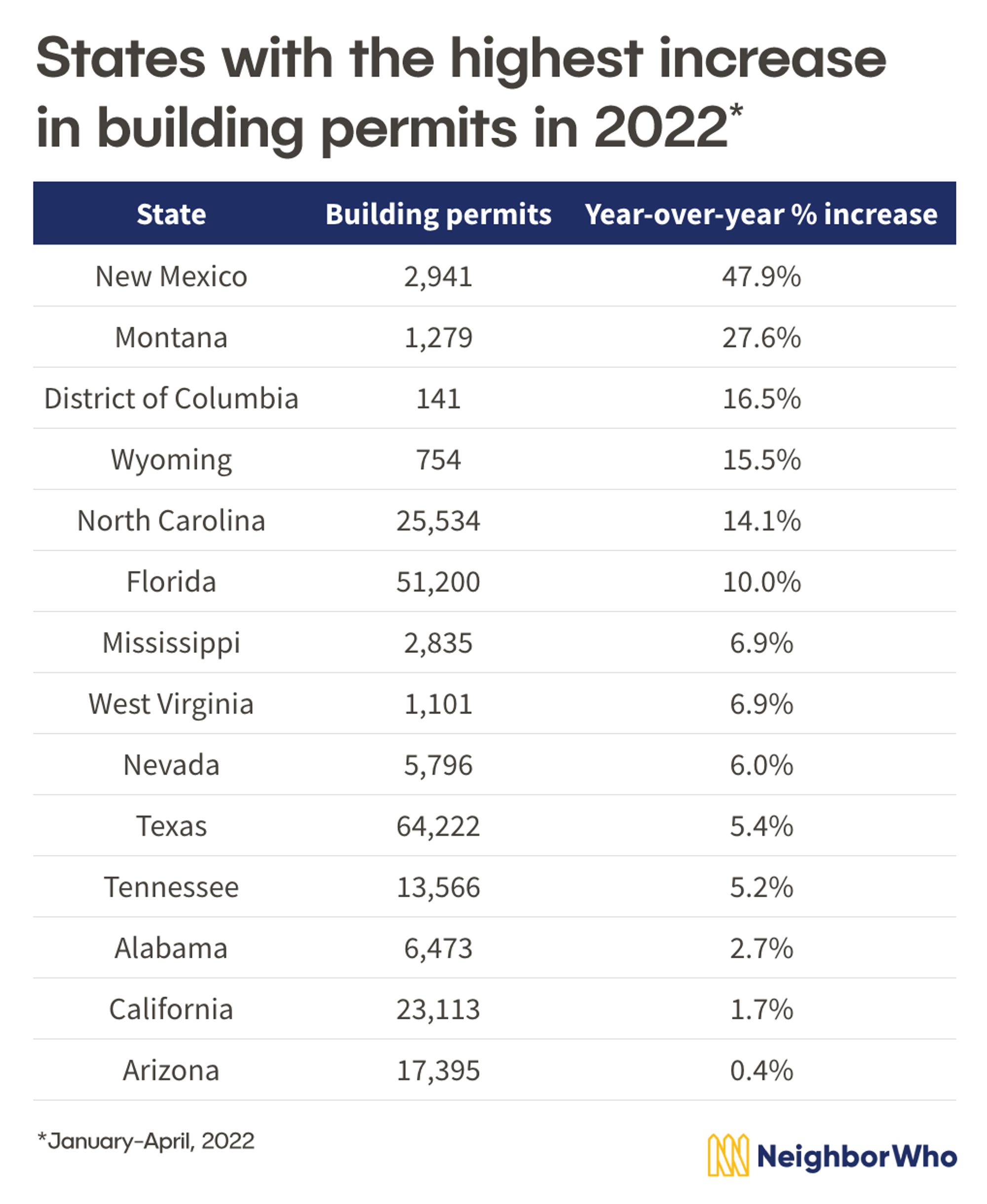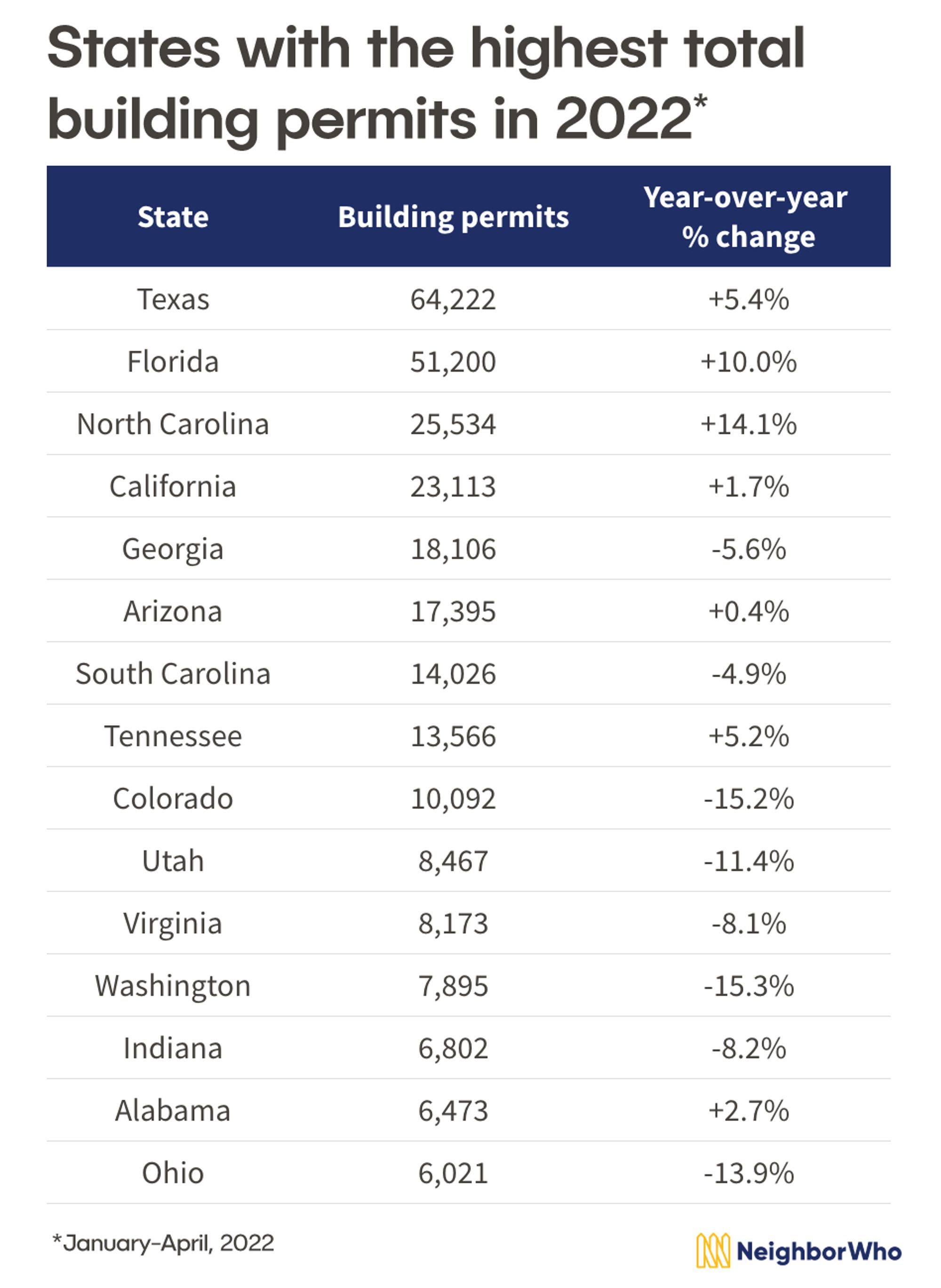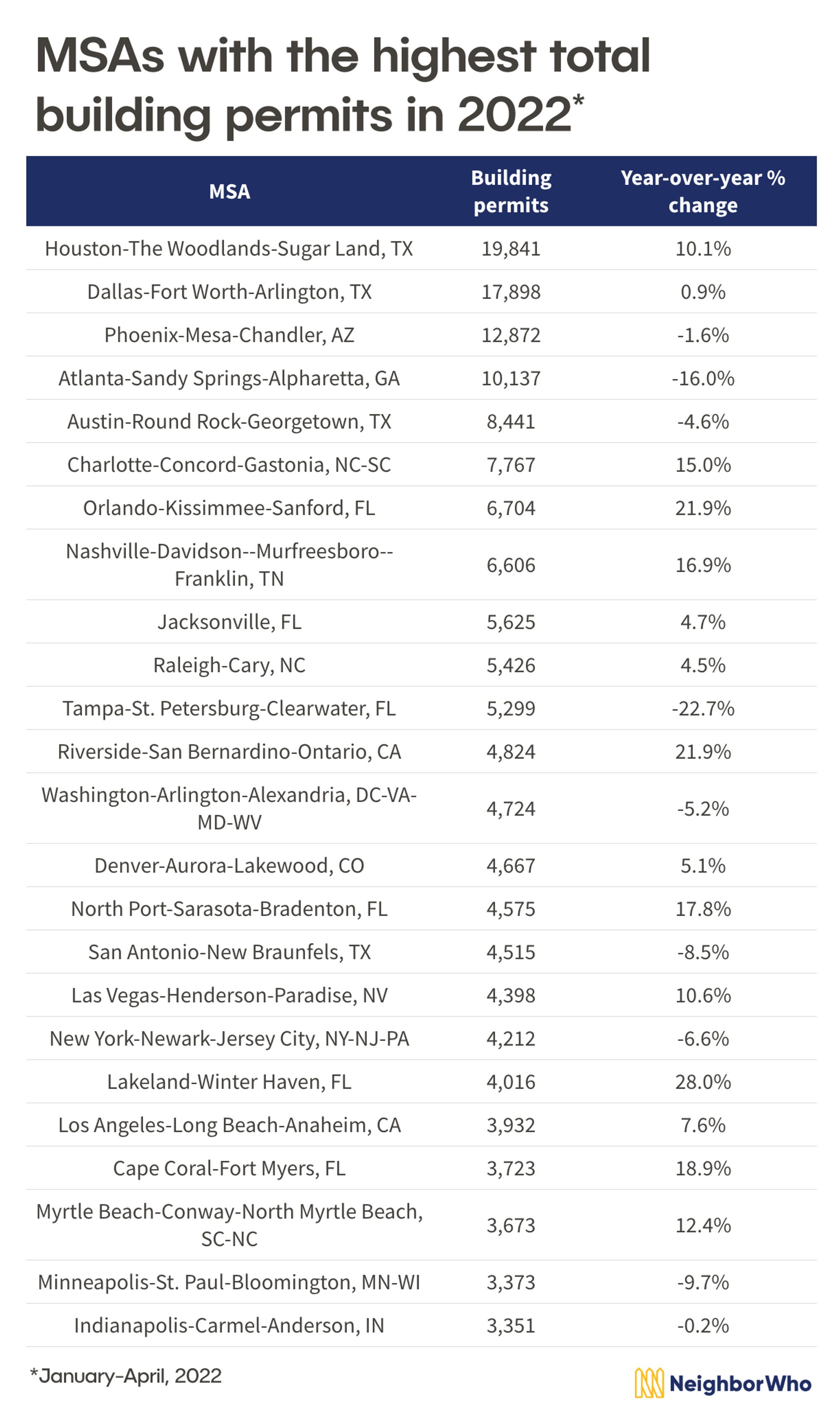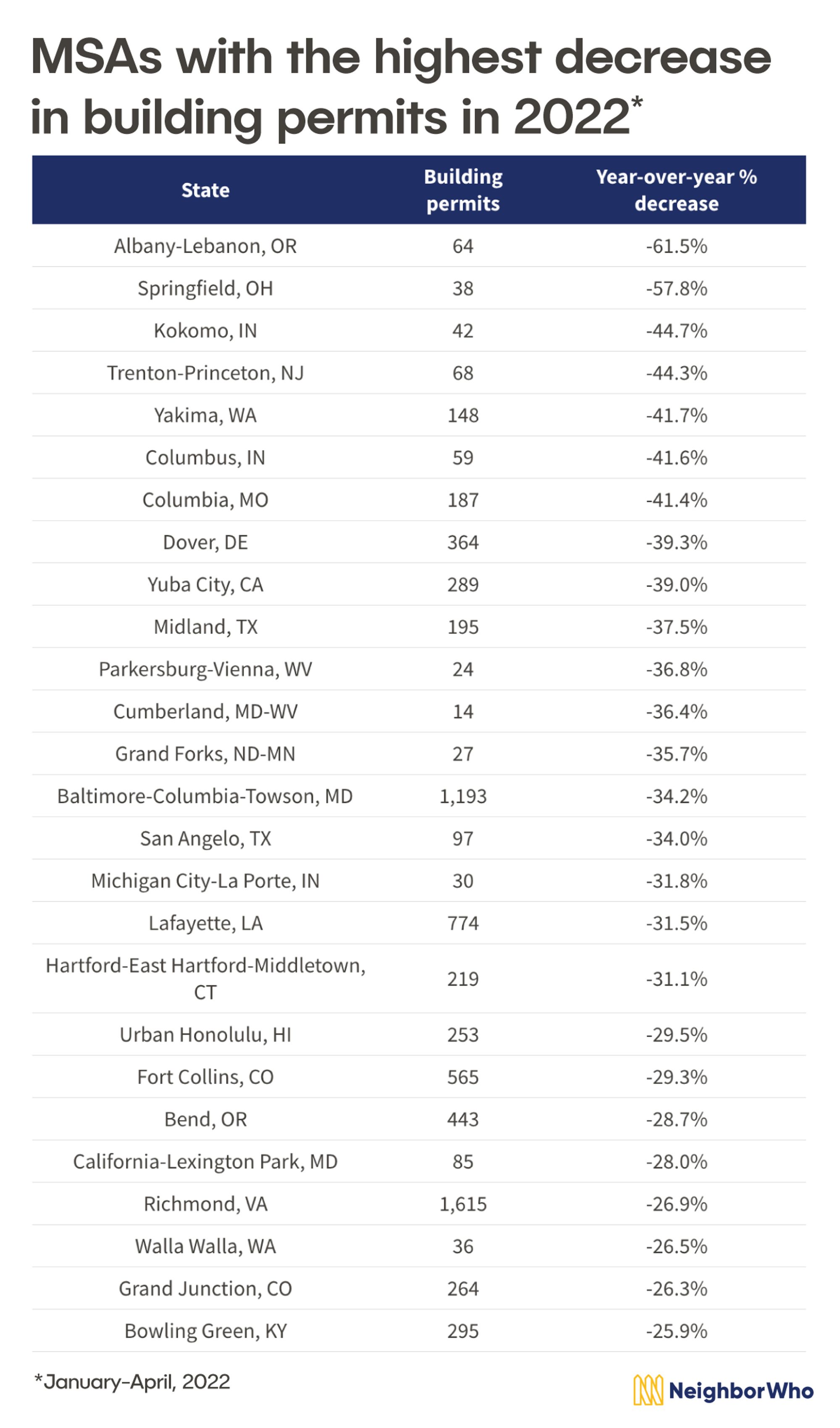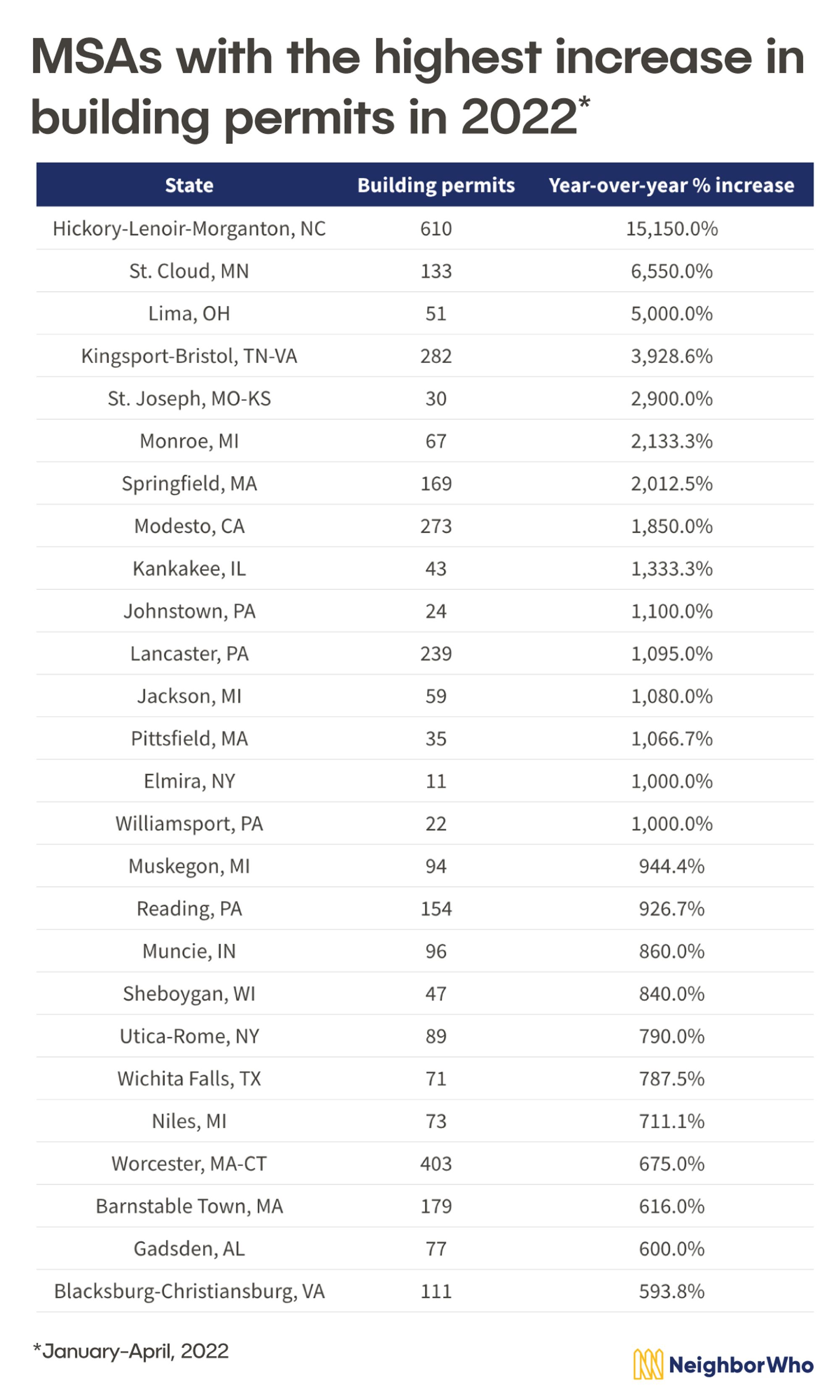 Methodology
NeighborWho examined single-family home unit permit data from the U.S. Census Bureau from January 2019 through April 2022. We sifted through 384 metropolitan statistical areas in all U.S. states and the District of Columbia.
For more information, contact Kerry Sherin, [email protected]
About NeighborWho
NeighborWho's mission is to help people find in-depth information about properties and property owners for real estate professionals and homeowners, including search tools that help users delve deeper into the ownership history of a home.