While the pandemic hit a number of industries hard in 2020, new housing starts for single-family homes increased nearly 14% compared to 2019, adding almost 1 million new homes to the US market, property search company NeighborWho reports.
The more than 979,000 new homes represent the largest number of building permits issued since 2007 before the housing market collapsed in the Great Recession, according to an analysis of government data.
NeighborWho examined newly released 2020 single-unit home building permit data from the US Census Bureau to find which cities and states had the highest percentage increase in this new home construction boom and the highest total number of housing starts.
Top takeaway
Most US housing starts since 2007. Nationwide, single-unit home building permits increased 13.6% from 2019, adding 979,360 new homes under construction to the housing market. By comparison, home building starts in 2019 increased by less than 1% from the previous year.

The last time the US saw that many new home construction permits was 2007, when 979,889 single-unit building permits were issued. But the 2020 figure is still well below 2005, when 1.6 million home building permits were granted.
Other key takeaways
Delaware and Arizona lead in percentage increase of new homes. Delaware (27.4%), Arizona (24.4%), Nebraska (23.0%), North Dakota (22.9%) and Utah (22.6%) posted the highest year-over-year percentage increase in single-home building permits in 2020.
Texas and Florida dominate the total number of new single-family homes. States with the highest total number of new home starts in 2020: Texas (158,242), Florida (115,250), North Carolina (60,505), California (59,043) and Georgia (47,982).
The top metropolitan areas that saw the highest year-over-year increase in new home builds were mostly in the South and Midwest. San Angelo, Texas (142.4%), Lynchburg, Virginia (125.8%), Binghamton, New York (107.8%), Muncie, Indiana (100.0%) and Mansfield, Ohio (91.2%) had the highest year-over-year percentage increase in home builds among metropolitan areas
Texas metro areas led in 2020 new housing starts. Two Texas metropolitan areas—Houston-The Woodlands-Sugar Land (49,915) and Dallas-Fort Worth-Arlington (44,005)— totaled the highest number of new home starts last year. Arizona's Phoenix-Mesa-Chandler area (31,658), the Atlanta-Sandy Springs-Alpharetta area in Georgia (28,632) and the Austin-Round Rock-Georgetown area in Texas (22,570) rounded out the top five.
NeighborWho compared data from 386 American metropolitan statistical areas, which have an average population of 50,000 or more people. Housing starts is an economic indicator based on data where new home building construction has begun.
"The 2020 home-building increase was due to two big factors that were, we believe, both pandemic-related: historically low mortgage interest rates and greater demand to move to new locales in the wake of COVID-19," said Michael Pugh, a data analyst for NeighborWho. "We expect to see this trend continue into 2021 as the economy recovers and more companies become amenable to online distance work."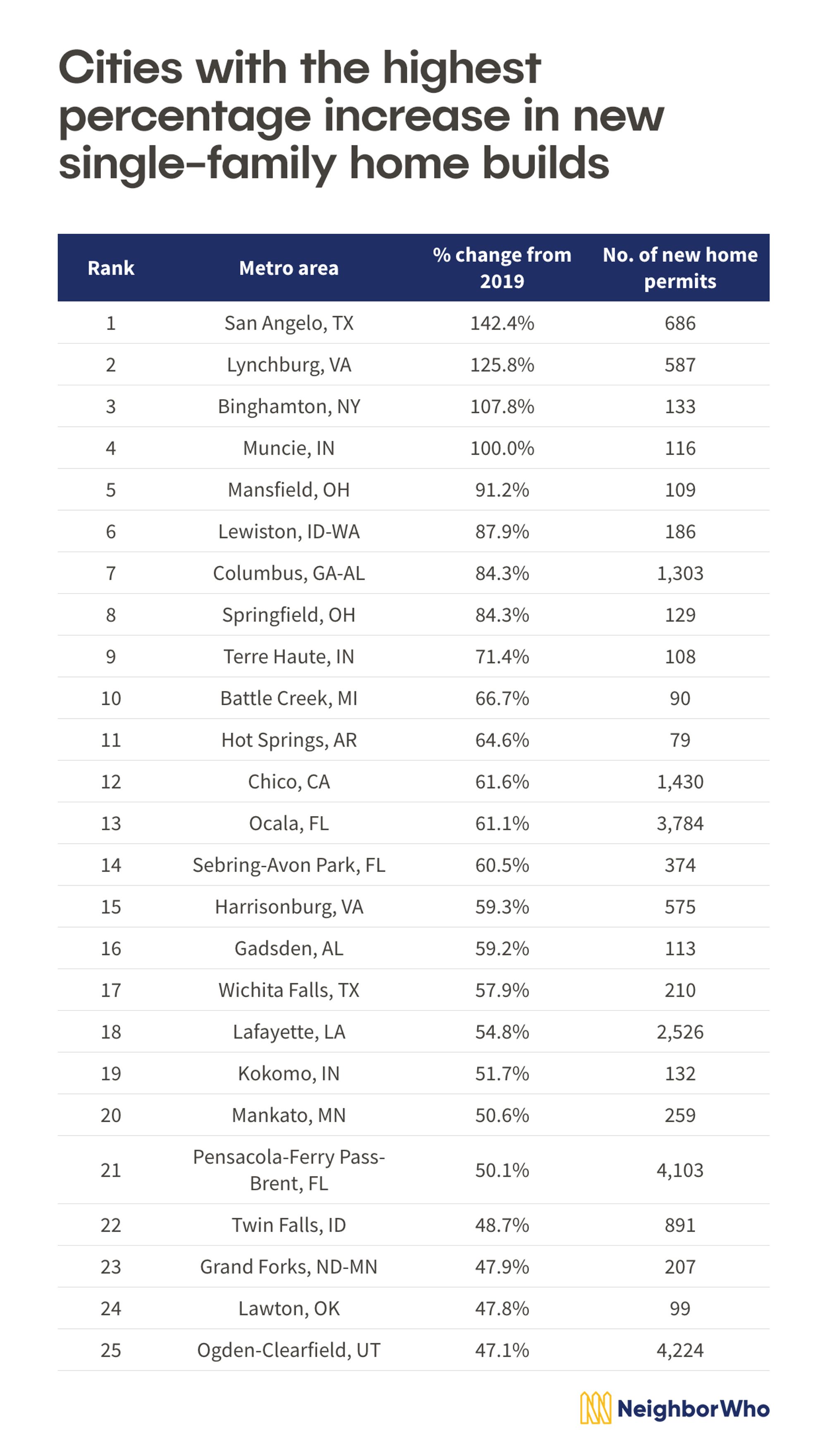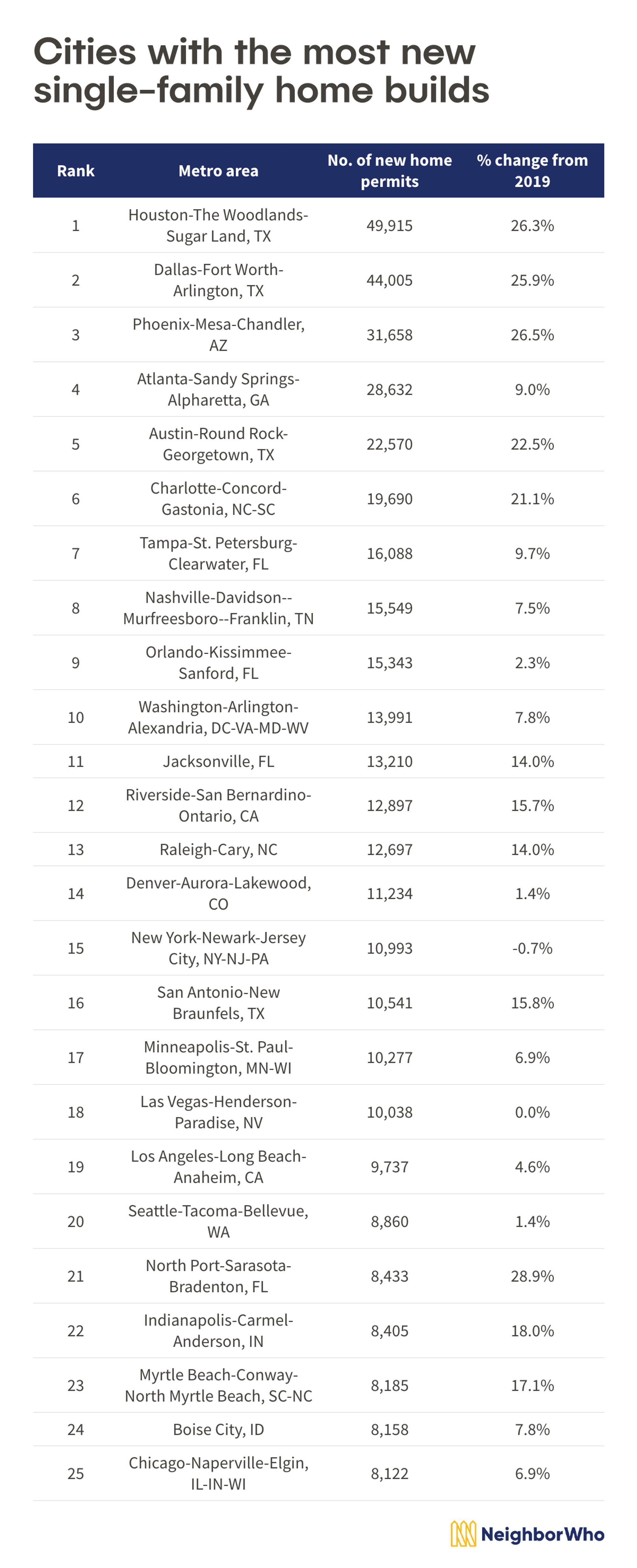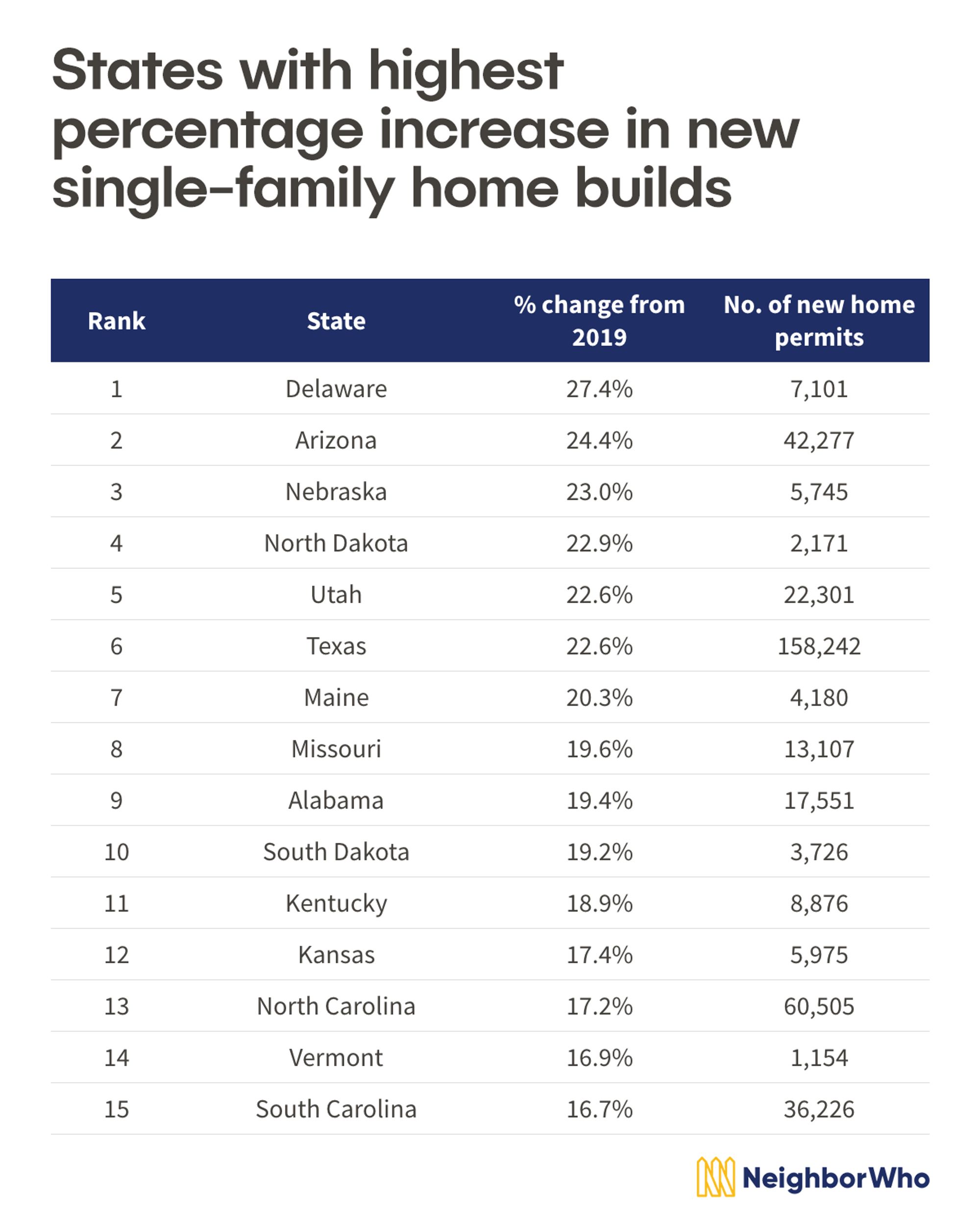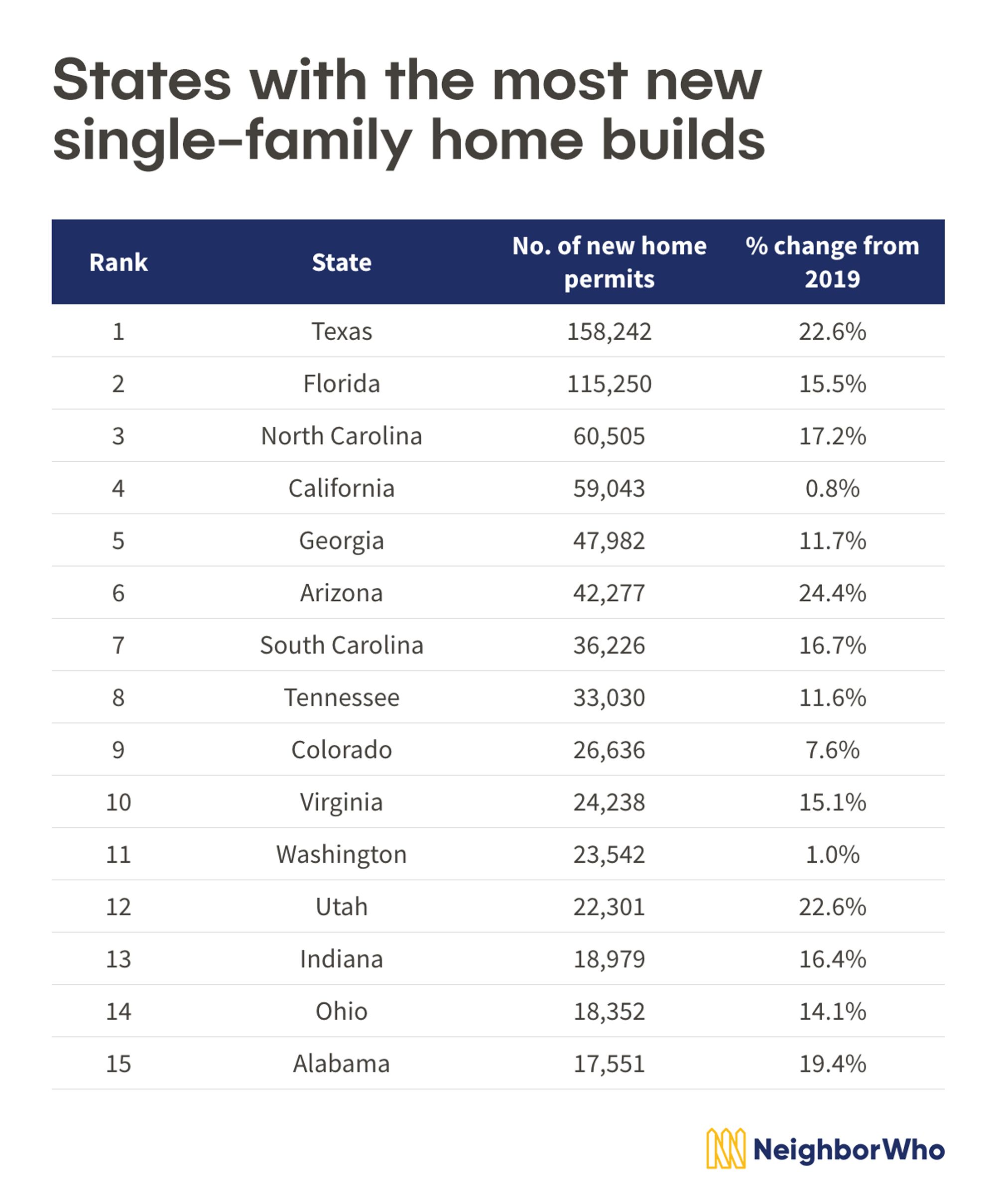 Methodology
NeighborWho examined 2020 single-family home unit permit data released by the US Census Bureau on May 3, 2021. We sifted through 386 metropolitan statistical areas in all US states and the District of Columbia.
For more information, contact Richard Gargan at [email protected].
About NeighborWho
NeighborWho's mission is to help people find in-depth information about properties and property owners for real estate professionals and homeowners, including search tools that help users delve deeper into the ownership history of a home.