If you've considered living in Washington, DC, there is a lot more to the nation's capital than Beltway politics. From the cost of living and commuting to the best schools and the area's crime rate, learn about what it's really like to live in Washington, DC, as well as get to know the city's most popular neighborhoods.
Living in Washington, DC: What to expect
Washington DC is not only the nation's capital but you'll also find a variety of historical institutions and attractions such as the Smithsonian museums, National Zoo, Washington Monument, Lincoln Memorial. Plus, you're close to Virginia and Maryland.
Even if you're already drawn to Washington's appeal, there are various factors you'll want to consider before making the decision to move there, such as how reliable public transportation is, average commute times, quality of public schools and year-round weather. Read on to see how these areas measure up.
Walkable areas in Washington, DC
Washington, DC has a Walk Score rating of 76, indicating that it's a great city for exploring on foot. Some of the most walkable neighborhoods include Georgetown, Dupont Circle, the U Street Corridor and Penn Quarter-Chinatown, which all have myriad restaurants, museums, landmarks and entertainment attractions.
Washington also offers more reliable public transportation than many other metropolitan areas, with its Metro system's regional bus and rail public transit system serving the city and the Virginia and Maryland suburbs. The Metrorail system is made up of six color-coded lines that serve as an efficient way to commute to work while also beating traffic and saving on gas and parking expenses. It's also a great option for commuting to the city for leisure activities to cut down on the stress of finding a place to park.
Best public schools in Washington, DC
According to Public School Review, Washington, D.C. has one of the highest concentrations of top-ranked public schools.
Of its 223 public schools, the top-rated schools are Benjamin Banneker High School and School Without Walls High School. U.S. News ranks the following elementary and middle schools based on enrollment and the top three high schools based on national ranking:
Top 3 elementary schools
Lafayette ES
Janney ES
Oyster-Adams Bilingual School
Top 3 middle schools
Columbia Heights Education Campus
Deal Middle School
District of Columbia International School
Top 3 high schools
School Without Walls High School
Benjamin Banneker Academy High School
Basic DC
Commute time in Washington, DC
The DC area has a reputation for having some of the longest commute times in the country. According to NPR, the average DC worker spends 43 minutes each way commuting to work and back every day. This statistic includes people commuting in a variety of ways, from utilizing public transit or taxi and rideshare services to biking or driving alone.
According to the Census, commute times in the Washington-Arlington-Alexandria, DC-VAMD-WV metro area is an average of 35.6 minutes, which is similar to the commute time you might have in the San Francisco-Oakland-Berkeley, CA, metro area.
Washington, DC weather
Temps vary from as low as 29°F in winter to 88°F in the summer. Washington's yearly weather is relatively mild compared to other parts of the country. While winters are cold, severe snowstorms tend to be rare.
Washington is also famous for its beautiful springtime climate, when its flowers blossom around the city. Its Cherry Blossom Festival alone attracts more than 1.5 millions visitors annually. Summers are known to be hot and humid, but once fall hits, Washington's climate is ideal for outdoor activities.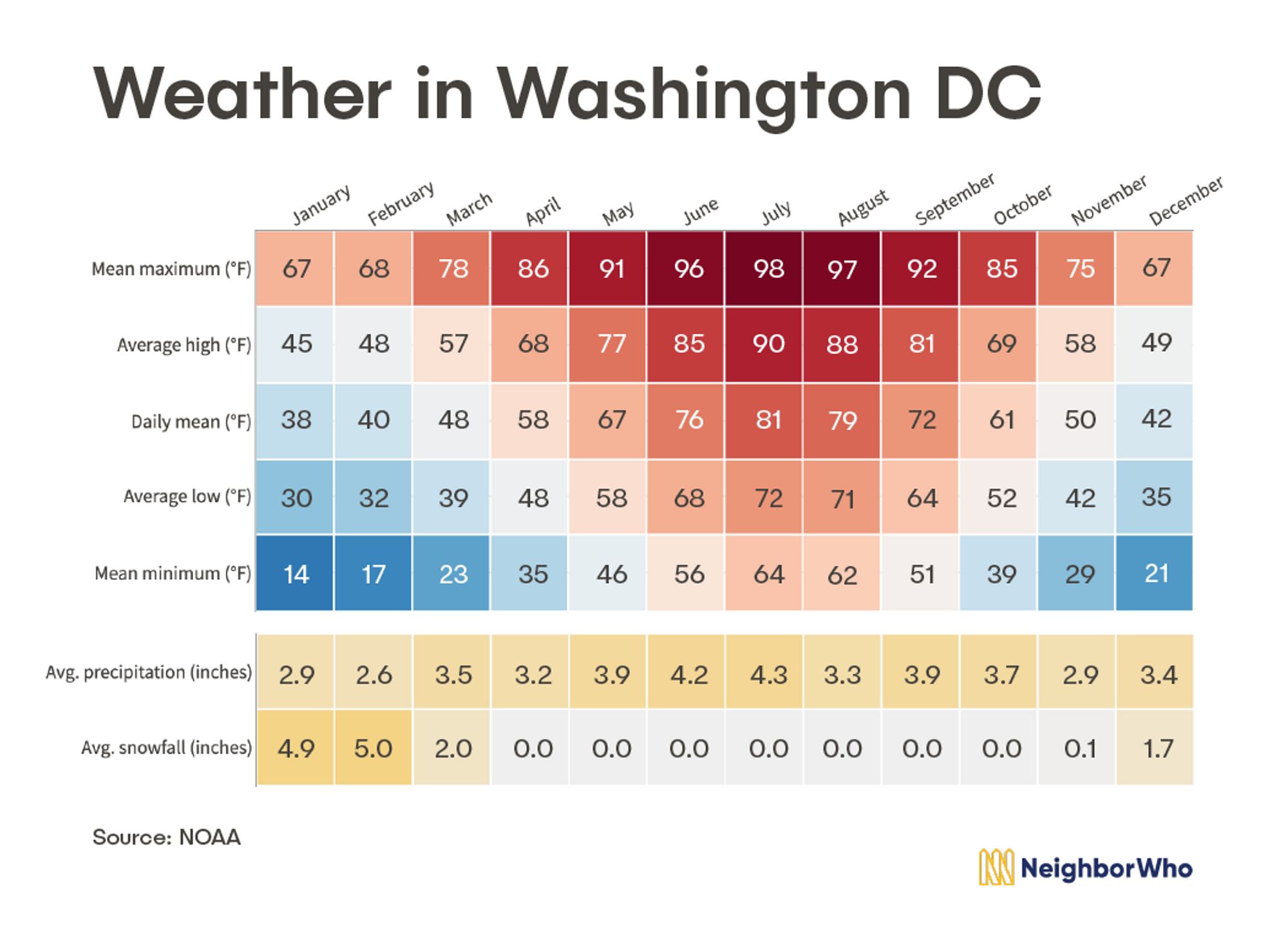 Washington, DC crime rate
Washington has an F-rating for crime, according to AreaVibes. When it comes to violent crime, there were more than 4,000 and 2,000 assaults and robberies, respectively, and more than 300 and 100 rapes and murders, respectively, reported in 2019.
For property crime, there were nearly 26,000 thefts, nearly 2,000 burglaries and more than 2,000 vehicle thefts in 2019. However, the crime rate is lower than average compared to other metro areas of similar size.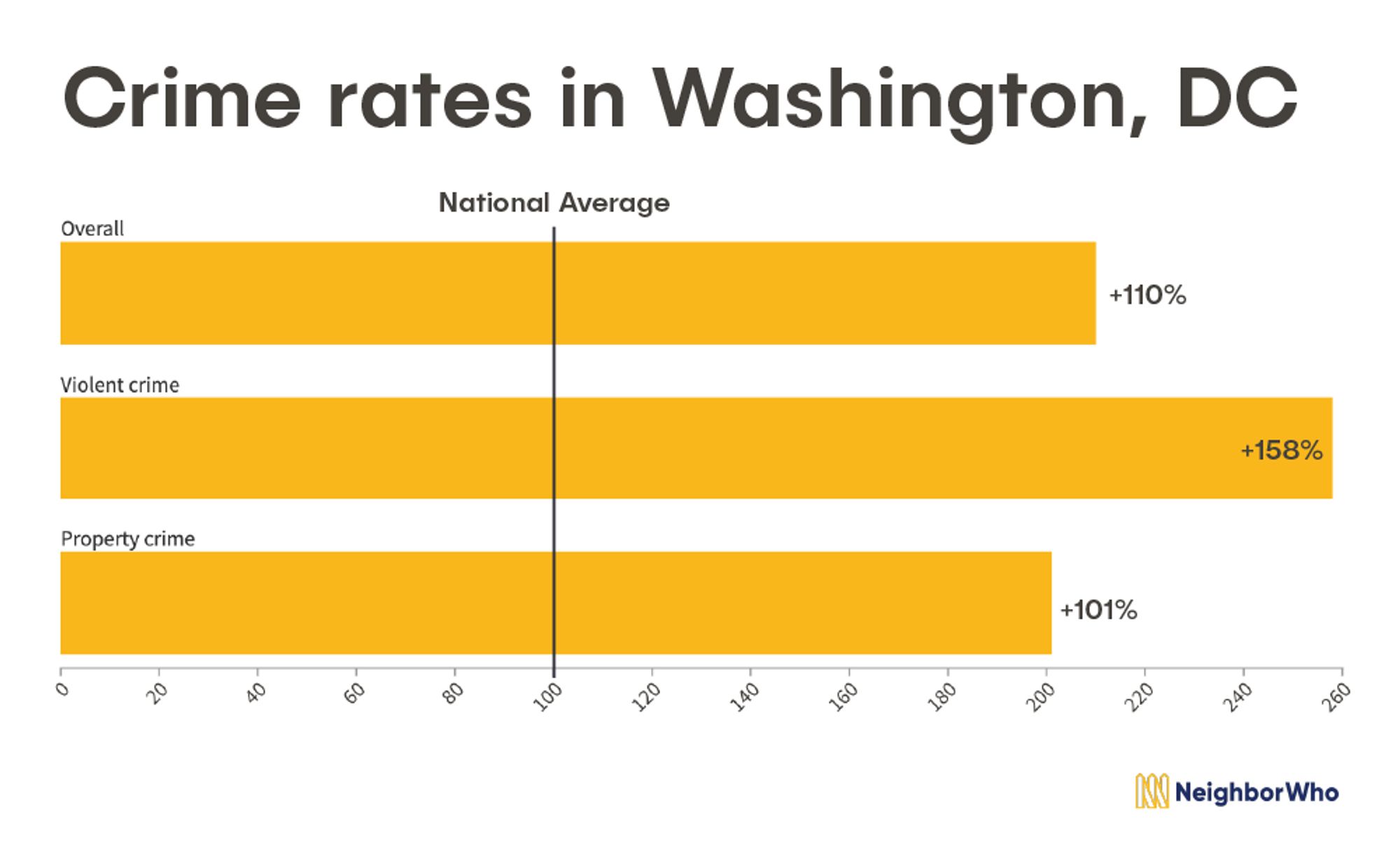 Washington, DC city population
The 2020 Census reported Washington's population as 689,545. That's up 14.6%, or just under 30,000 people, over the previous decade, making for the seventh-highest growth rate in the nation. Between 2010 and 2020, Washington's population increased by almost 88,000 people.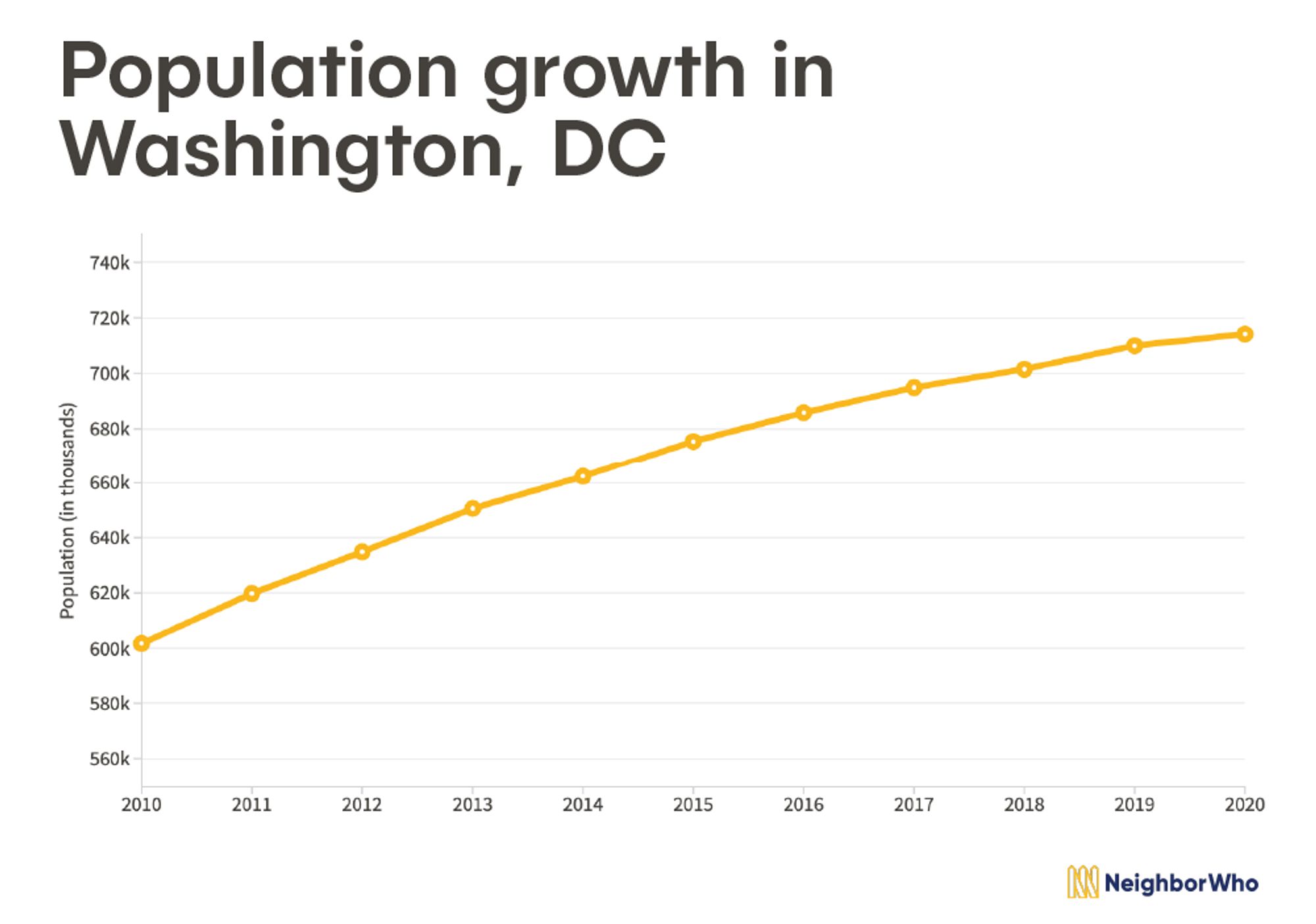 Cost of living in Washington, DC
Washington is one of the most expensive cities in the US. Its cost of living is currently 39% higher than the national average, and housing expenses alone are 148% higher than the national average. The median household income in Washington was reported as $86,420 from 2015-19, according to Census Bureau data."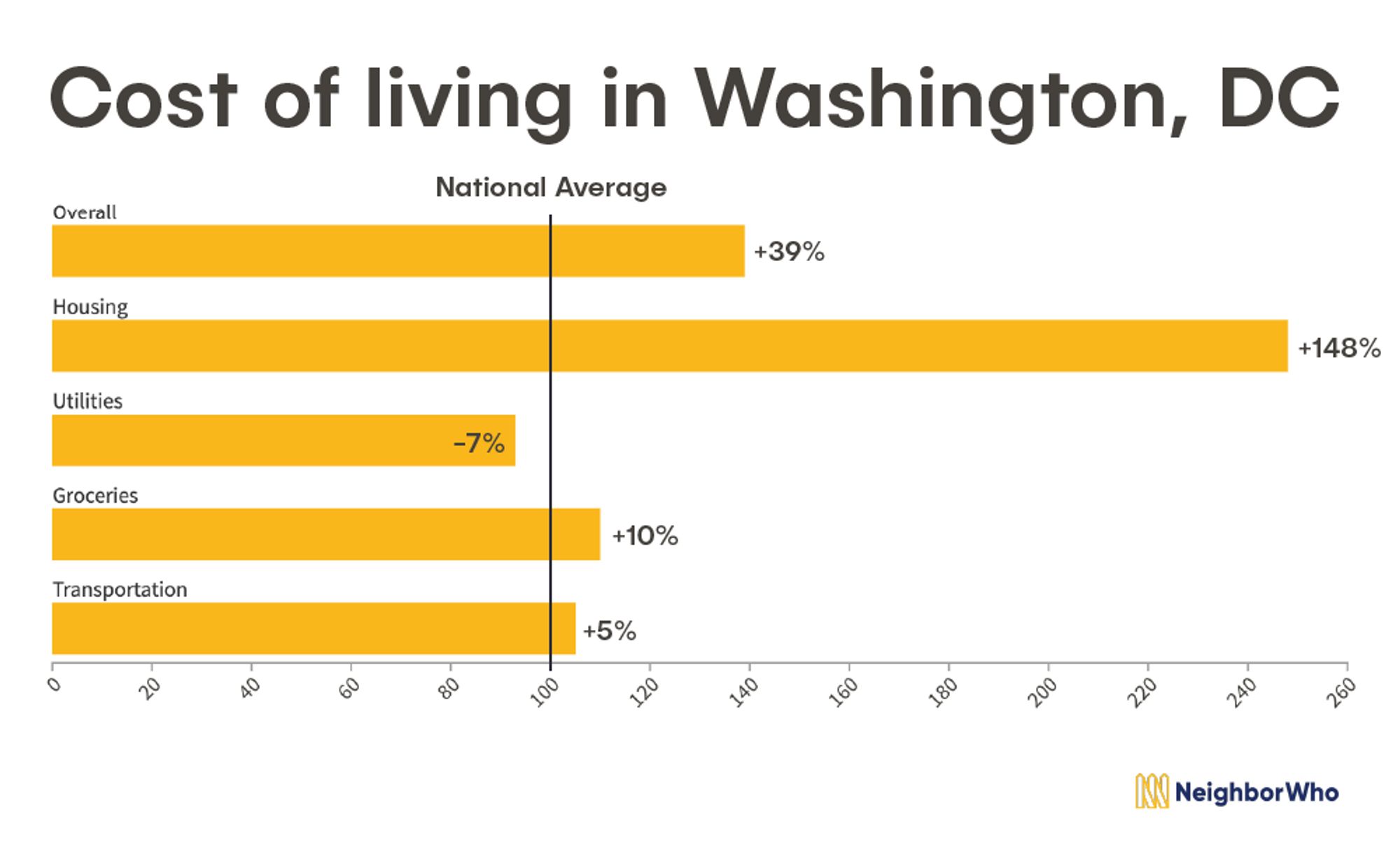 Washington, DC, neighborhood map
Top 5 Washington, DC area neighborhoods
Some of the most sought-after neighborhoods in the Washington area include Bluemont, Radnor/Fort Myer Heights, Ballston/Virginia Square, Clarendon/Courthouse and Colonial Village. Michelle Doherty, a real estate agent with RLAH in Arlington, Virginia, shared some things to know about each one.
Bluemont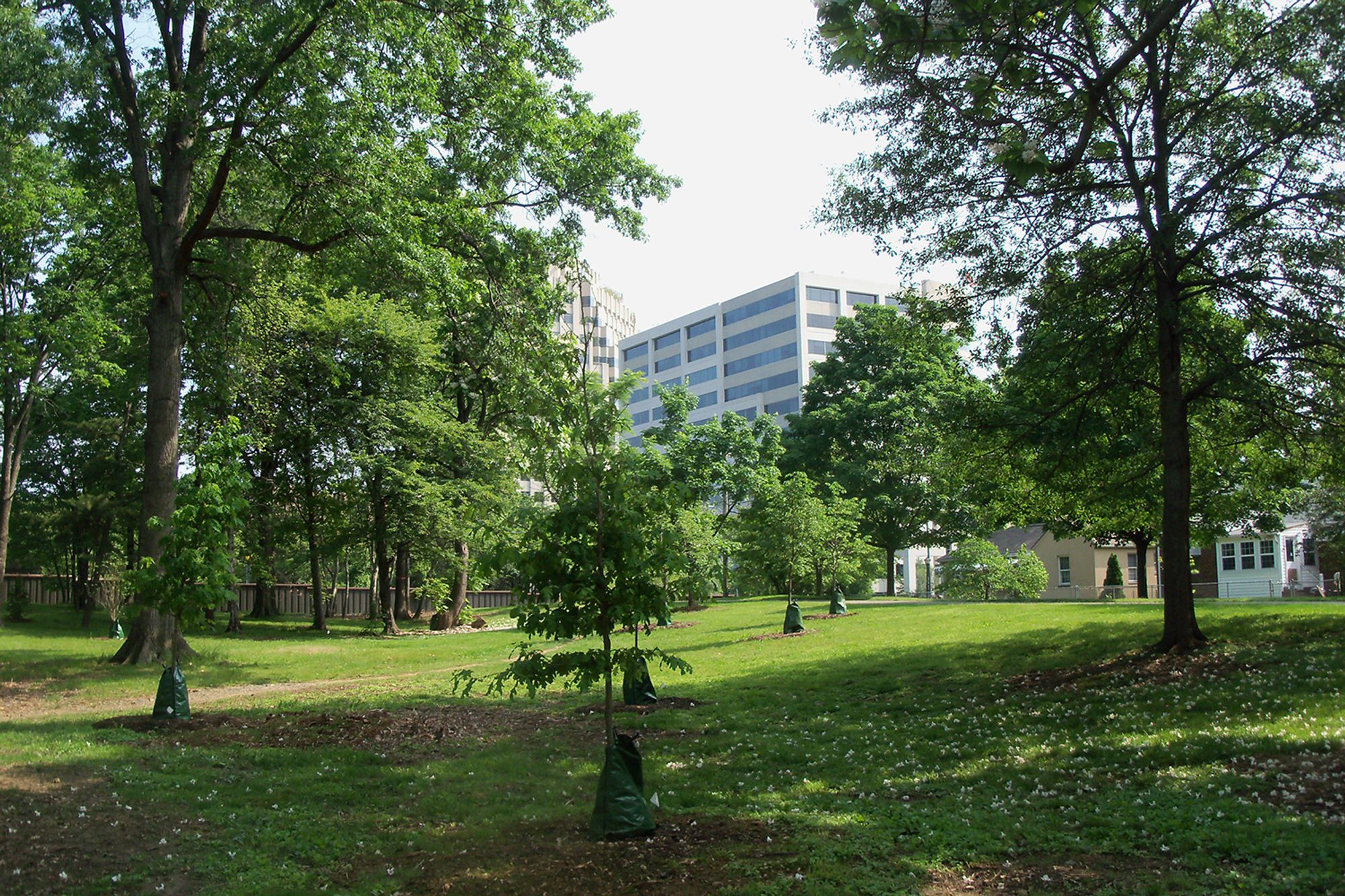 Photo Credit: Idawriter/wikimedia (CC BY-SA 3.0)
Bluemont is a neighborhood located in Arlington bustling with young residents and full of restaurants, bars and parks in addition to offering highly-rated public schools. According to Doherty, Bluemont is one of Washington's go-to neighborhoods when it comes to finding new builds or flat lots.
"Bluemont is somewhat walkable to Ballston, and the Bluemont Rose
Garden is one of the city's best-kept secrets and is so peaceful," Doherty said.
Radnor/Fort Myer Heights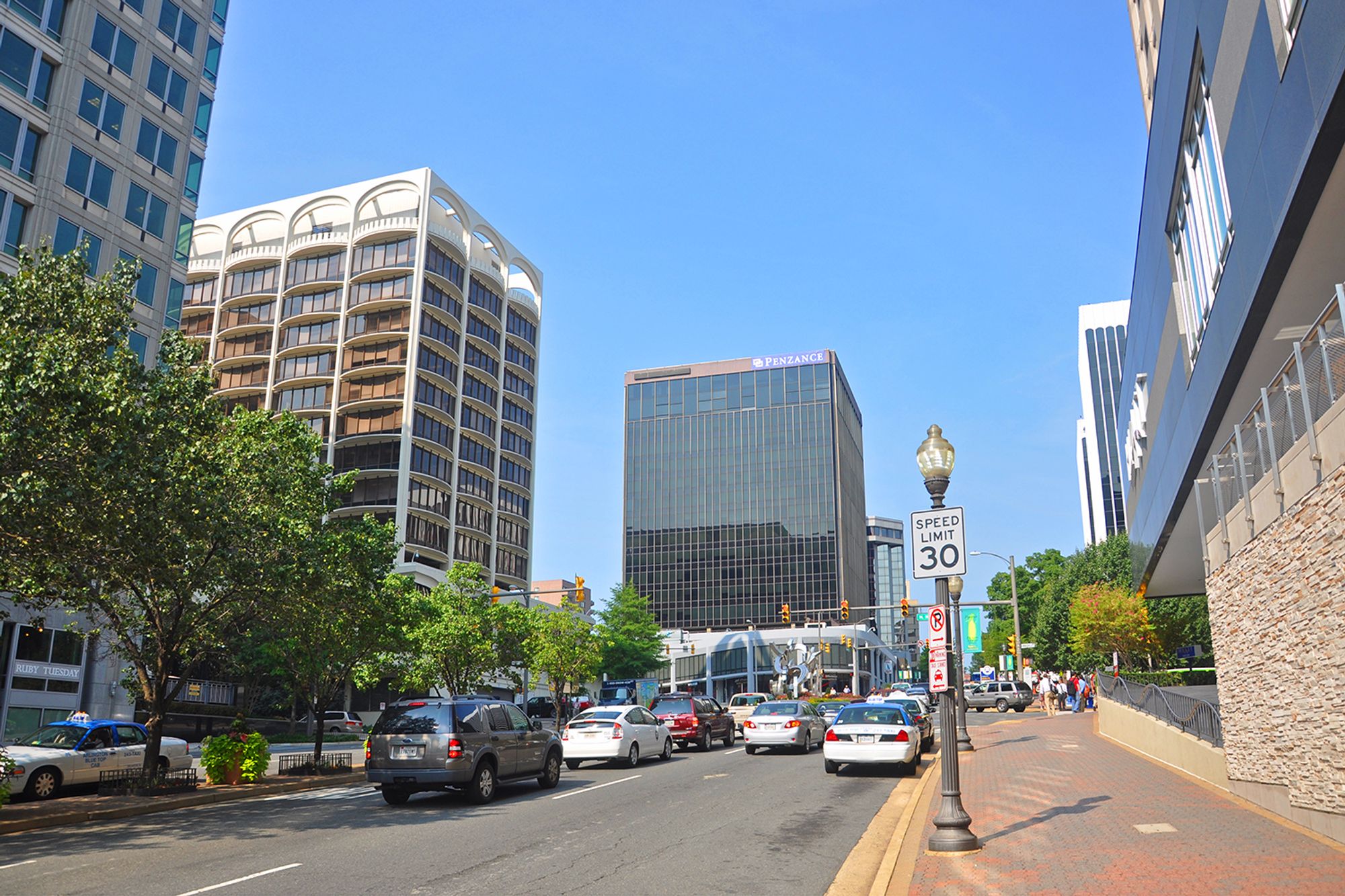 Photo Credit: Wangkun Jia/Shutterstock
Another Arlington staple, Radnor/Fort Myer Heights is another highly-rated area neighborhood. Most people in this neighborhood rent their homes, making it another popular area for young professionals.
According to Doherty, Radnor/Fort Myer Heights is walkable to Clarendon and Courthouse but nestled right next to the back of Fort Myer/Henderson Hall Military Base and offers great views from its condos.
Ballston/Virginia Square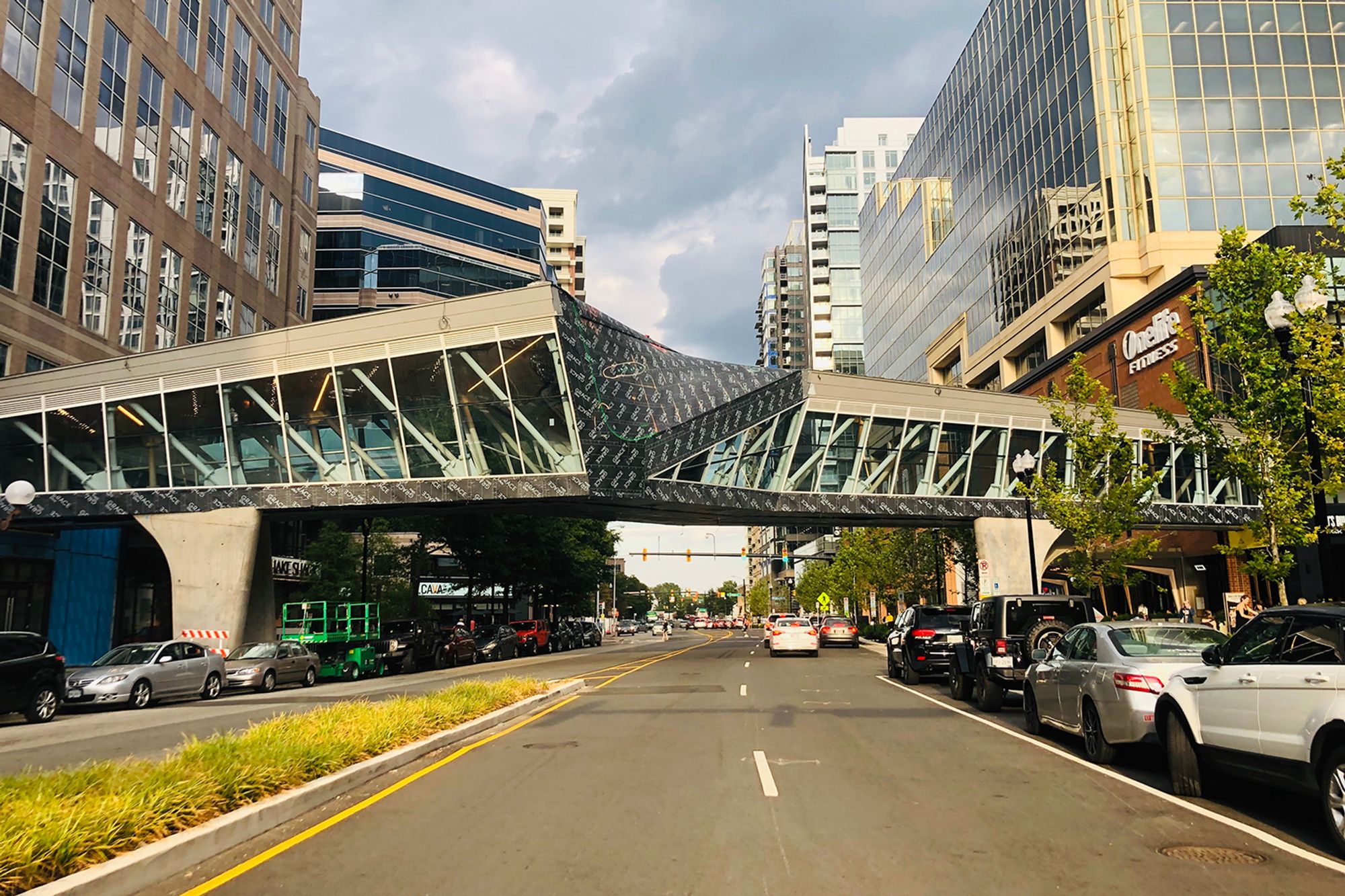 Photo Credit: melissamn/Shutterstock
Ballston/Virginia Square is one of the two most popular areas Doherty serves in Arlington. The neighborhood has two Metro train stations within a half mile from each other.
"Ballston Commons has every type of food your heart could desire and is super Instagrammable," Doherty said. "Everyone who moves to Arlington straight out of college lives in Ballston."
Clarendon/Courthouse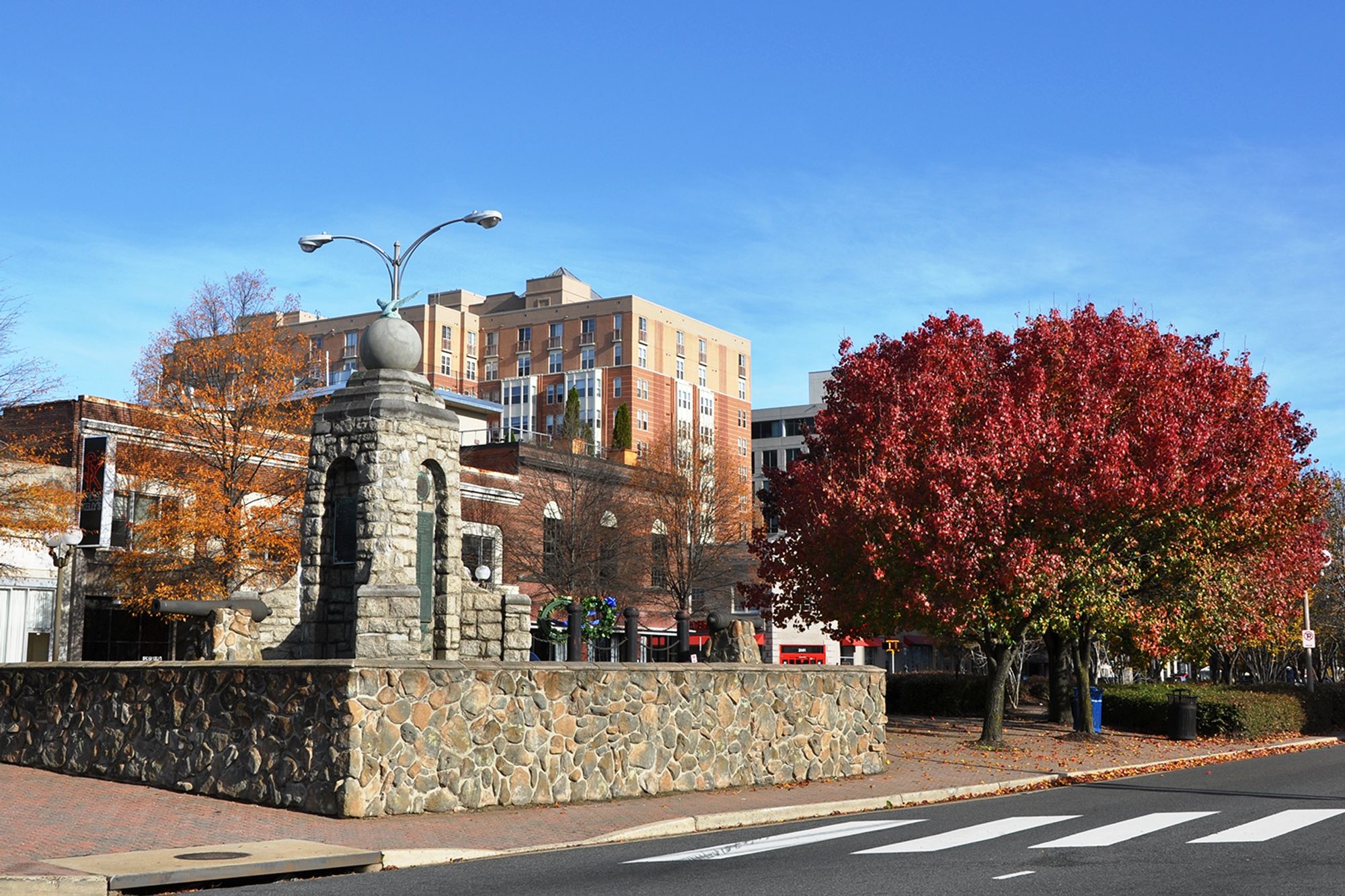 Photo Credit: Vsevolod33/Shutterstock
Doherty describes Clarendon/Courthouse as the "creme de la creme of Arlington," as there is no shortage of things to do there. In addition to plenty of shopping and dining options, the neighborhood has a big nightlife scene, with Wilson Boulevard and Clarendon Boulevard lined with various rooftop bars. Doherty also noted it's home to Arlington's most expensive real estate.
Colonial Village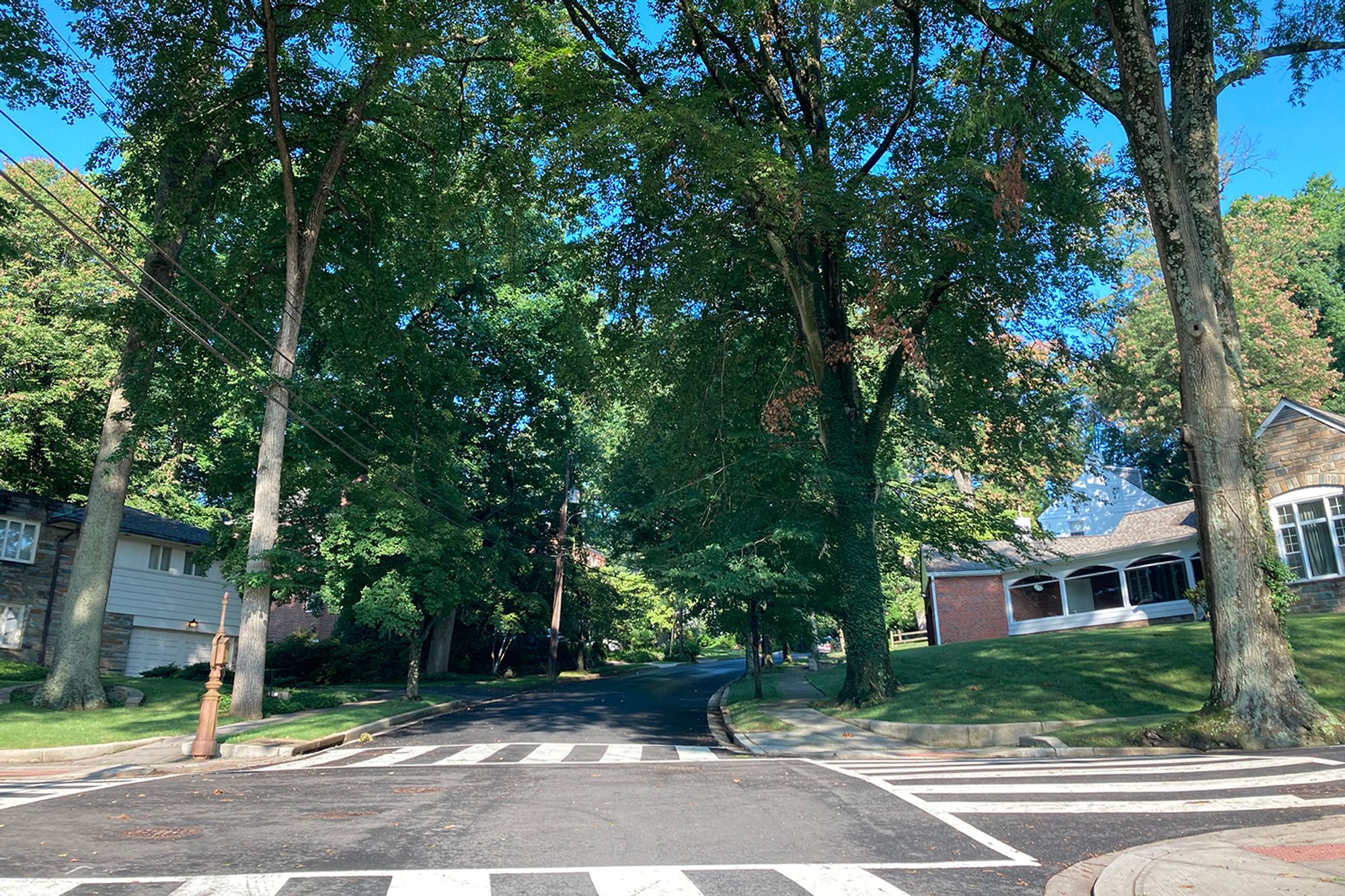 Photo Credit: Eric T Gunther/wikimedia (CC BY-SA 3.0
Colonial Village is one of the city's most historic neighborhoods that also offers a lot in terms of entertainment options.
"Colonial Village feels like you are walking in a historical community somewhere in South Carolina or Georgia," Doherty said. "It's lined with huge mature magnolias and its brick garden-style condos are historical homes."
Colonial Village, which is situated between Courthouse and Rosslyn, is the most affordable community to purchase in that is close to a metro station, making it an ideal neighborhood for professionals working in Rosslyn or downtown.
Median home price in Washington, DC
Washington offers some of the most expensive homes for sale and rent in the nation. The median home list price in Washington was $600,000 (with $544 per square foot on a listing home price) and the median home sale price was $675,000 in August.
Average rent in Washington, DC
In Washington D.C., average rents range from $1,465 for a studio to $3,444 for a two-bedroom apartment, depending on the neighborhood.
Moving to Washington, DC
Washington is one of the priciest places to live in the US, but the trade-offs of relatively mild weather, reliable public transit and plenty of highly-rated neighborhoods and schools are clear. By weighing the pros and cons the area offers and comparing the cost of living relative to your household income, you can determine if it's an ideal moving location for you.