If you dream of living in a warm and sunny city that provides an urban landscape and plenty of chances to interact with Mother Nature, you might want to consider living in San Diego.
Read on to learn more about what you can expect from living in San Diego beyond the appeal of its warm weather and beaches.
Living in San Diego: What to expect
If you're moving to San Diego, you should expect an uptick in living expenses, especially if you're moving from an area on the affordable side. If you're prepared for that, it can be a worthwhile tradeoff living among the region's natural beauty and wide range of indoor and outdoor activities.
Walkable areas in San Diego
"San Diego has a good mix of urban, walkable neighborhoods with convenient access to transit and low-density neighborhoods stretched throughout the hills and valleys of the region," said Chris Anderson, the 2022 board president of the Greater San Diego Association of Realtors.
San Diego is described as somewhat walkable. According to Walk Score, San Diego scores 53, 37 and 43 for walking, transit and biking, respectively. There are many outdoor activities to explore, from hiking and biking to exploring its beaches and visiting Balboa Park or the famous San Diego Zoo. You can also take a quick trip to the Mexican border via the light rail. Cruise ships also dock in San Diego, making it a popular tourist destination.
As far as transit options, the city has one ferry, one rail and three light rail lines, in addition to 83 bus lines. Most residents opt to have a car.
Best public schools in San Diego
San Diego's top public schools are part of the San Diego Unified School District, which serves more than 121,000 students from preschool through 12th grade. It's the second-largest district in California and has an extremely diverse student population representing more than 15 ethnic groups that speak more than 60 languages and dialects.
It's also one of the largest urban school districts in the U.S., hailed for its leadership in technology, specialty and career-technical education.
Top three elementary schools
La Jolla Elementary
Jerabek Elementary
Torrey Pines Elementary
Top three middle schools
Muirlands Middle
Standley Middle
Challenger Middle
Top three high schools
Mt. Everest Academy
Scripps Ranch High
La Jolla High
Commute time in San Diego
According to the U.S. Census Bureau, the average commute time in San Diego is 27 minutes. About 18% of the population has a commute of either less than 10 minutes or longer than an hour.
San Diego weather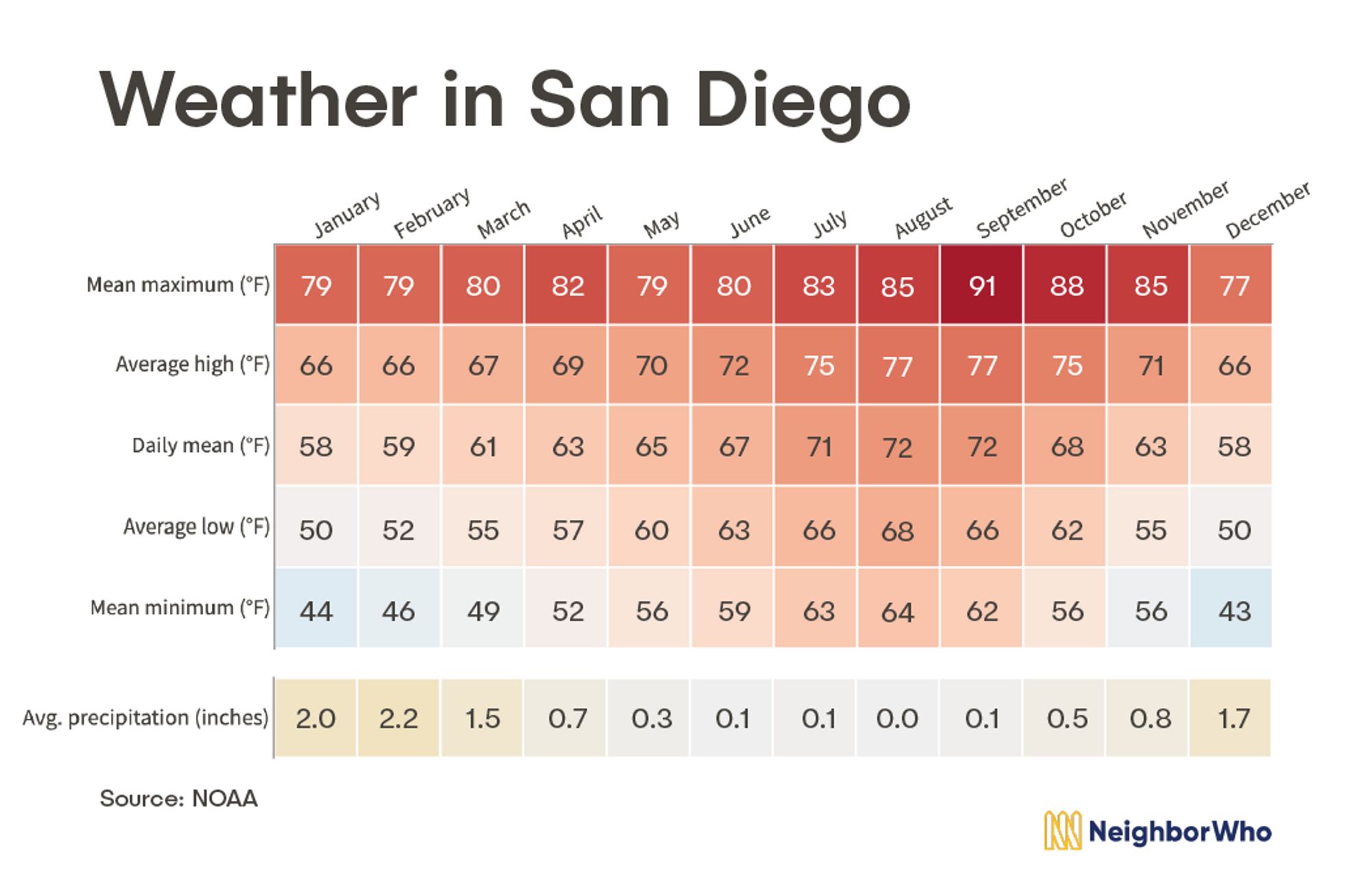 If you prefer warm temperatures over winter weather, you'll feel right at home in San Diego. While its summer season is short and dry, and its winter season is long, temperatures rarely dip below the 40s Fahrenheit. Temperatures vary from about 50 to 77 degrees throughout the year, which means it's never unbearably hot or cold like other parts of the country.
San Diego has the most rain in February, with an average rainfall of 2.3 inches and an average monthly rainfall of 0.5 inches from late October to late April.
San Diego crime rate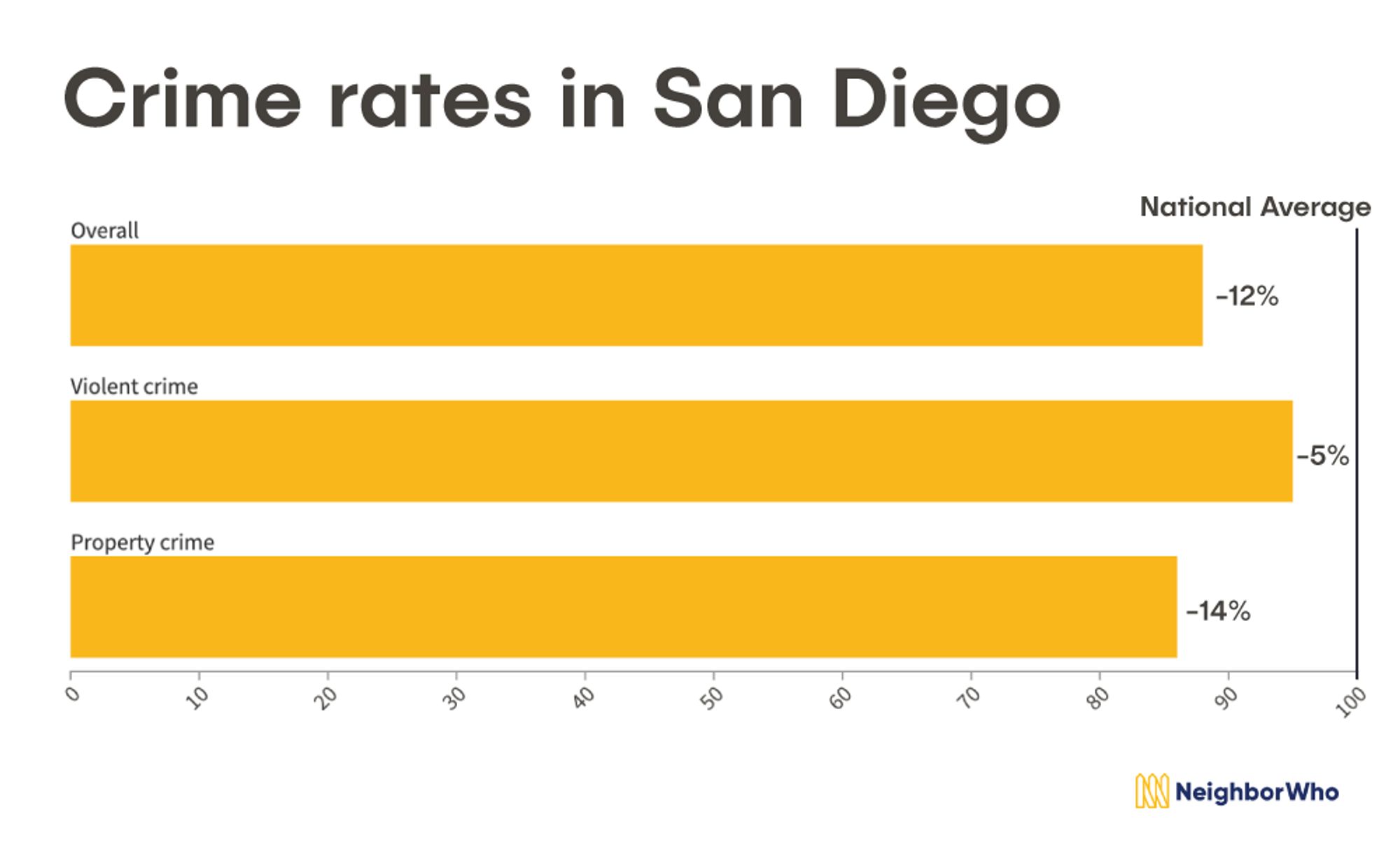 San Diego gets a C for its crime rate rating by Area Vibes, which is actually better than many urban areas. In September 2021, there were 69 incidents per 100,000 people of violent crime, including murder, rape, robbery and assault, and 1,692 property crimes per 100,000 people, including burglary, theft and vehicle theft.
San Diego city population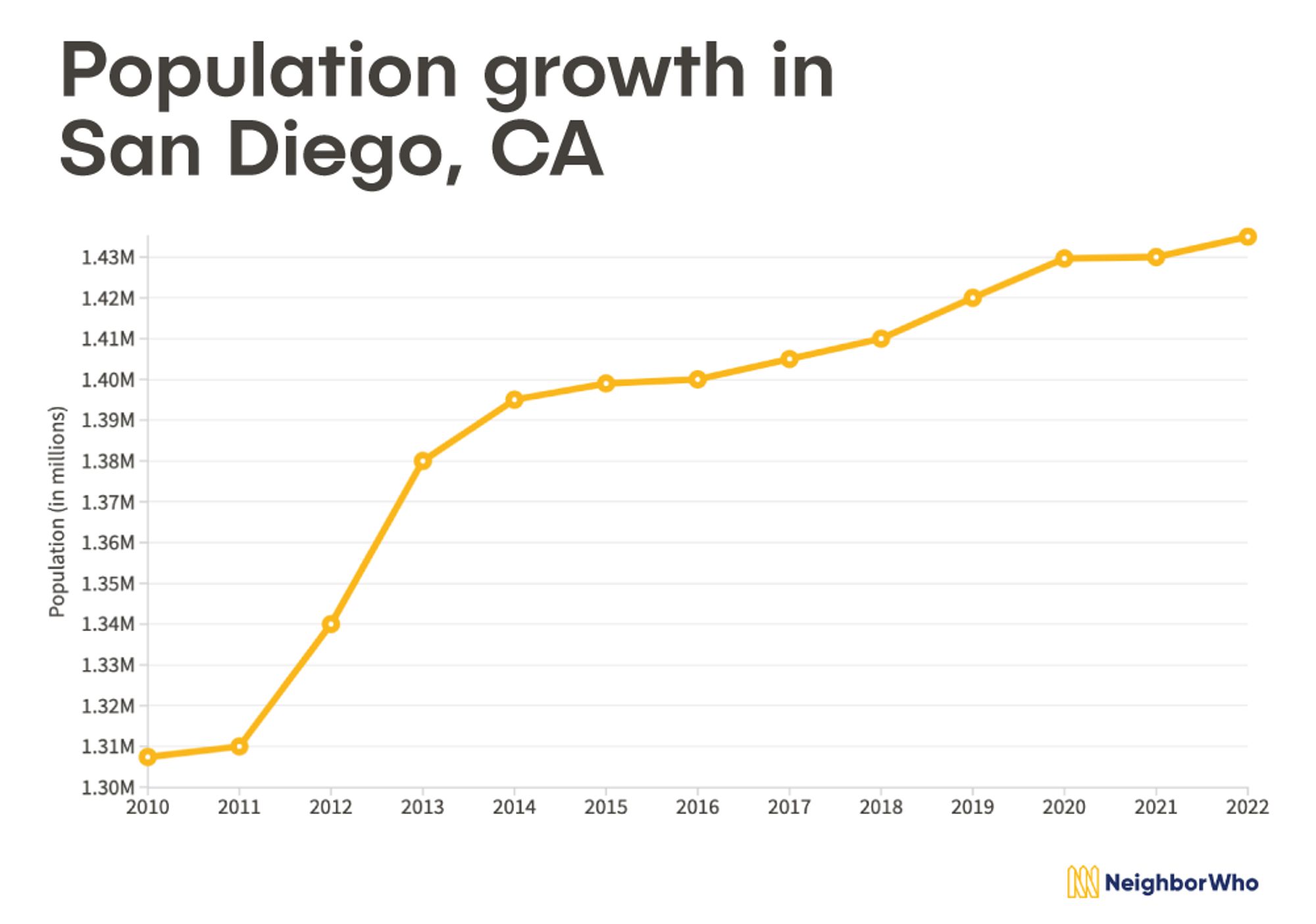 According to the U.S. Census Bureau, San Diego's population as of April 2020 was 1,386,932, up from 1,307,402 in 2010. This growth is likely because San Diego's climate and natural habitats continually attract families and working professionals around the globe. Not only that, the job market is bustling.
"It's home to a leading life science and medical industry, a growing technology hub and one of the largest military populations in the country," Anderson said. "These industries provide a steady stream of prospective home buyers and sellers, most notably in the summer months when more families are relocating."
Cost of living in San Diego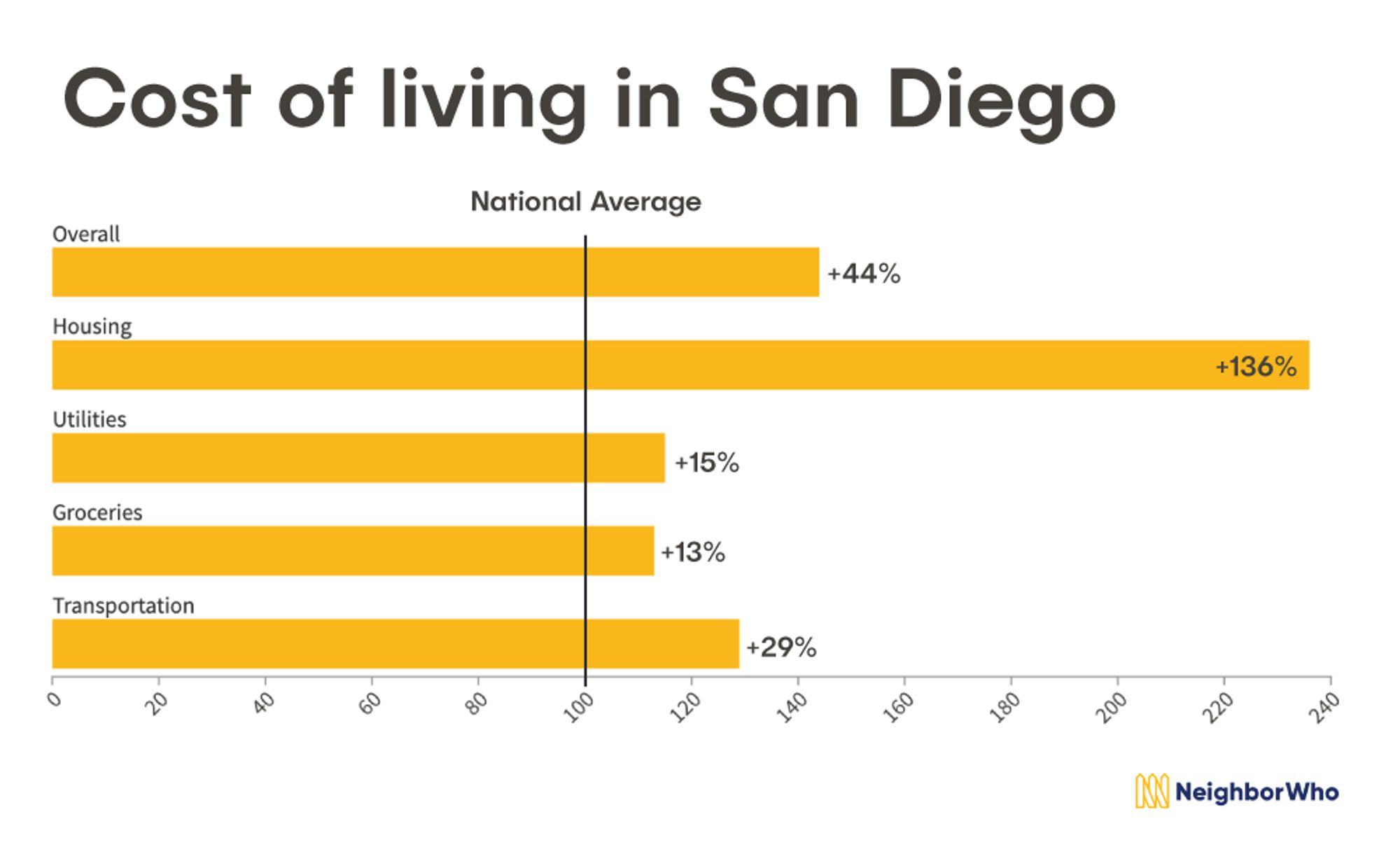 Like many California cities, San Diego is one of the more expensive places to live in the U.S. According to PayScale, the average cost of living in San Diego is 44% higher than the national average. Housing expenses are 136% higher than the national average, and groceries are 13% higher than the national average.
Median household income in San Diego
According to the U.S. Census Bureau, the median household income in San Diego was $83,454 from 2016 to 2020.
San Antonio neighborhood map
Top 5 San Diego neighborhoods by population density
While the San Diego region has much to offer prospective residents, critically low inventory drives the rapid appreciation of home prices. It creates a highly competitive and fast-paced market for buyers.
"Even still, it is a good time for prospective buyers to get in on the market as interest rates are still historically low," Anderson said. "Buying a first home or investing in real estate remains a great way for families to build equity and financial stability now and into the future."
Below are San Diego's top five neighborhoods by population density, with insight from a local agent.
Colina del Sol
Colina del Sol is often classified as a lower-income area, said Amanada Beach, a real estate and financial consultant and real estate agent with Active Realty in San Diego.
"The homes are older and are mostly single-family homes and condominiums," Beach said. "There are some new up-and-coming projects with a unique architecture design. [These projects] are integrating modern materials into the older homes focusing on the environment and the new habitable architectural space."
Normal Heights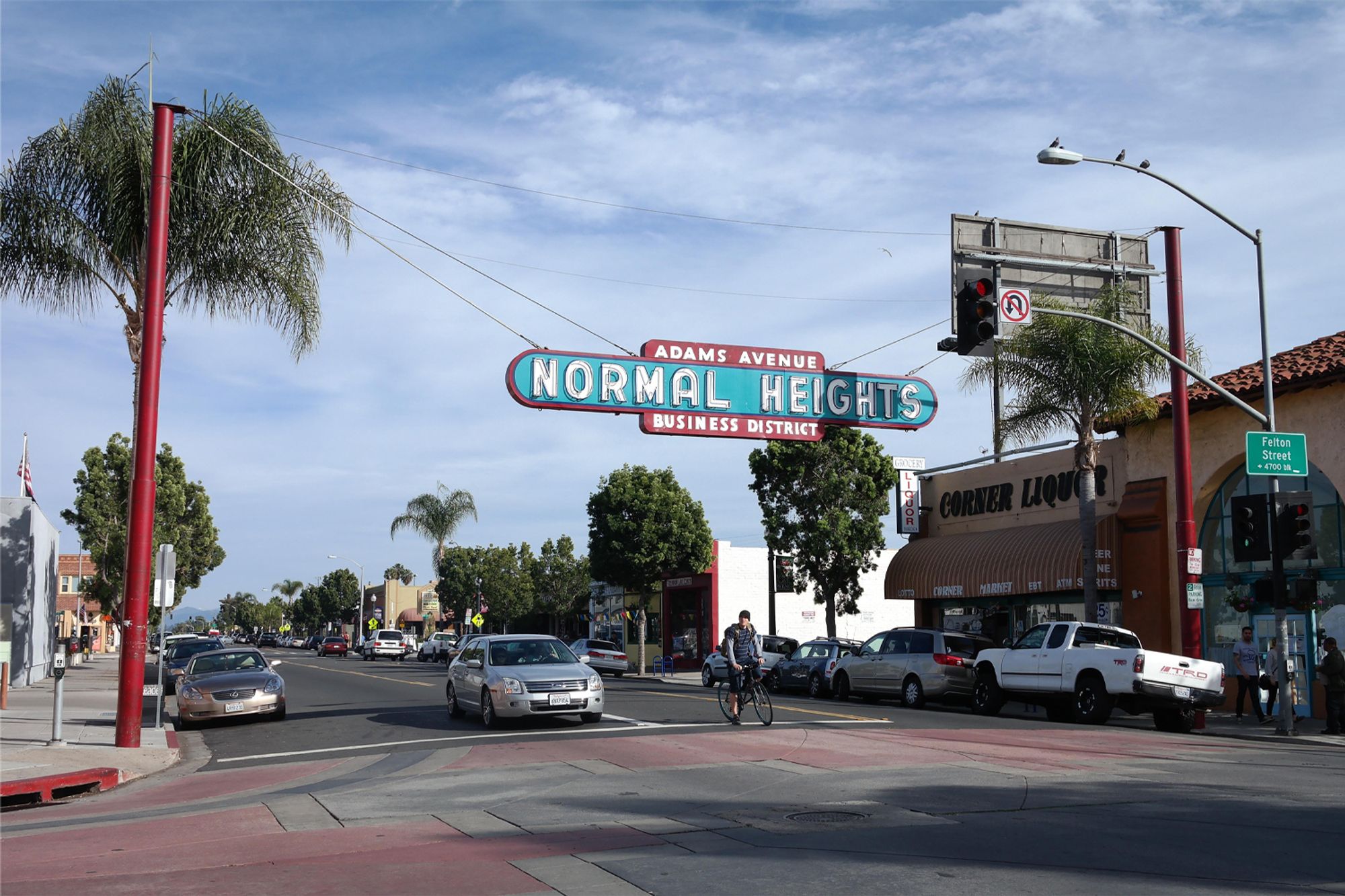 Photo Credit: Visitor7 via Wikimedia (CC BY-SA 3.0)
Normal Heights is known for its walkability—it's one of the first "streetcar" suburbs of San Diego. Many properties in Normal Heights are listed as multifamily, with accessory-dwelling units or additional cottages sharing properties with larger homes.
"[The neighborhood] offers an urban-suburban mix with a lot of bars, restaurants, coffee shops and parks," Beach said. "North of Adams Avenue, you'll find wider streets and larger lots, with many Craftsman homes and Spanish-style bungalows from the early 20th century, and south of Adams, the area is more dense, with apartment complexes and multifamily units."
East Village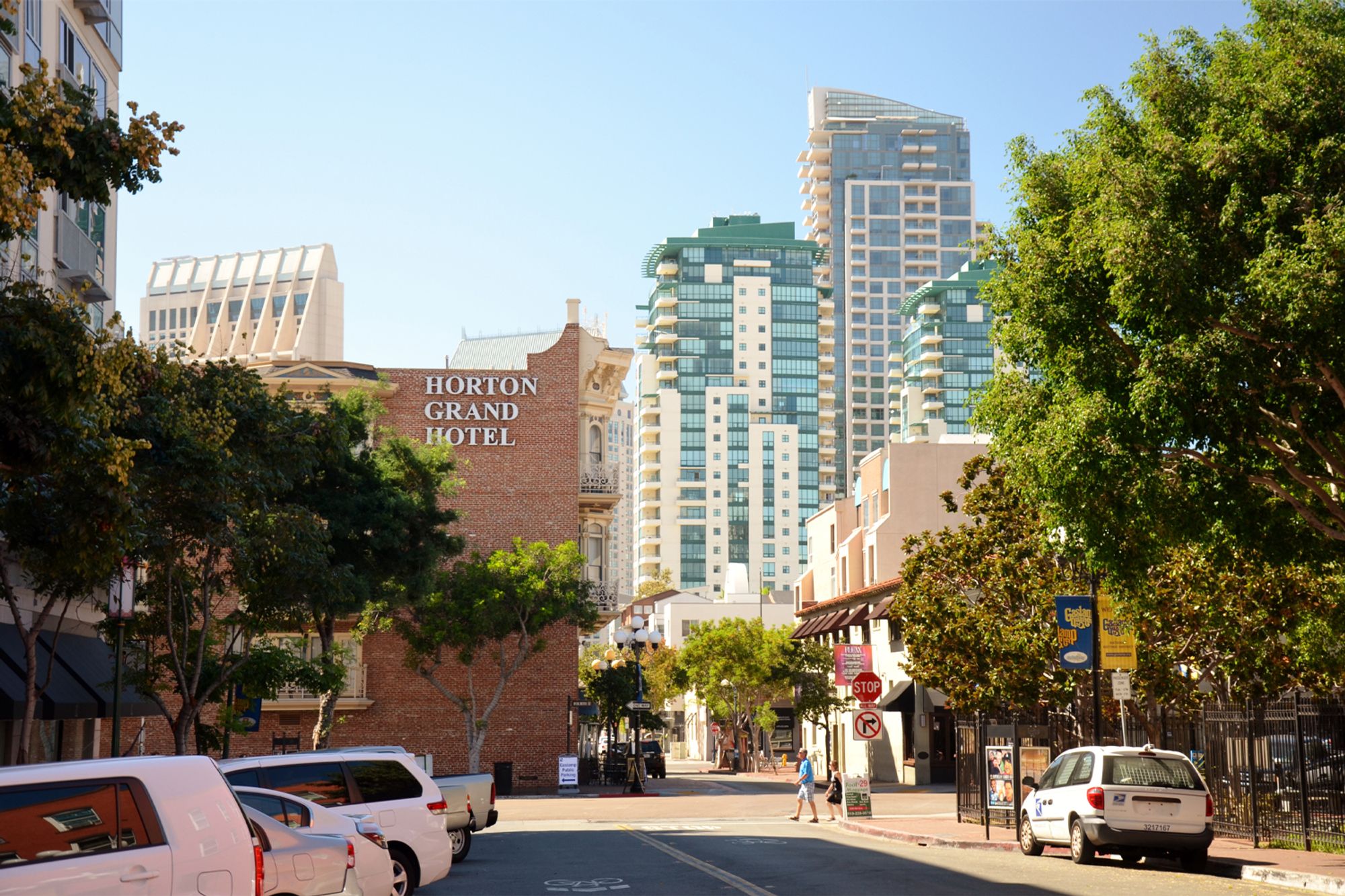 Photo Credit: Roman Eugeniusz via Wikimedia (CC BY-SA 3.0)
The East Village is an evolving downtown area, known for Petco Park, home of the Padres, a Major League Baseball team. It's also home to the city's Central Library, which has an art gallery and reading rooms with San Diego Bay views. Quartyard plaza offers a craft beer garden, food trucks and live music.
"Architecturally, the neighborhood is a mix of sleek high-rises alongside former warehouses and Victorian homes housing restaurants and brewpubs," Beach said.
Castle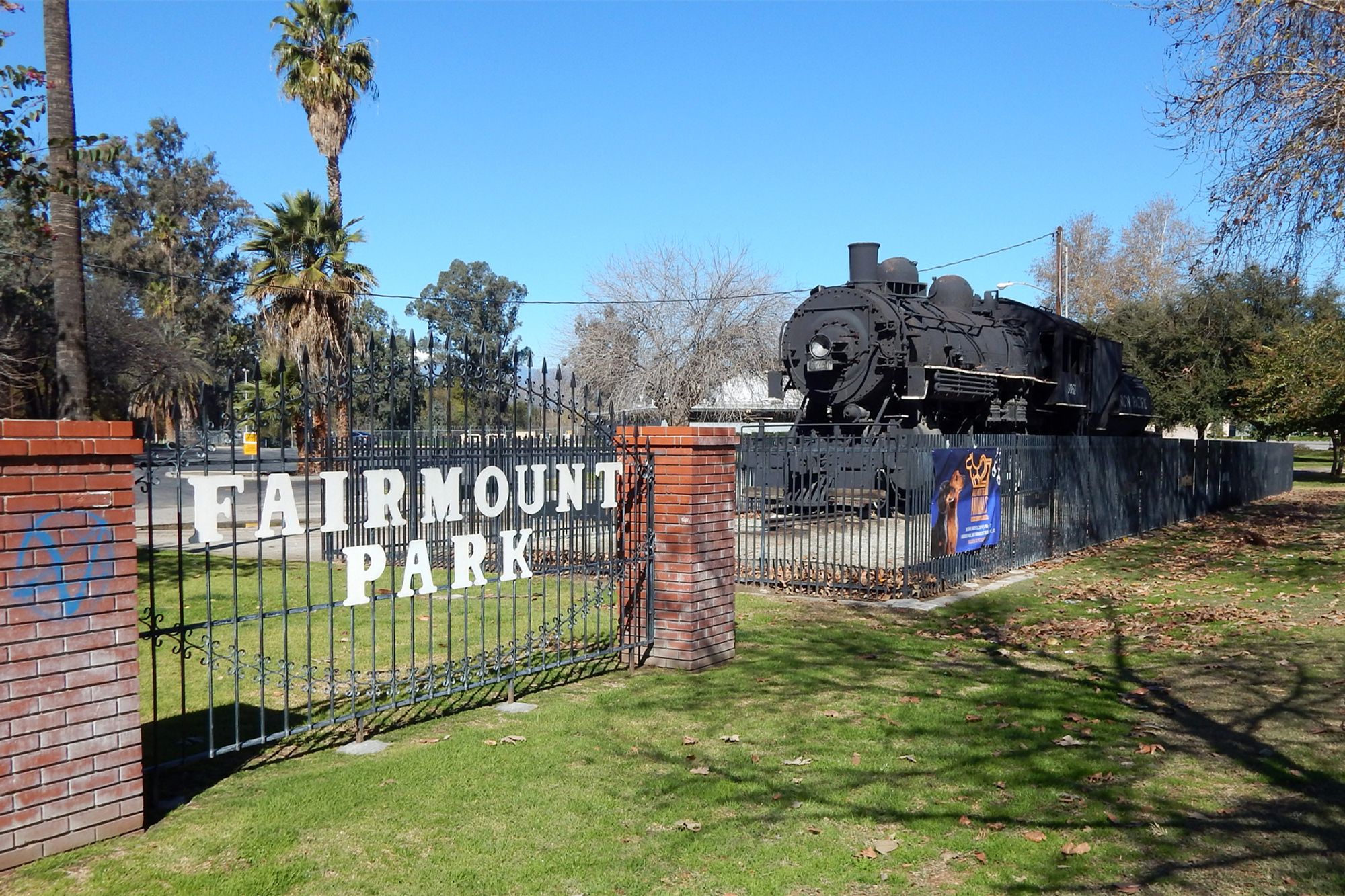 Photo Credit: Seauton via Wikimedia (CC BY-SA 4.0)
The Castle neighborhood is located in City Heights and features unique homes that are castle-like in appearance. The commercial area of the neighborhood is located on Fairmount and University Avenues and is an area with newly large-scale redevelopment projects, revitalizing the area.
"Homes with turrets and battlements are some of the unique features that one will see in this neighborhood," Beach said. "The area also has a large number of Spanish-style homes, since this area was largely developed in the 1920s and 1930s when that style was most popular."
Golden Hill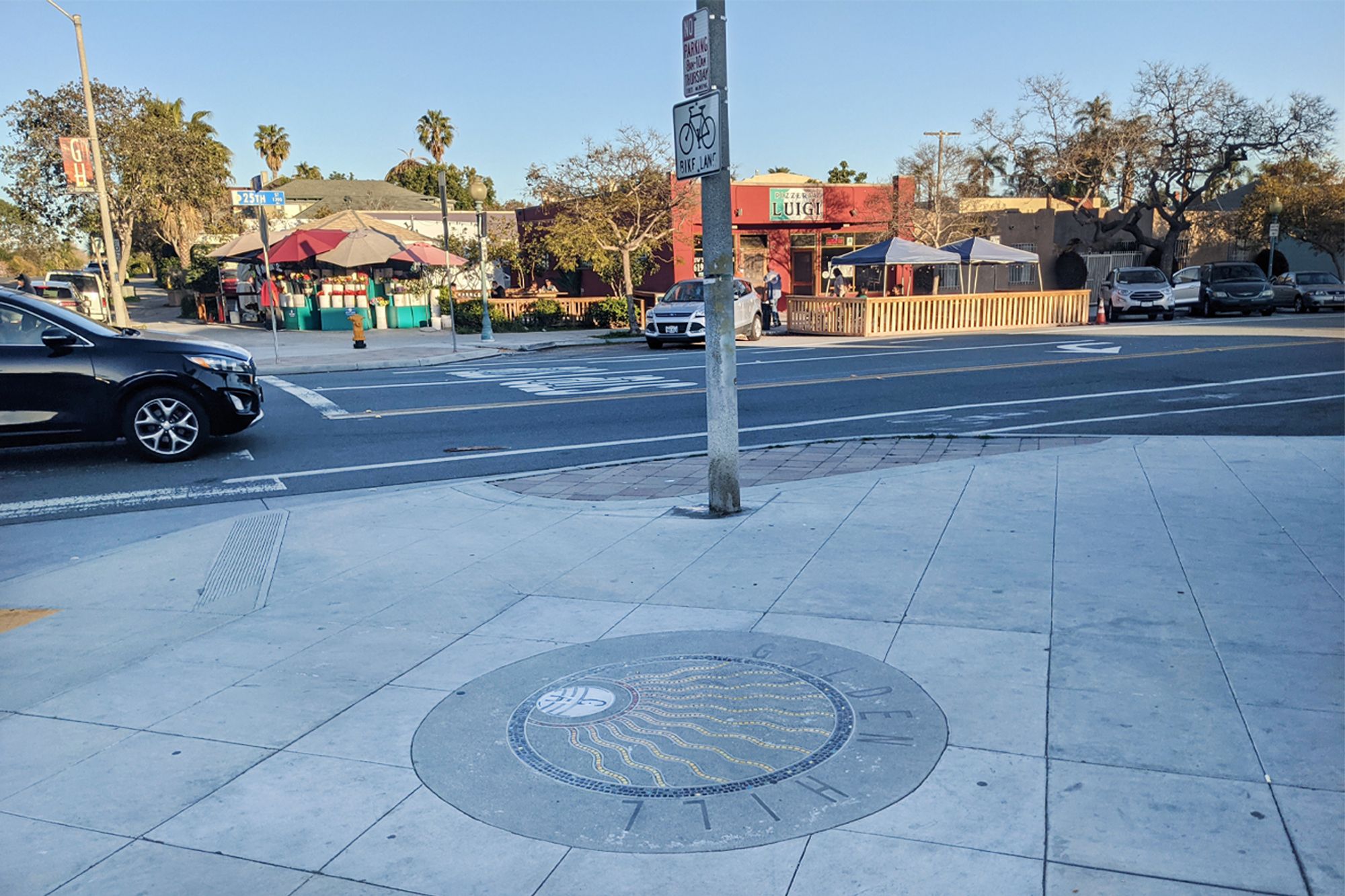 Photo Credit: Mds08011 via Wikimedia (CC BY 4.0)
The views of Golden Hill overlook downtown San Diego, the Coronado Bridge, San Diego Bay and even a distant view of Tijuana. The Golden Hill community, known for its walkability, is mostly made up of quiet subdivisions, expansive and historic homes and charming townhouses. It also offers an active social scene for all ages and interests.
"Living in the Greater Golden Hill area is ideal for those seeking an urban lifestyle while still enjoying the beauty of the great outdoors," Beach said.
Median home price in San Diego
According to Realtor.com, the median listing home price in San Diego is about $890,000, with an average cost of $688 per square foot. The median sold home price is $910,000.
Average rent in San Diego
According to the U.S. Census Bureau, the median gross rent from 2016 to 2020 in San Diego was $1,096.
Moving to San Diego
While living in San Diego can be on the expensive side, it's an outdoor enthusiast's paradise, bustling with job growth across various industries. Researching exactly what you're looking for in a home and neighborhood, you can find a home in San Diego to fit your needs and lifestyle.