Located in south-central Texas, San Antonio has a 300-year history that stretches back to Spanish rule. Today it's known as the seventh-largest city in the US and home to The Alamo, Riverwalk, Six Flags Fiesta, the NBA's San Antonio Spurs and one of the largest military populations in the nation. Here's what you should know about living in San Antonio if you're considering a move.
Living in San Antonio: What to expect
There's something for everyone in San Antonio, from the city's 14 colleges and multiple Fortune 500 companies to its plentiful outdoor spaces and entertainment options.
Before making the decision to move to San Antonio, learn more about the quality of schools and average commute times. Here's how these areas measure up.
Walkable areas in San Antonio
San Antonio received a Walk Score of 35, Transit Score of 36 and Bike Score of 45—making this city relatively dependent on vehicles. Certain areas, such as the Riverwalk and downtown, are more pedestrian-friendly than others and offer bike lanes as well.
Public transportation is available through VIA Metropolitan Transit, the city's bus system, and VIVA, a new service line that connects all the popular landmarks and attractions in the heart of the city.
Best public schools in San Antonio
The San Antonio Independent School District serves about 47,000 students in nearly 100 schools across the area. According to US News & World Report, these are the best elementary and middle schools in San Antonio by enrollment, and the top high schools by national ranking.
Top 3 elementary schools
Brooks Academy of Science and Engineering
Brooks Collegiate Academy
Great Hearts Northern Oaks
Top 3 middle schools
Folks Middle
Jefferson H S
Garcia Middle
Top 3 high schools
Health Careers High School
BASIS San Antonio
Young Women's Leadership Academy
Commute time in San Antonio
While you may need to rely on a car to get around San Antonio, commute times are manageable, especially compared to other big cities such as Miami and Los Angeles. The average commute time in San Antonio is just about 27 minutes, according to 2019 Census Bureau data.
San Antonio weather
San Antonio has a subtropical climate, with mild winters and hot, humid summers. Temperatures range from the mid-70s to high 90s in the summer and drop to around 40 to 70 degrees in the winter. Snow is rare, but you'll see it every few years.
Although San Antonio is about 150 miles inland, it gets hit by the occasional big storm from the Gulf of Mexico. Hurricane season runs from June through November, and south Texas tends to see the worst tropical weather in August and September. Heavy rains and flash flooding are the biggest threats to the area. Annually, San Antonio gets about 32 inches of rainfall, mostly in the spring and autumn. That's just above the US average rainfall of 30.28 inches in 2020.
San Antonio is also occasionally hit by tornadoes from April through June, though the city is just outside of Tornado Alley. Nearby Dallas, on the other hand, typically gets hit with more tornadoes and experiences hotter weather throughout the year.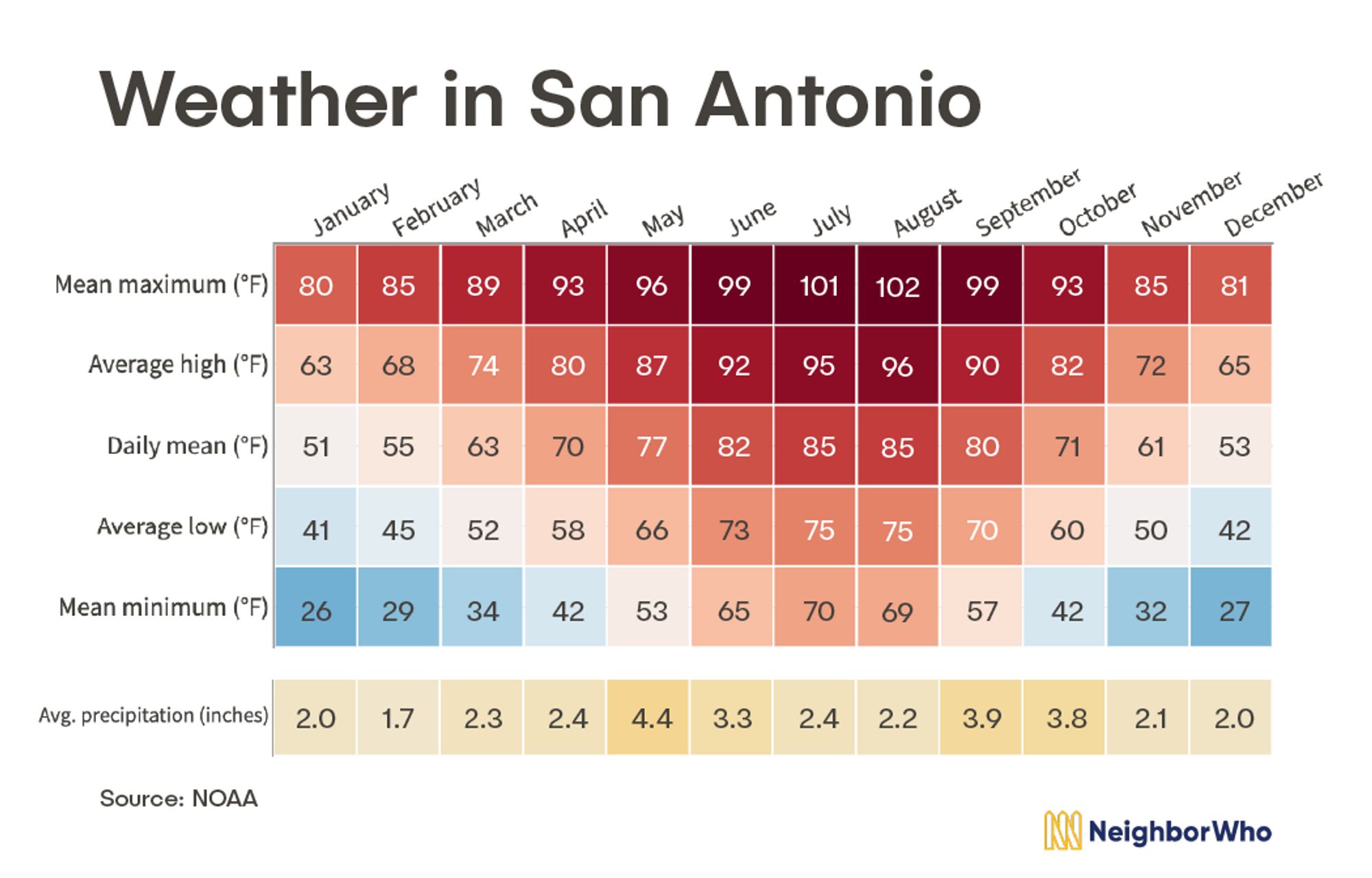 San Antonio crime rate
San Antonio is safer than just 6% of cities across the US, with a crime rate much higher than the national average. During the 2020 calendar year, 57,057 property crimes and 11,569 violent crimes were reported to the police, according to the FBI.
Theft was the most frequently reported crime, followed by assault, burglary and vehicle theft. But statistics are trending in the right direction: Crime in San Antonio was down 13% in 2020 compared to the previous year.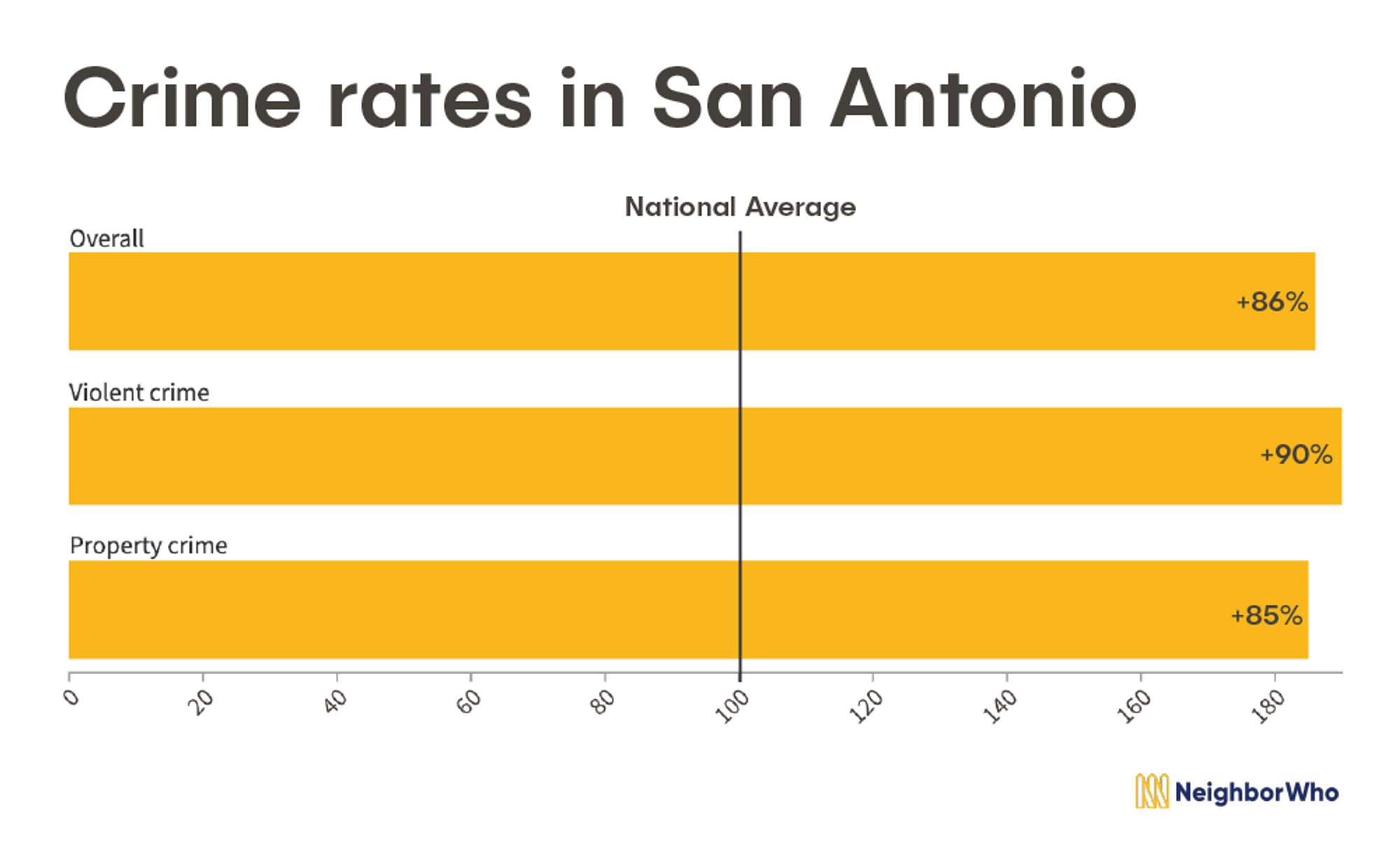 San Antonio city population
As the second-biggest city in Texas, San Antonio has a population of 1,567,118 and more than 2.59 million people call the metro area home. Texas ranked second in the nation for relocation activity in 2019, when an average of 1,594 people moved to the state every day. Bexar County, which is home to San Antonio, was one of the fastest-growing areas around that time.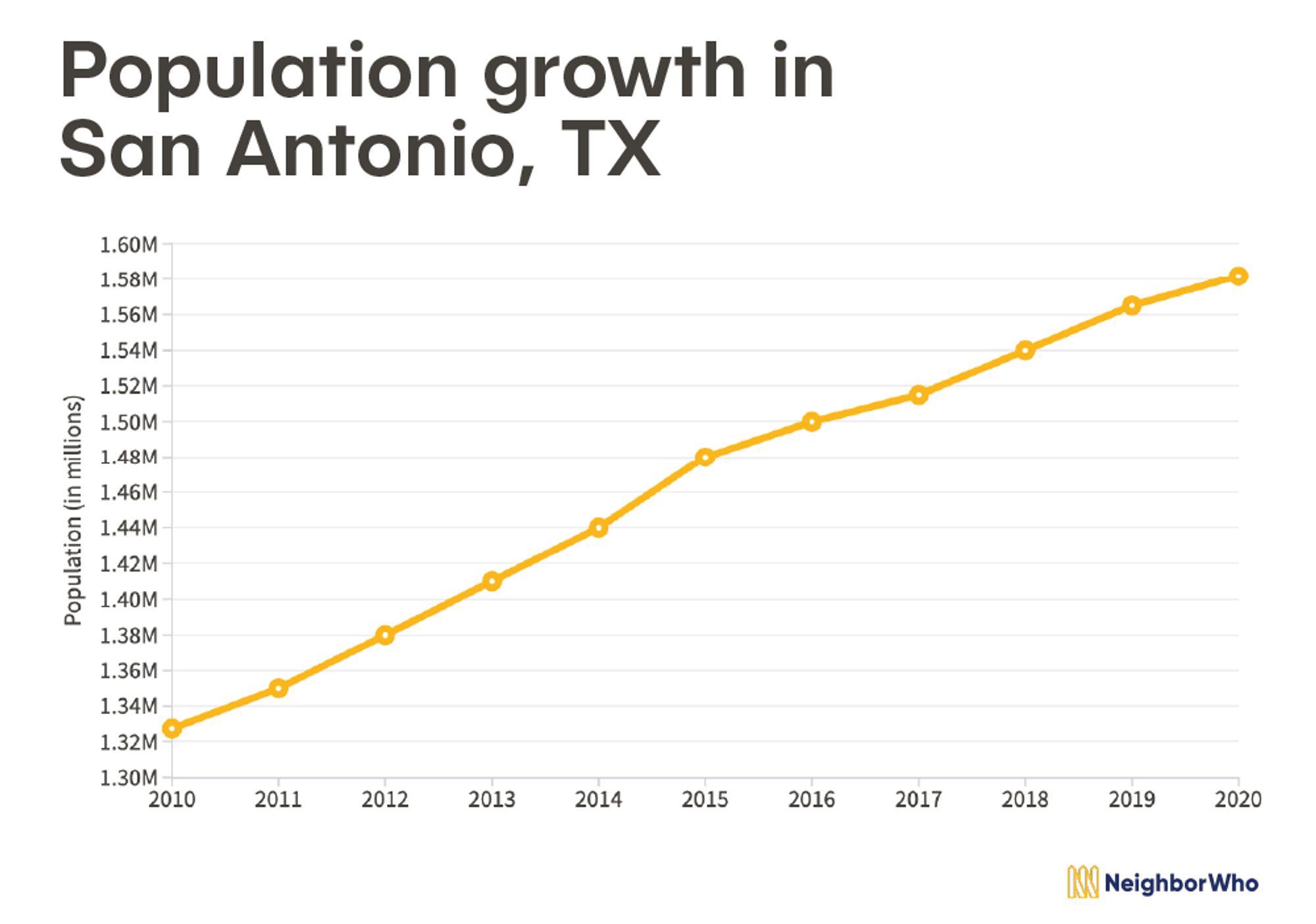 Cost of living in San Antonio
The overall cost of living in San Antonio is an estimated 14% below the national average. Groceries cost about 17% less compared to the national average, while utility prices are 12% lower and housing is 24% cheaper.
According to Numbeo estimates, a family of four spends about $2,870 a month on living expenses, while a single person might need $826 per month. Both estimates leave out the cost of a mortgage or rent payment.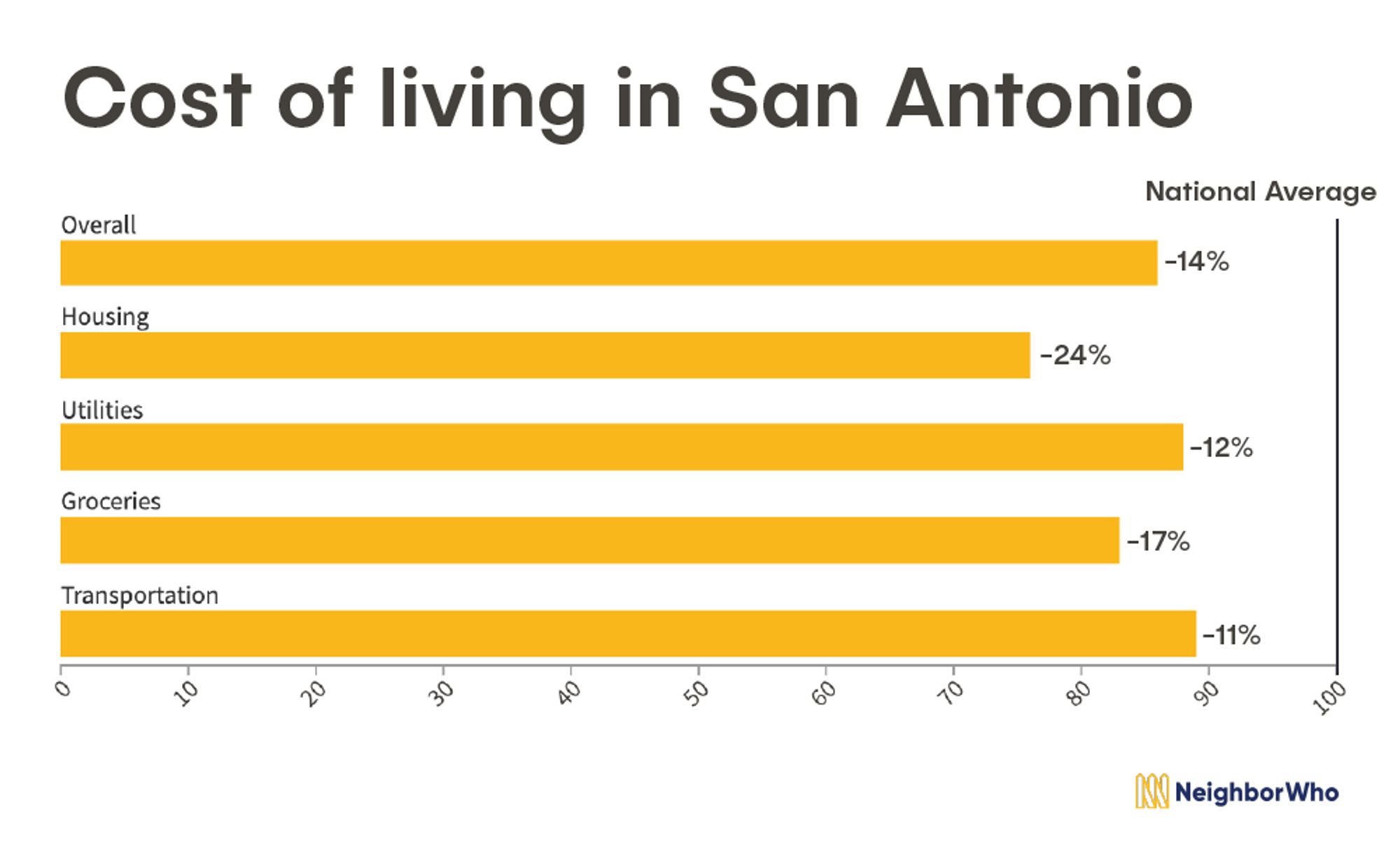 Median household income in San Antonio
According to the Census Bureau, the median household income in San Antonio was $52,455 in 2019, lower than the national median income of $62,843.
San Antonio neighborhood map
Top 5 San Antonio neighborhoods
When you're looking for a place to live in San Antonio, consider whether you're renting or buying, the type of home you want to live in and the amenities in the area. Joel Garza, a broker associate and owner of Texas Edge Realty, and Danni Springfield, a San Antonio sales lead at Homeward and managing broker of Springfield Realty, both share some of San Antonio's trendiest neighborhoods along with family-friendly areas.
Tobin Hill
Located just north of downtown, the Tobin Hill neighborhood has a population of about 7,120 and offers a mix of residential, commercial and cultural space. With a Walk Score of 77, residents of Tobin Hill can reach an average of four restaurants, bars and coffee shops by foot within five minutes or less.
"Housing options begin around $300,000 and include both darling, older bungalows and brand-new, multilevel, townhome-style options with roof decks," Springfield said.
Monte Vista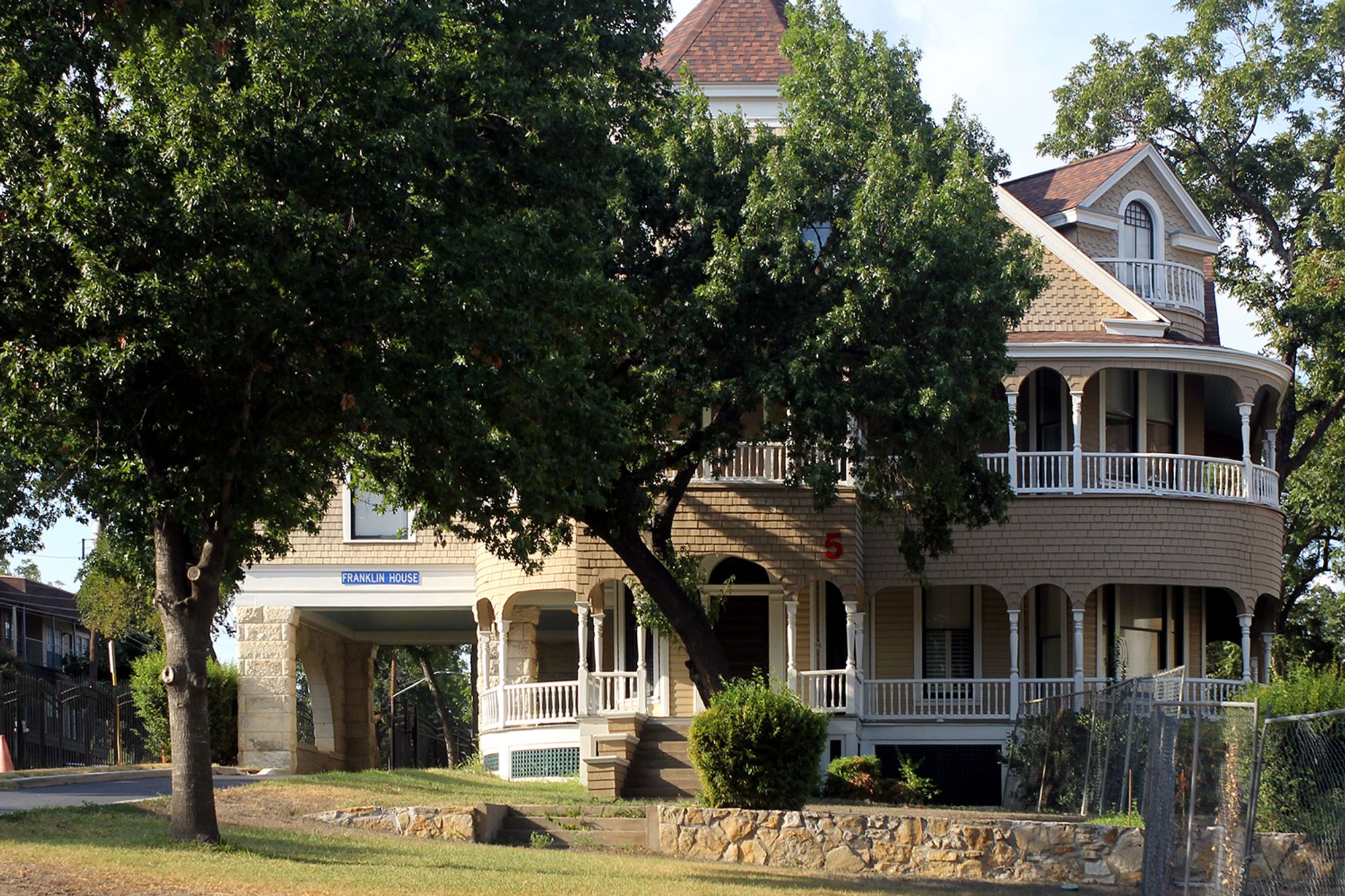 Photo Credit: Julian Bravo/Wikimedia Commons (CC BY-SA-3.0)
Located north of Tobin Hill, Monte Vista "features an established, historic feel," Springfield said. "Most properties were built in the 1920s and 1930s, and prices tend to start around $550,000."
This mostly residential neighborhood has around 6,050 residents and received a Walk Score of 64. There are two universities nearby, along with the San Antonio Zoo, Brackenridge Park and the San Antonio Botanical Center.
Castle Hills
Farther north, you'll find Castle Hills, "arguably one of San Antonio's prettiest areas, with sprawling, ranch-style homes sitting on large lawns set back from tree-lined streets," Springfield said. "Most of the area was built in the 1960s and home prices begin around $350,000."
This San Antonio suburb has a population of around 4,450.
Stone Oak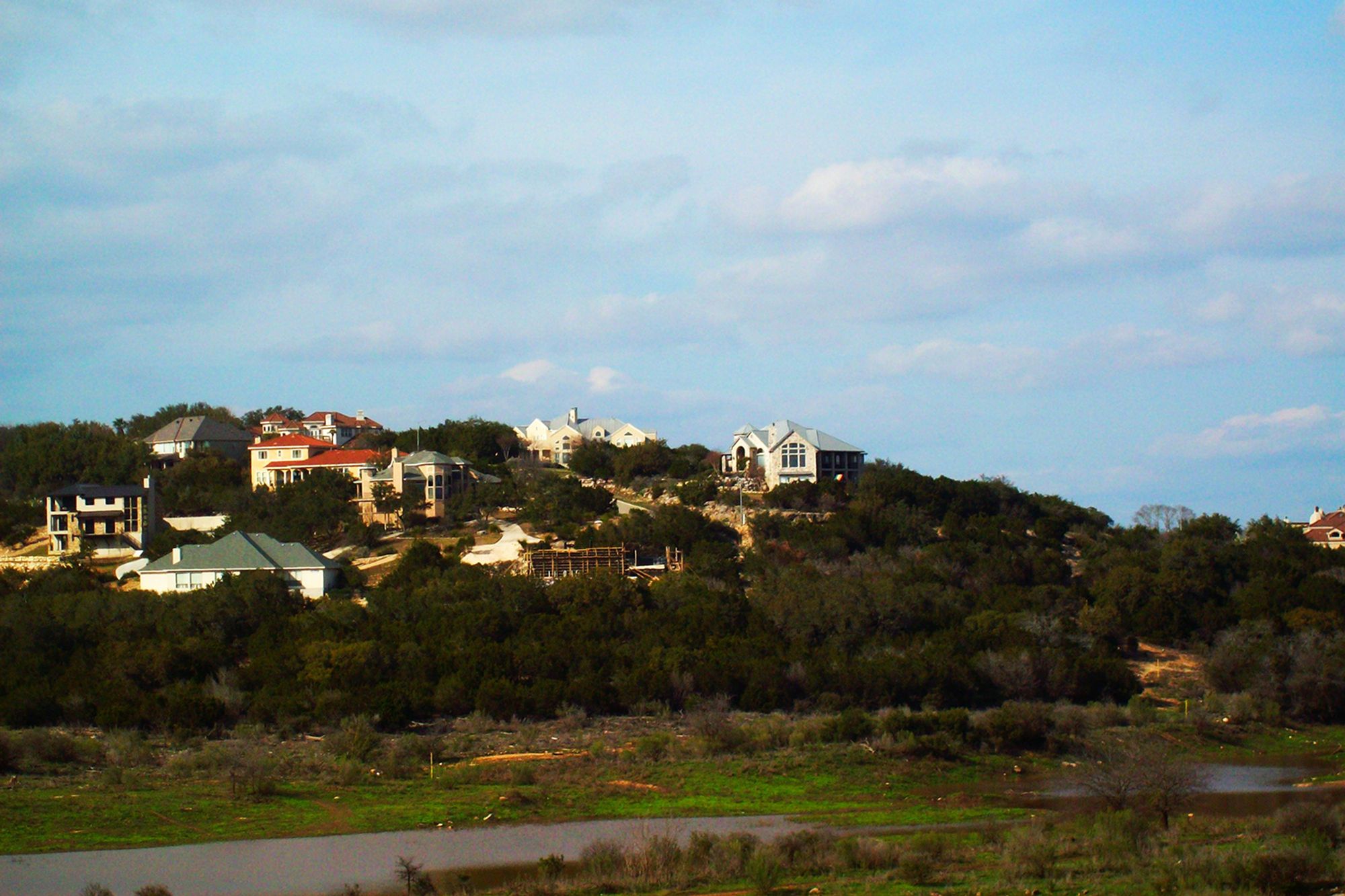 Photo Credit: stexas90er/Wikimedia Commons (CC BY-SA 3.0)
Located in north-central San Antonio, this neighborhood "has a suburban feel," Springfield said. "With prices beginning at $325,000, people who are looking for newer construction and easy access to box stores and other amenities tend to make their homes here." You might save money on your mortgage bill, too, as some areas of Stone Oak are not subject to city property taxes.
Sierra Springs
Sierra Springs, located on the far west side of town, has an abundance of single-family homes with three or four bedrooms and two baths. With a median home price around $245,000, "this community is priced toward your first-time homebuyer with a small family," Garza said.
Median home price in San Antonio
The median listing price on all homes in San Antonio is $275,000 or $150 per square foot. On a 30-year, fixed-rate home loan with 20% down, a $275,000 price tag may translate to a mortgage payment of about $1,515 per month. That includes taxes and insurance, but you'll also need to factor in the cost of a homeowners association (HOA) fee if applicable.
Within the past year or two, "the housing market boomed in San Antonio," Garza said. "With low inventory and delays in construction materials on new builds, every house that hit the market was in a multiple-offer situation within hours."
Based on a presentation Springfield recently attended, she predicts "housing prices will not decrease, interest rates will rise and the volume of home sale transactions will slow from 2020-21 numbers but remain strong."
But she expects the number of offers on listings to trend down in the coming months. It's "still competitive, but not quite as crazy," Springfield said.
Average rent in San Antonio
The average rent on a San Antonio apartment is $1,192, which is above the national average of $1,062.
"Our large, fluid military presence, coupled with multiple higher-learning institutions, help contribute to consistent renter demand," Springfield said. "In recent years, the low inventory of homes available for sale combined with rising prices has squeezed some entry-level buyers out of the market, further adding to the demand for rental units."
Rental rates have increased as a result, so Springfield recommends submitting an application as soon as possible when you find a unit that's a good fit. If your budget allows, Springfield suggests offering $25 to $50 per month over the asking price to win the bid.
Moving to San Antonio
Affordability and mild climate are clear draws for those considering a move to San Antonio. While the area does have its drawbacks, such as higher-than-average crime rates and a lack of walkability in certain neighborhoods, it still offers many pros for those who are looking for a big city with a strong local economy.