Though Salt Lake City is well-known as the global headquarters of the Church of Jesus Christ of Latter-day Saints, there's more to this metro area than the Mormon church. From the cost of living to the best schools and the area's crime rate, learn what living in Salt Lake City is really like and which neighborhoods fit your lifestyle.
Living in Salt Lake City: What to expect
With five national parks, 9 million acres of forest and dozens of outdoor activities for any season, Utah is truly a nature lover's dream. You'll find hundreds of well-maintained nature trails within an hour of Salt Lake City, in addition to the largest saltwater lake in the Western Hemisphere and a handful of world-class ski resorts.
Salt Lake City also boasts several professional sports teams—including the NBA's Utah Jazz and MLS's Real Salt Lake—along with a thriving culinary scene and several craft breweries and whiskey distilleries.
With a nickname like Silicon Slopes and billions of tech dollars flowing in, SLC is one of the hottest tech hubs around—but with a more affordable cost of living compared to Silicon Valley. The city ranks third for high-growth-company density and eighth for net business creation, according to Inc.com.
Walkable areas in Salt Lake City
Salt Lake City has a Walk Score rating of 59, so it's less walkable than other metros like Boston and Miami. The most pedestrian-friendly areas in Salt Lake City are Central City, Rio Grande and Liberty Wells.
But with a Bike Score of 73, you'll find plenty of ways to get around on two wheels. There's also a public transportation system with commuter trains (through the FrontRunner network), light rail (TRAX network) and buses to help you get from the airport to some of the city's best spots and up to its famous ski resorts.
Best public schools in Salt Lake City
The Salt Lake City school district serves about 20,700 students across 40 schools. With 80 languages represented in the student body, this district ranks among the top 1% for diversity. Here are the top elementary schools based on enrollment and the top three high schools based on national ranking, according to US News & World Report:
Top 3 elementary schools
Gearld Wright School
Diamond Ridge School
Plymouth School
Top 3 middle schools
West High
Butler Middle
Olympus Junior High
Top 3 high schools
Skyline High
Academy for Math Engineering and Science (Ames)
Salt Lake Center for Science Education
Commute time in Salt Lake City
Commute times are manageable in The Crossroads of the West, especially compared to other big cities such as Miami and Los Angeles. The average commute time in Salt Lake City is just about 23 minutes, according to 2019 Census Bureau data. That's less than the national average commute of almost 28 minutes.
Salt Lake City weather
Salt Lake City typically has a dry climate with very hot summers and very cold winters. Temperatures range from the 80s to low 90s in the summer and drop to around 20 to 55 degrees in the winter.
With an arid climate, Salt Lake City typically gets very little rainfall each year: 16.1 inches, or about half the national average. The wettest months are April and May. Snow can fall heavily in Salt Lake City, which receives around 56 inches of snowfall from November through April.
Between 1953 and 2019, Utah declared 38 major disasters, most of which were floods. Other common natural disasters in the area include severe storms, wildfires, winter storms, extreme heat and drought. Utah also experiences landslides, earthquakes and power outages, though to a lesser degree.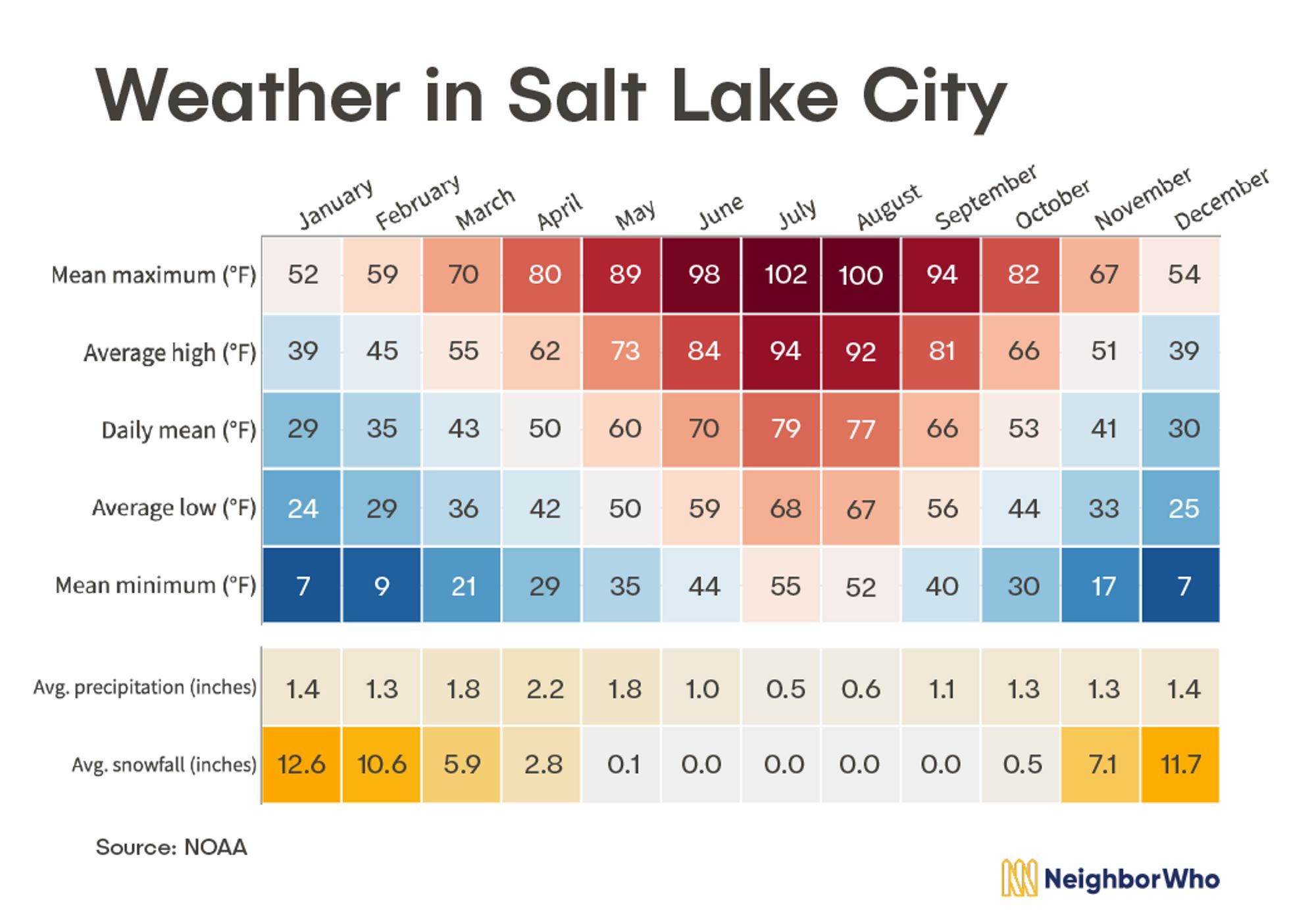 Salt Lake City crime rate
Salt Lake City is safer than just 2% of cities across the US, with a crime rate 253% higher than the national average. During the 2020 calendar year, 14,865 property crimes and 1,865 violent crimes were reported to the police, according to the FBI. Theft was the most frequently reported crime, followed by vehicle theft, burglary and assault. Crime in this area has increased by 30% over the previous year.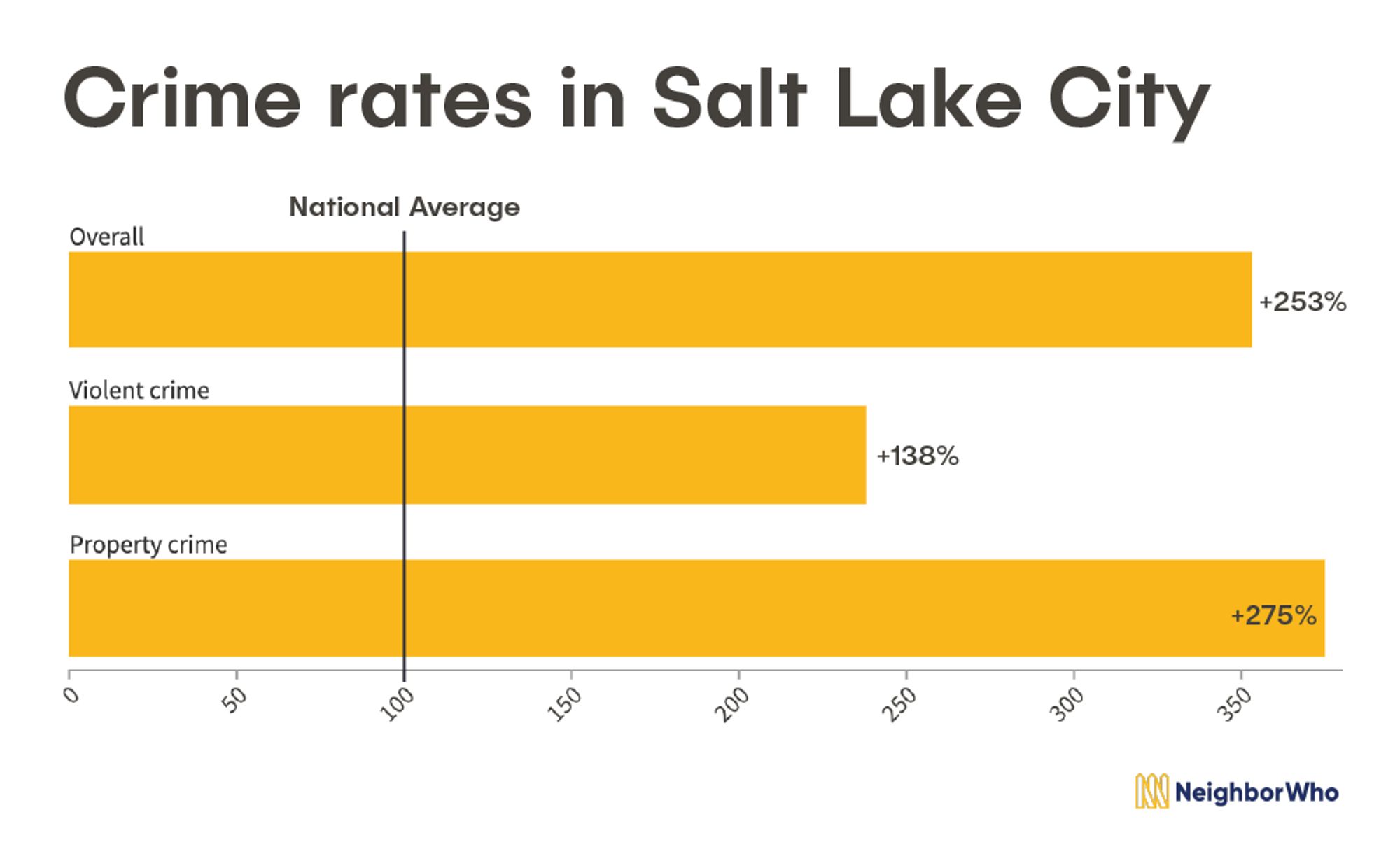 Salt Lake City population
Salt Lake City has a relatively small population of 204,087, but it's up by 9.4%—about 17,650 people—over the previous decade. More than 1.24 million people call the metro area home.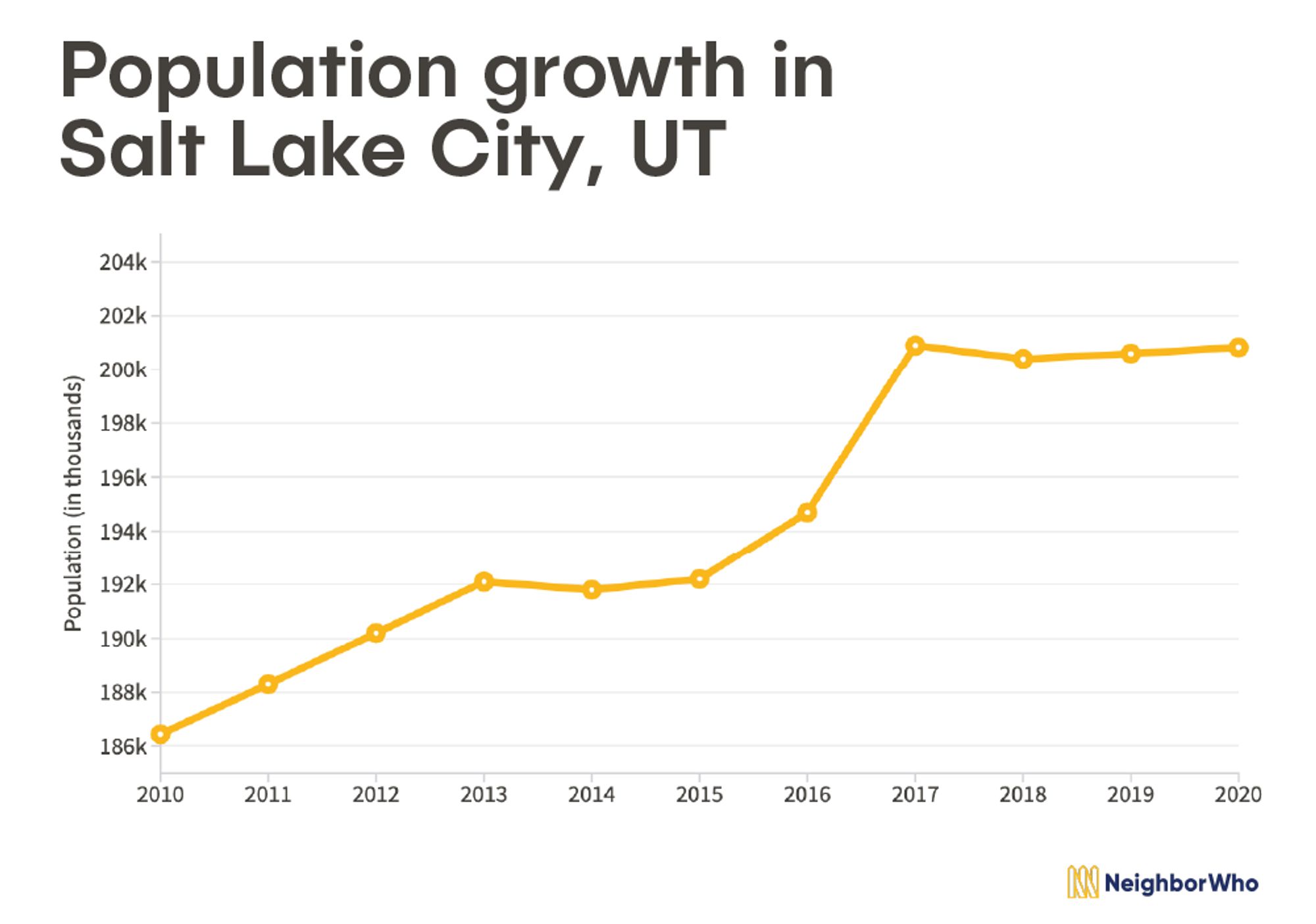 Cost of living in Salt Lake City
The overall cost of living in Salt Lake City is an estimated 6% below the national average, according to Payscale. Groceries cost about 2% less here, compared to the national average, while utility prices are 22% lower and housing is 8% cheaper.
According to one estimate, a family of four spends about $3,087 a month on living expenses, while a single person might need $865 per month. Both estimates leave out the cost of a mortgage or rent payment.
Median household income in Salt Lake City
According to the Census Bureau, the median household income in Salt Lake City was $60,676 in 2019, lower than the national median income of $62,843.
Top 5 Salt Lake City neighborhoods by population density
Before choosing a home in Salt Lake City, you'll need to think about whether you're looking to rent or buy, the median price tag of homes in the area and the amenities you're looking for. Here are some key things to know about the most popular areas.
East Central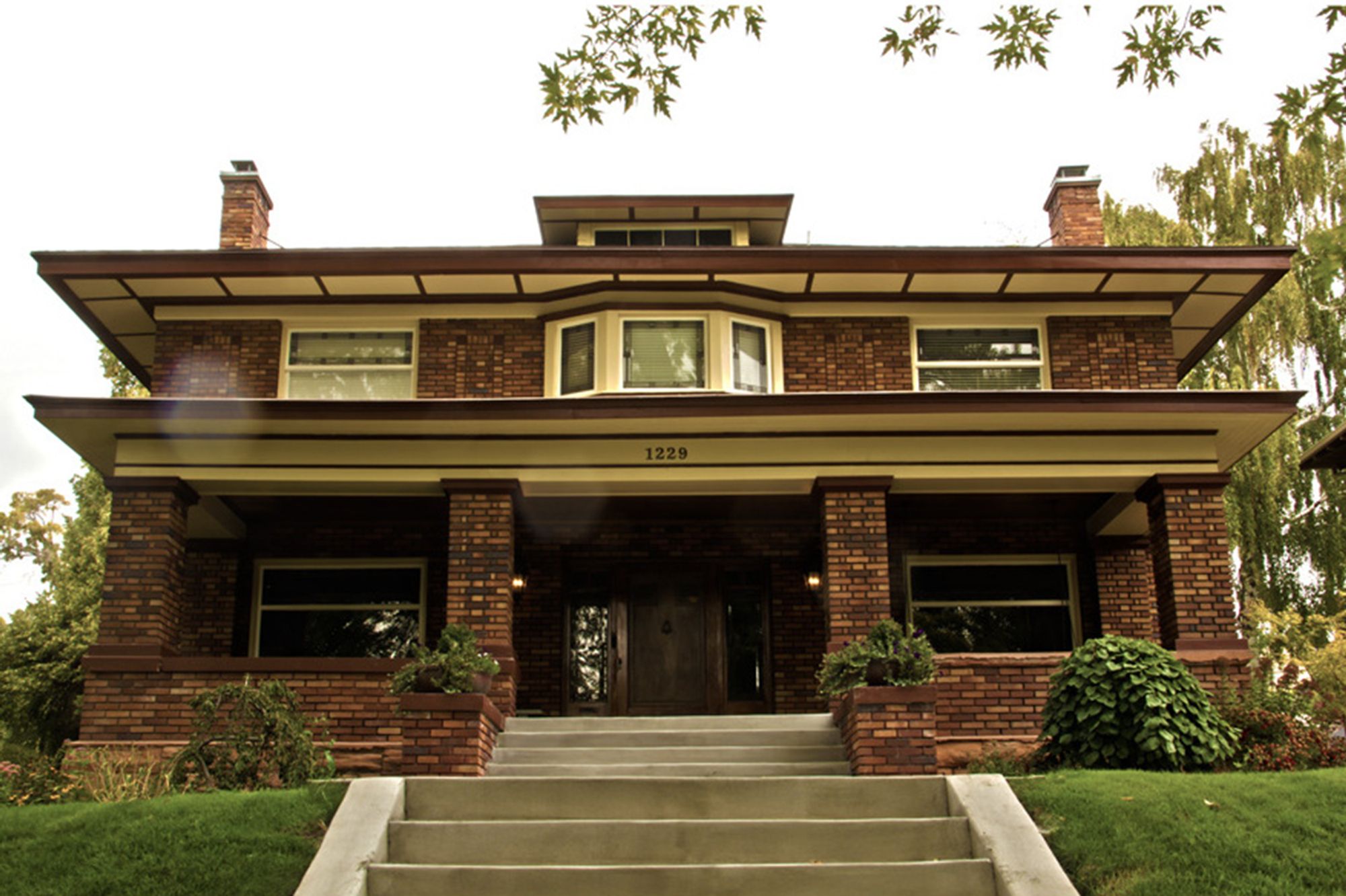 Photo Credit: Jonathan Mauer/Wikimedia Commons (CC BY-SA 3.0)
The East Central neighborhood has the highest population density in the area, with nearly 17,400 residents, and includes the University of Utah. The median home price is around $363,800 and rent price is $977, making it popular among renters, students and young professionals. The urban neighborhood overlaps with Central City, often considered one of the trendiest areas in Salt Lake City. In addition to coffee shops, boutiques, restaurants and taprooms, some of the area's attractions include Trolley Square, dog-friendly Herman Franks Park, Gilgal Sculpture Garden, the "9th and 9th" intersection and the Tower Theatre.
Liberty Wells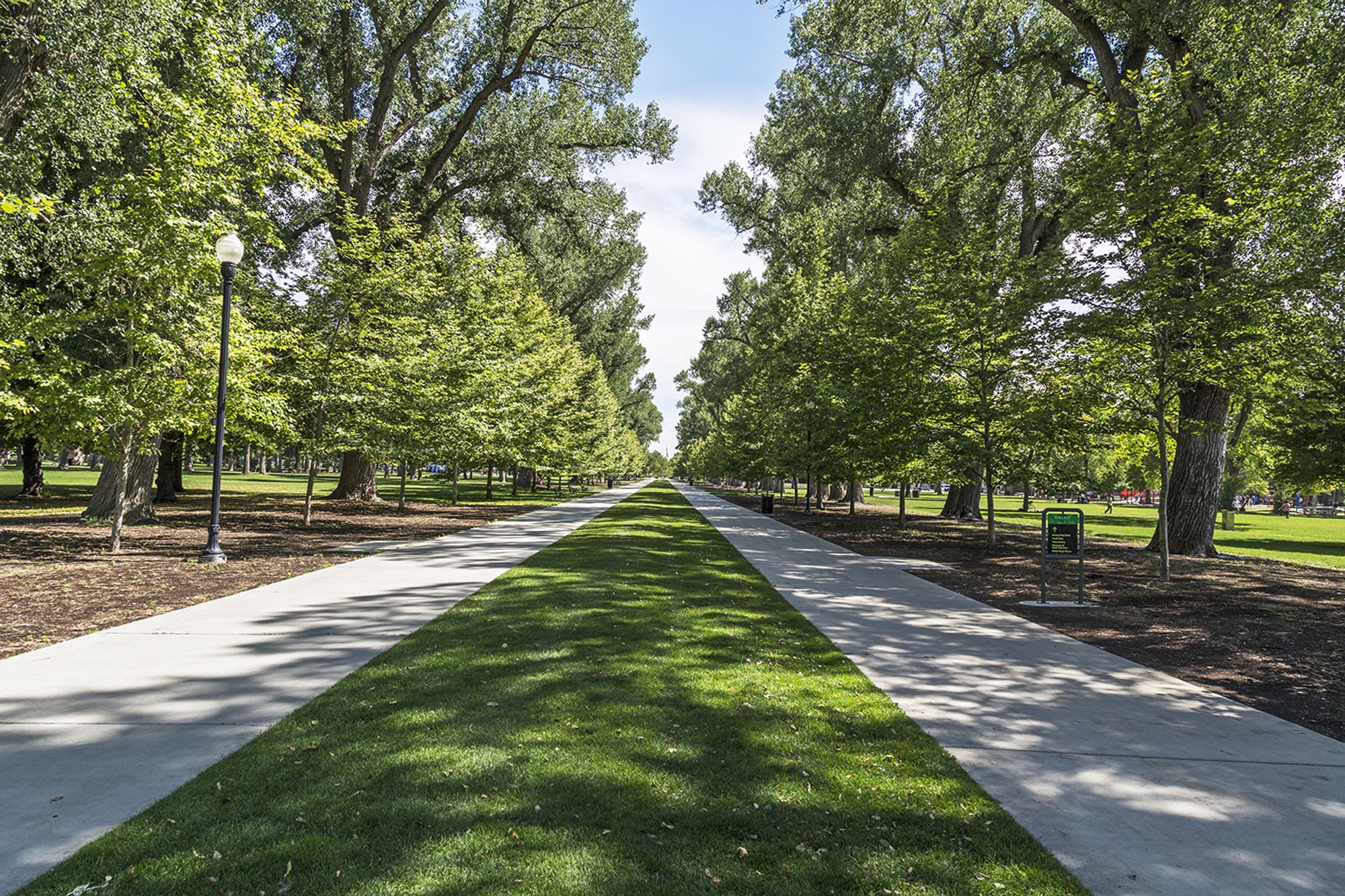 Photo Credit: Chris Curtis/Shutterstock
Liberty Wells is a laid-back, residential-urban neighborhood with a population of nearly 9,400. It's filled with popular restaurants, shops, bars and green spaces—and in nearby Liberty Park, you'll find artwork by local Utah artists at the Chase Home Museum of Folk Arts. Most people in this neighborhood own their homes, with a median home price of around $253,000.
Yalecrest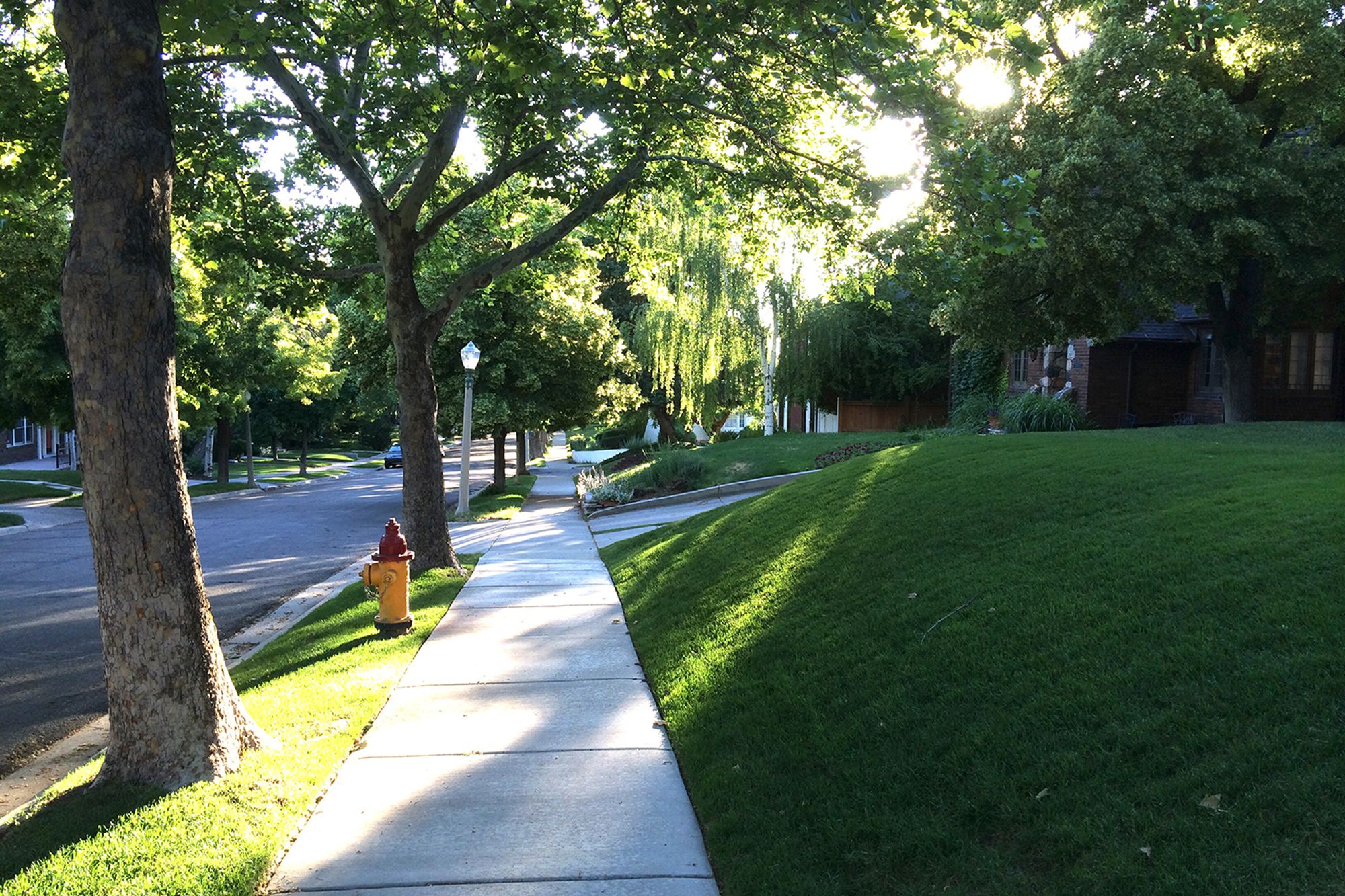 Photo Credit: Kellymwhite/Wikimedia Commons (CC BY-SA-3.0)
Yalecrest is an upscale residential neighborhood located east of East Central with a population of around 4,180. Most residents own their homes, with a median price of about $645,800. Here you'll find plenty of coffee shops and parks with above-average public schools.
Wasatch Hollow
Wasatch Hollow is a nature preserve surrounded by a residential neighborhood, so you'll find plenty of wildlife and walking trails here, along with coffee spots, restaurants and kid-friendly parks. The suburb is just south of Yalecrest but with a more affordable median price of $470,200. Rent is cheaper here, too, at around $1,290 a month.
Median home price in Salt Lake City
The median listing price on all homes in Salt Lake City is $499,900 or $287 per square foot, which is higher than the national median price of $404,700. On a 30-year, fixed-rate home loan with 20% down, a $499,900 price tag may translate to a mortgage payment of about $1,960 per month. That includes taxes and insurance, but you'll also need to factor in the cost of a homeowners association (HOA) fee if applicable.
Average rent in Salt Lake City
The average rent on a Salt Lake City apartment is $1,478, which is above the national average of $1,062. But some neighborhoods are more affordable than others. For instance, you might find a rental for around $980 in East Central and $1,290 in Wasatch Hollow.
Moving to Salt Lake City
An abundance of outdoor activities, a booming creative scene and a strong job market are all clear draws for Salt Lake City. The home prices are slightly above the national median and crime rates are much higher, so you'll have to weigh the pros and cons before moving to the area. By checking out what Salt Lake City has to offer, you can determine if it's an ideal moving location for you.