Philadelphia is a major Mid-Atlantic U.S. city that continues to grow. Full of culture and history, the City of Brotherly Love offers many activities for families and people of all ages. Philadelphia is also near several other major cities, located two hours south of New York and two hours north of Washington.
Learn what living in Philadelphia offers in terms of walkability, schools, neighborhoods and more.
Living in Philadelphia: What to expect
"In 2020, Philly experienced an influx of people who moved from Boston, New York, Los Angeles, Washington, D.C. and other 'inflated' metropolitan areas," said Brittany Nettles, a real estate agent and team leader with She Moves Philly and Keller Williams Philadelphia. "From single folks to expanding families, when I asked my clients why they chose Philadelphia living, the most common answers were affordability, proximity to other major cities and the desirability of neighborhoods."
Walkable areas in Philadelphia
Philadelphia has a Walk Score of 75, meaning the city is considered very walkable. You can complete most errands on foot. According to Nettles, some of the most walkable areas in Philadelphia include Fishtown, Passyunk, Queen Village, the Italian Market and Rittenhouse Square.
The city's transit score is 67, with many nearby public transportation stations via the Southeastern Pennsylvania Transportation Authority. Its bike score is also 67 because of its bike infrastructure, which includes designated bike lanes. Thanks to Acela Express trains, you also have easy access to Boston, New York and Washington.
Best public schools in Philadelphia
The School District of Philadelphia has 323 schools with a diverse student makeup, including 52% Black/African American and 22% Hispanic/Latino students. Below are the top-ranked public schools in the city according to U.S. News & World Report.
The top three elementary schools
Meredith William M School
Greenfield Albert M School
Penn Alexander School
The top three middle schools
Masterman Julia R Sec School
Penn Alexander School
Gamp
The top three high schools
Julia R. Masterman Secondary School
Central High School
Academy at Palumbo
Commute time in Philadelphia
Philadelphia residents have options between driving and utilizing public transit to commute to work. The average commute time is about 30 minutes, according to a 2019 report from the Census.
Philadelphia weather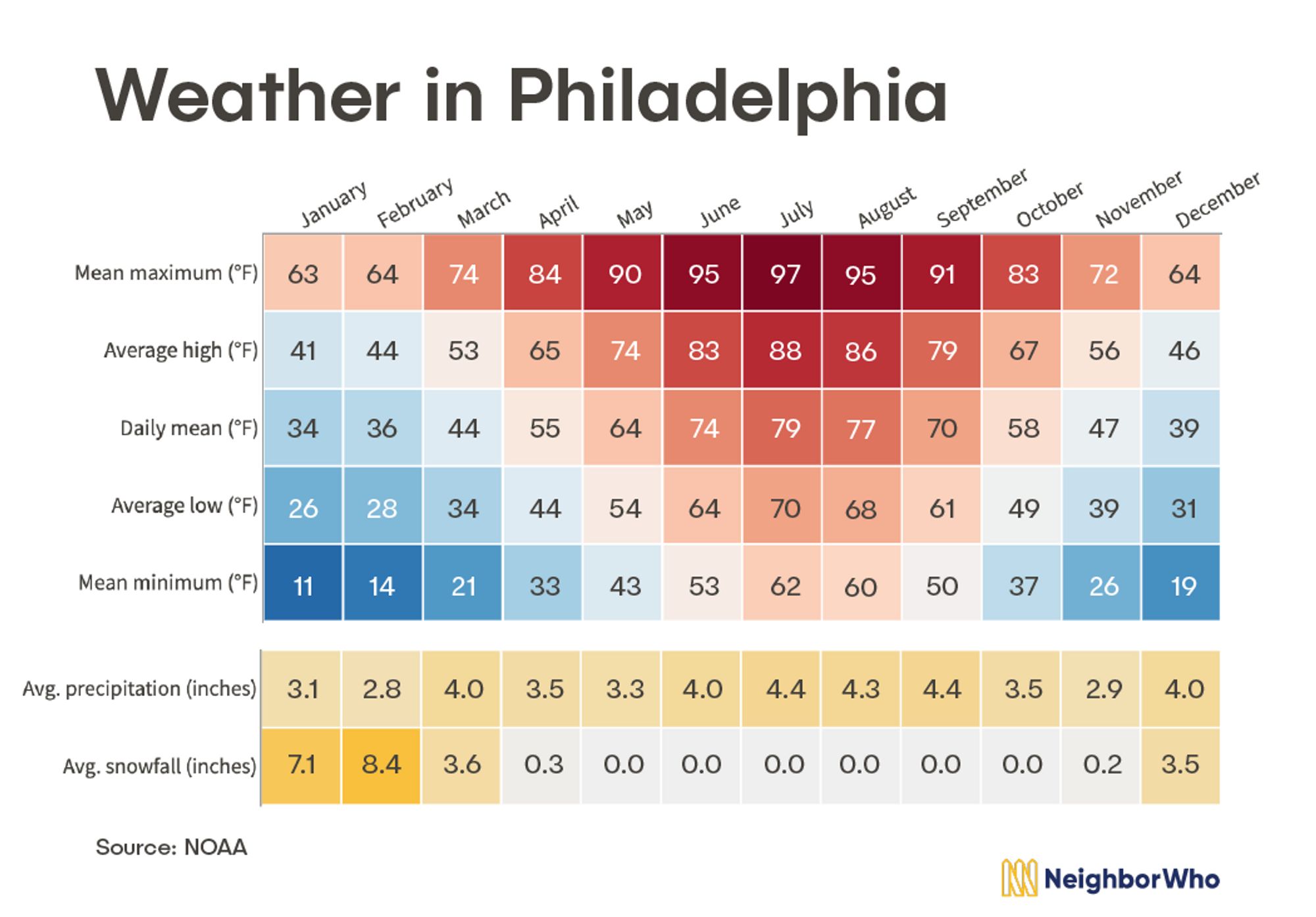 If you're looking for a city that offers all seasons in full effect, Philadelphia is it. Summers are hot, humid and rainy, though temperatures rarely exceed 94 degrees Fahrenheit. Winters get cold and snowy but rarely with temperatures below 13 degrees. You can also expect partly cloudy weather all year round. The rainiest month is July, with an average rainfall of 3.7 inches.
Philadelphia crime rate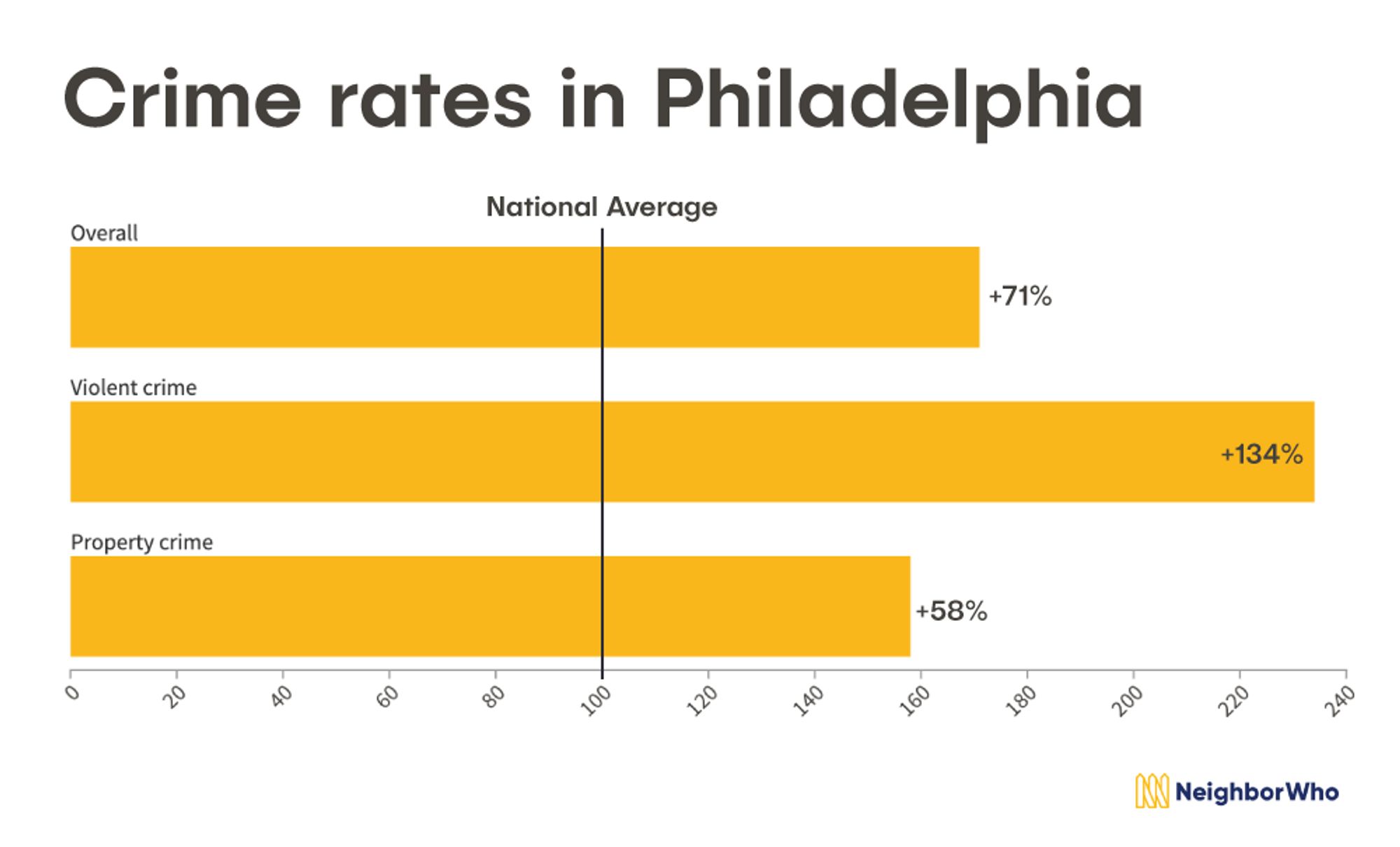 Philadelphia has an F rating for total crime, with violent crime ranking 134% higher than the national average and property crime 58% higher than the national average. According to Area Vibes, there were 909 violent crimes (including murder, rape, robbery and assault) per 100,000 people and 3,097 property crimes (including burglary, theft and vehicle theft) per 100,000 people.
Philadelphia city population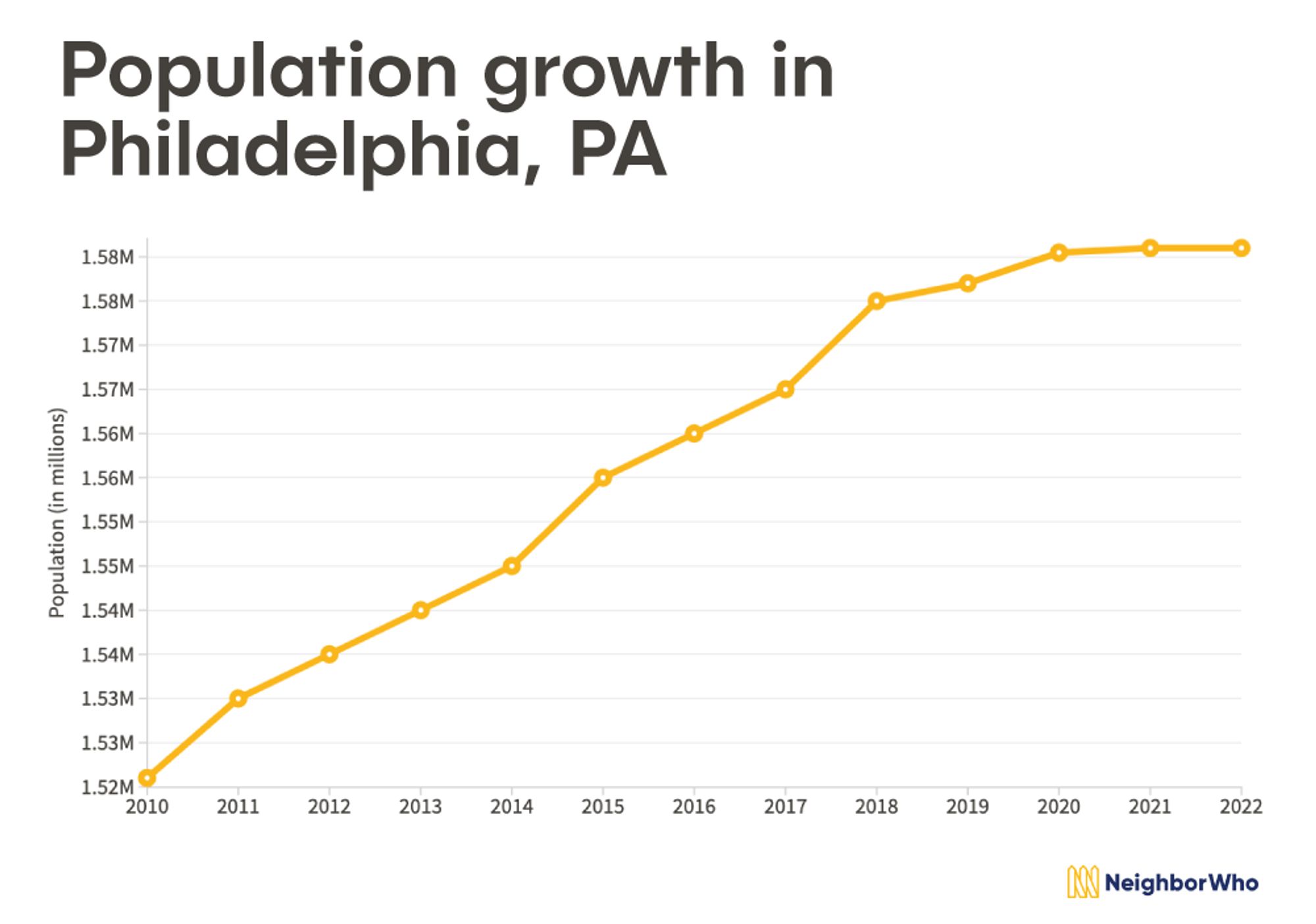 According to the U.S. Census Bureau, Philadelphia had an estimated population of 1,576,251 in 2021, an increase from 1,526,006 in 2010. This was a 1.7% decline from 2020.
Cost of living in Philadelphia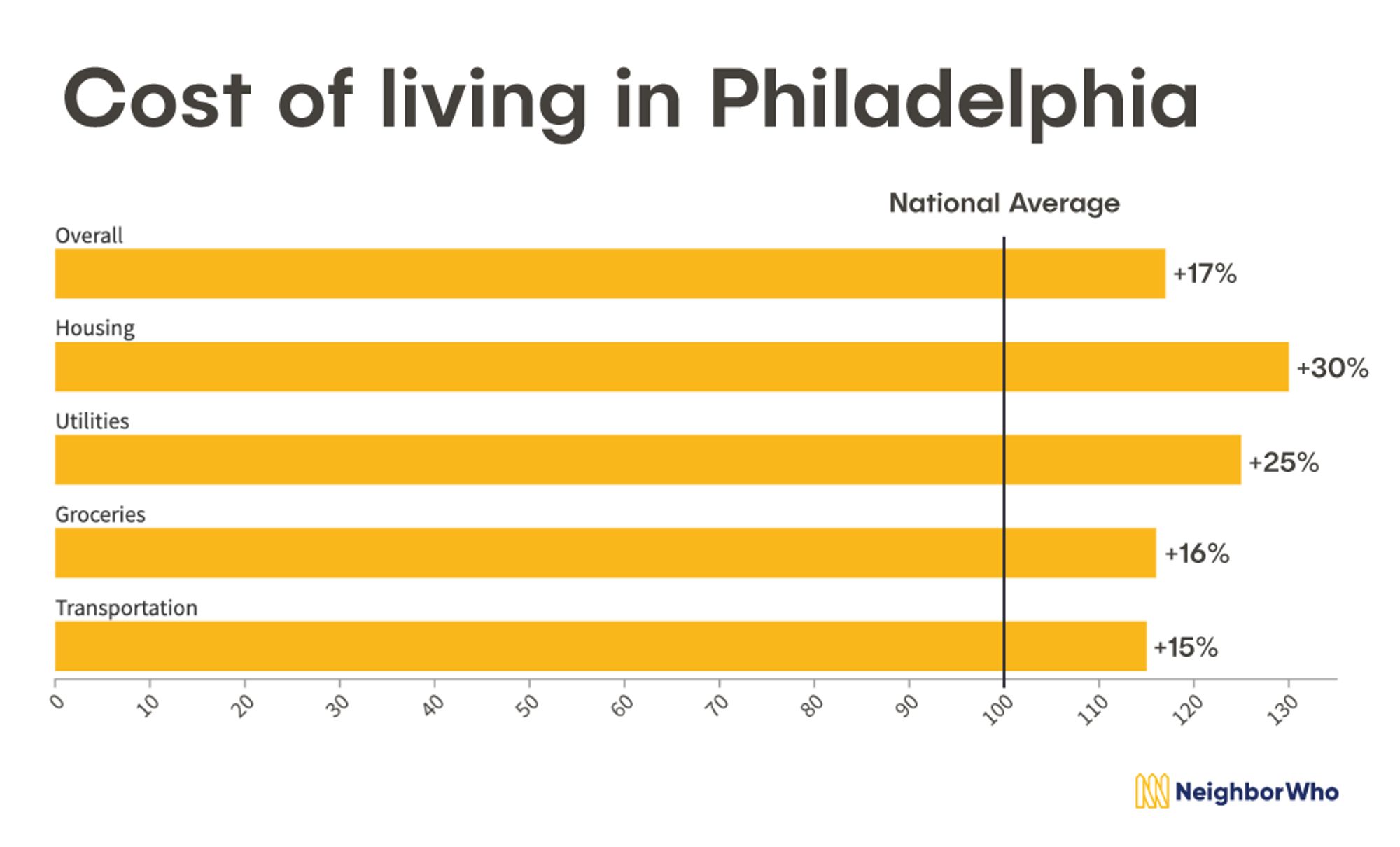 According to Payscale.com, the cost of living in Philadelphia is 17% higher than the national average, with housing, utilities and groceries being 30%, 25% and 16% higher, respectively.
Median household income in Philadelphia
According to the U.S. Census Bureau, the median household income in Philadelphia from 2016 to 2020 was $49,127.
Philadelphia neighborhood map
Top 5 Philadelphia neighborhoods by population density
Philadelphia residents have many neighborhoods to choose from, depending on whether you're looking for a central location with good schools and an easy commute or a diverse and bustling social scene.
"Philly offers a lower cost of living for people and families alike," Nettles said. "I'm primarily seeing young professionals, young families and empty nesters taking advantage of the pandemic work-from-home flexibility and historically low (well, once low) interest rates. There are [many] neighborhoods to explore, each with their own nuance and claims to fame."
The following are its most popular neighborhoods based on population density.
Lower Moyamensing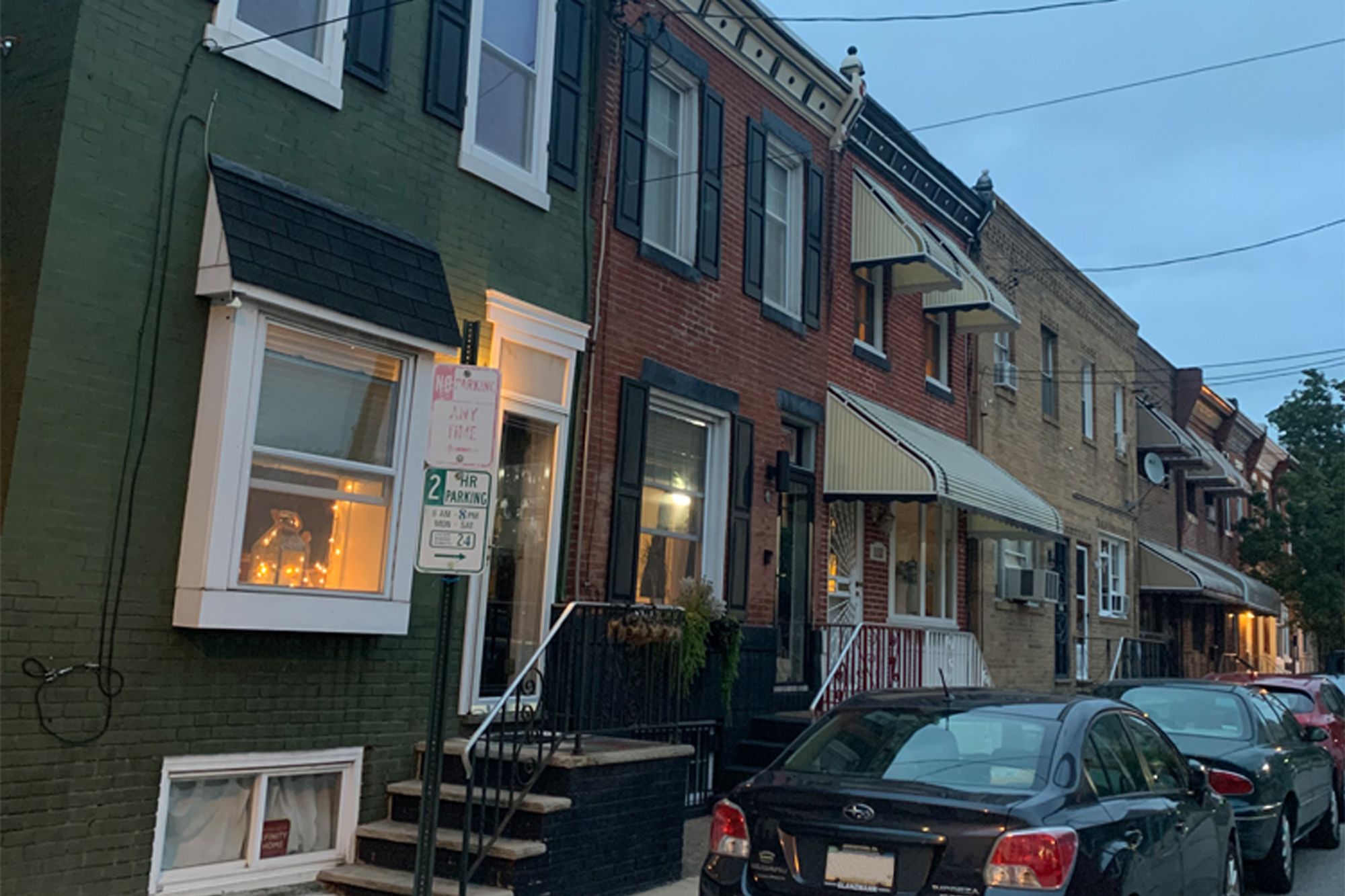 Photo Credit: Lomofan77 via Wikimedia (CC BY-SA 4.0)
According to Niche.com, the neighborhood of Lower Moyamensing offers residents a dense urban feel. Most residents are homeowners—the area tends to draw families. There are also several bars, restaurants, coffee shops and parks in this bustling neighborhood.
Rittenhouse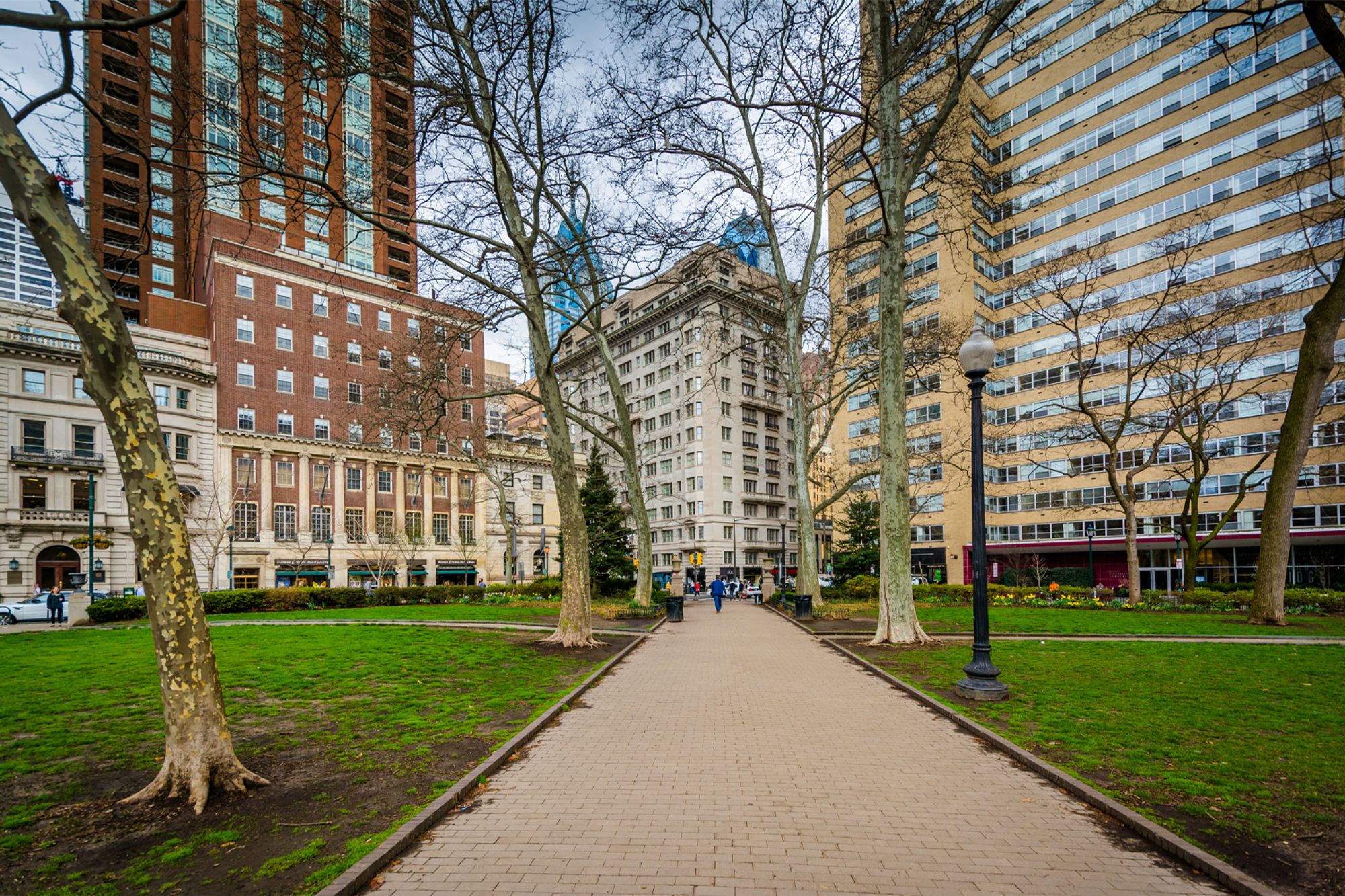 Photo Credit: Jon Bilous/Shutterstock
Rittenhouse is noted as one of the top places to live in Philadelphia. This neighborhood also offers a dense urban feel, though most residents rent their homes. Drawing a wide range of young professionals, Rittenhouse also offers a vibrant social scene with various restaurants, bars and coffee shops.
Washington Square West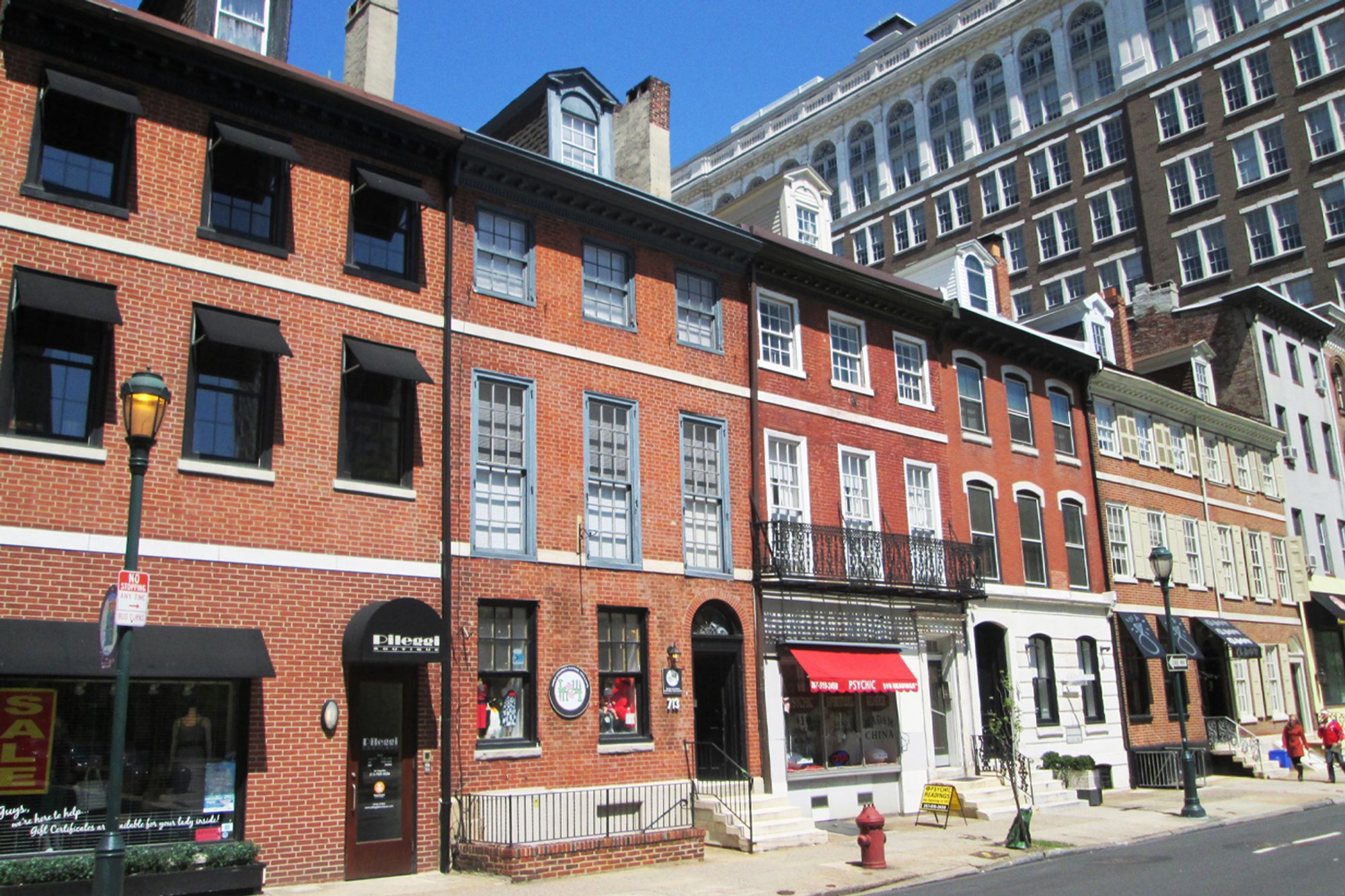 Photo Credit: Beyond My Ken via Wikimedia (CC BY-SA 4.0)
Washington Square West is another top-ranked neighborhood, offering residents a dense urban feel in a diverse area. Residents tend to be young professionals who rent and take advantage of the growing food, drink and outdoor scene.
Upper Kensington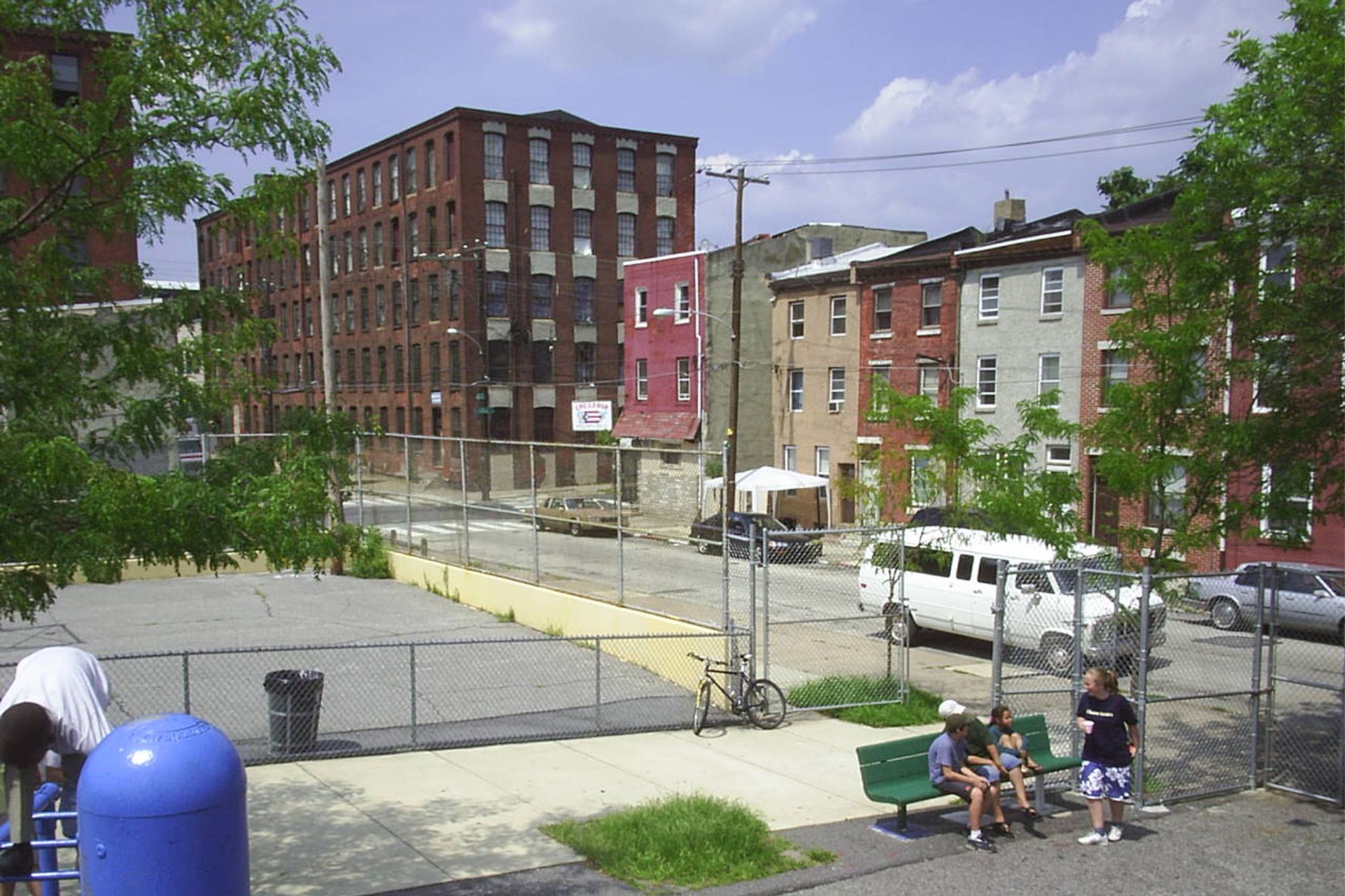 Photo Credit: ChrisErb via Wikimedia (Public Domain)
Upper Kensington ranks high in diversity and nightlife. Offering an urban-suburban mix atmosphere with most residents renting, Upper Kensington also draws a lot of families to this growing neighborhood.
Point Breeze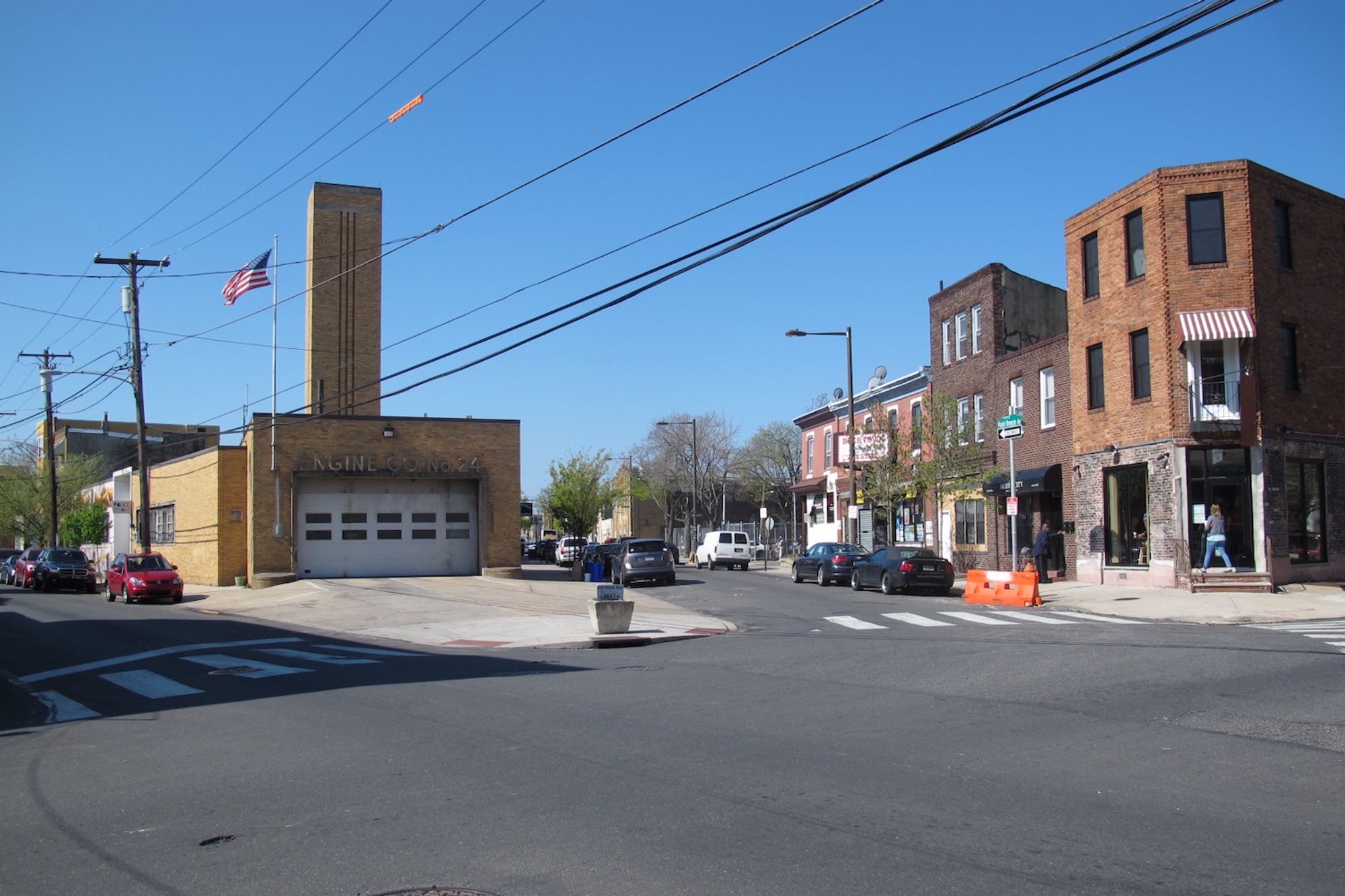 Photo Credit: Rgs25 via Wikimedia (CC BY-SA 3.0)
Point Breeze also ranks especially high in diversity and nightlife, making it ideal for the young professionals the area draws, most of whom tend to be homeowners.
Median home price in Philadelphia
According to Realtor.com, the median listing home price in Philadelphia as of February 2022 is $262,500, with an average of $202 per square foot. The median sold home price is $248,000. According to the U.S. Census Bureau, the median value of occupied housing units was $171,600 from 2016 to 2020. With a mortgage, the median monthly owner costs were $1,343/ Without a mortgage; the median cost was $466.
Average rent in Philadelphia
According to the U.S. Census Bureau, the median gross rent in Philadelphia from 2016 to 2020 was $1,084.
Moving to Philadelphia
Philadelphia is a solid choice for young professionals and families in search of a growing job market. It also offers a bustling cultural and entertainment scene in a major city more affordable than many others. With a little research, you can find the right corner of the city to meet your needs.