Located approximately six miles northwest of Washington, Chevy Chase, Maryland, is known colloquially as "the home suburb for the nation's capital." In addition to its easy commute to DC, many federal workers choose this area for its schools and close proximity to city life. If you are thinking of living in Chevy Chase, Maryland, here's what you should know about this affluent neighborhood that is a draw for DC's elite.
Living in Chevy Chase, Maryland: What to expect
Established in the 1890s, Chevy Chase, Maryland, was first formed by the Chevy Chase Land Company, which was owned by entrepreneurs Francis G. Newlands and William M. Stewart, who made their fortunes mining gold out west. The company brought infrastructure to the area, including utilities and a railroad system. However, it wasn't until after World War I, when the use of the automobile became more widespread, that people really began to migrate from Washington, DC, to this neighboring town.
Walkable areas in Chevy Chase, Maryland
Chevy Chase is considered a fairly walkable city. According to Walk Score, the area scores a total of 71 out of 100 possible points for walkability, indicating that most errands can be accomplished on foot. In particular, residents enjoy walking to The Collection, one of the nation's first shopping centers. Although it was built in the 1950s, the 194,646-square-foot retail Center includes everything from high-end retailers to casual stores and dining establishments.
Although there is some bike infrastructure, residents are more likely to use public transportation. The area is within walking distance to the Washington Metro's red line and the Silver Spring-Friendship and Aspen Hill-Friendship bus lines.
Best public schools in Chevy Chase, Maryland
Chevy Chase is known for the quality of its public schools. There are several elementary schools to choose from, and they all receive an "A" from Niche, a site dedicated to providing neighborhood rankings.
According to Tom Nalls, the Regional Sales Manager at Coakley Realty in Rockville, Maryland, the schools in Montgomery County, the county in which Chevy Chase is located, are consistently ranked among the best in the nation. However, the standout institution is Bethesda-Chevy Chase High School, which is ranked as the ninth-best school in Maryland. US News ranks the following schools in the Chevy Chase area as the best.
Top 3 elementary schools
Chevy Chase Elementary
Bethesda Elementary
Rock Creek Forest Elementary
Top 3 middle schools
Westland Middle School
John L Gildner Regional Institute
Rock Terrace
Top 3 high schools
Bethesda-Chevy Chase High School
John L Gildner Regional Institute
Rock Terrace
Commute time in Chevy Chase, Maryland
Most of the commuters in Chevy Chase are either headed to nearby Bethesda, home to the National Institutes of Health's campus and the Walter Reed Military Medical Center, or Washington. If you own a car, you can get to downtown Bethesda in as little as five minutes. If you're relying on public transportation, your commute may be closer to 35 minutes.
The heart of Washington is just 17 minutes away by car if you're not commuting during rush hour. Those using public transportation will be in for a 33-minute commute.
Chevy Chase, Maryland, weather
The weather in Chevy Chase is fairly typical for what one might expect in the region. You experience all four seasons. According to WeatherSpark, which tracks annual weather patterns, the temperature in Chevy Chase typically varies from 27 degrees in the winter to 87 degrees and humid in the summer. Residents should expect above-average rainfall, however. On average Chevy Chase gets 42.5 inches of rainfall per year, compared to the national average of 38.1 inches.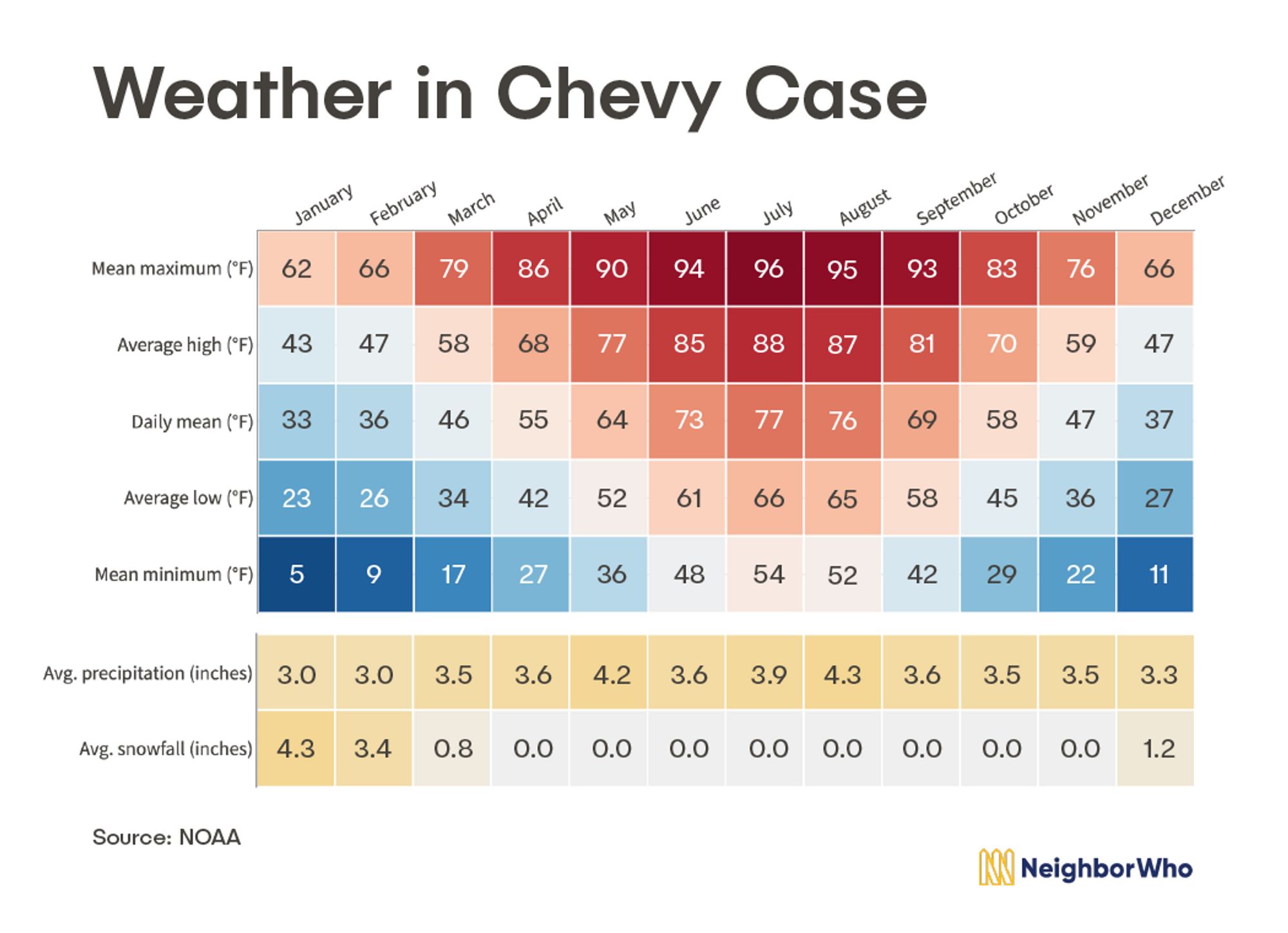 Chevy Chase, Maryland, crime rate
The crime rate in Chevy Chase is 65% lower compared to the state, according to Area Vibe. Property-related crime is 66% below the national average and violent crime is 58% below average. Overall, Chevy Chase gets an A+ crime rating and for its total livability score, 82 out of 100 possible points.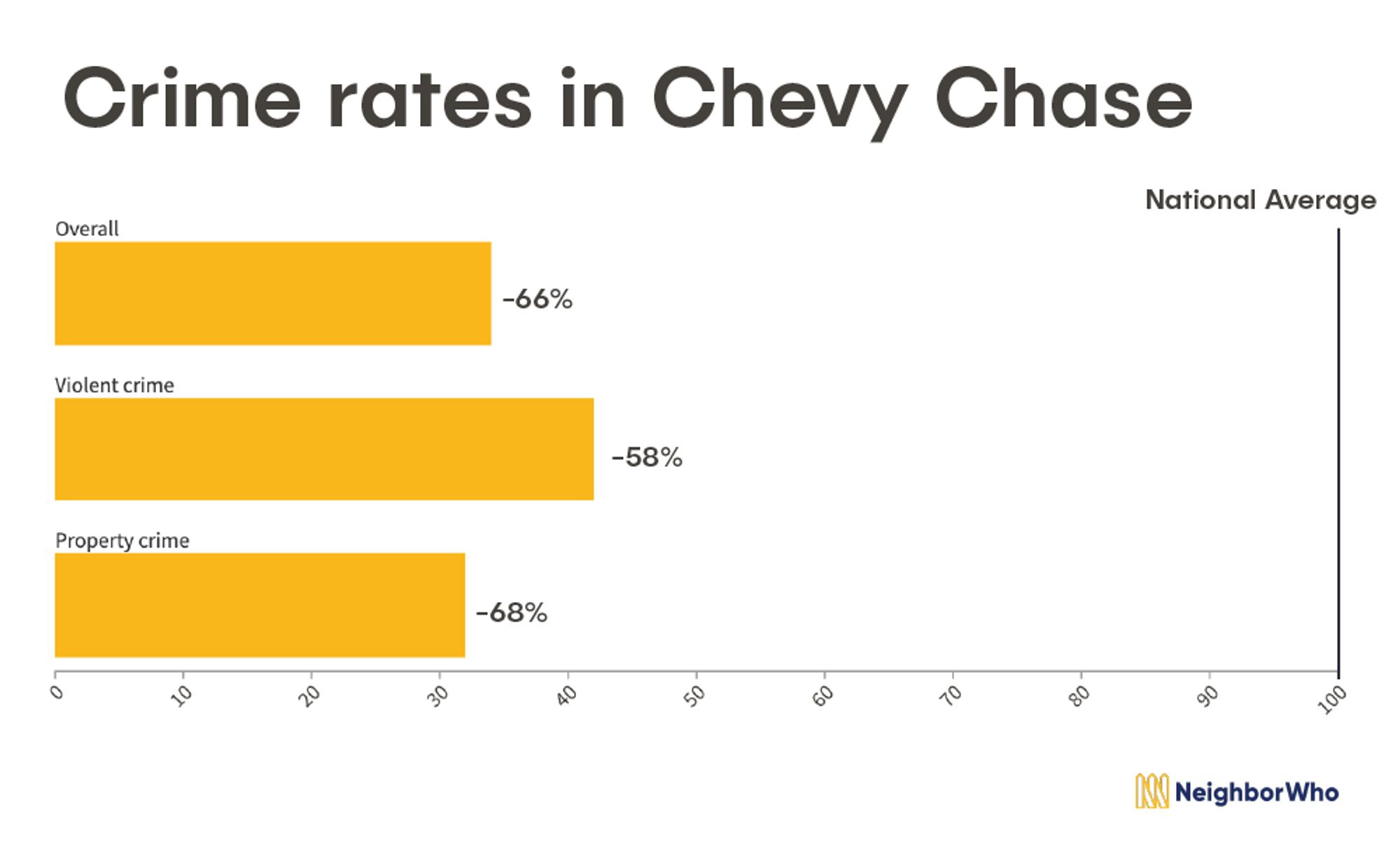 Chevy Chase, Maryland, city population
In 2010, at the time of the last census, the area was home to approximately 9,545 people. However, as of 2019, the population grew to 10,176.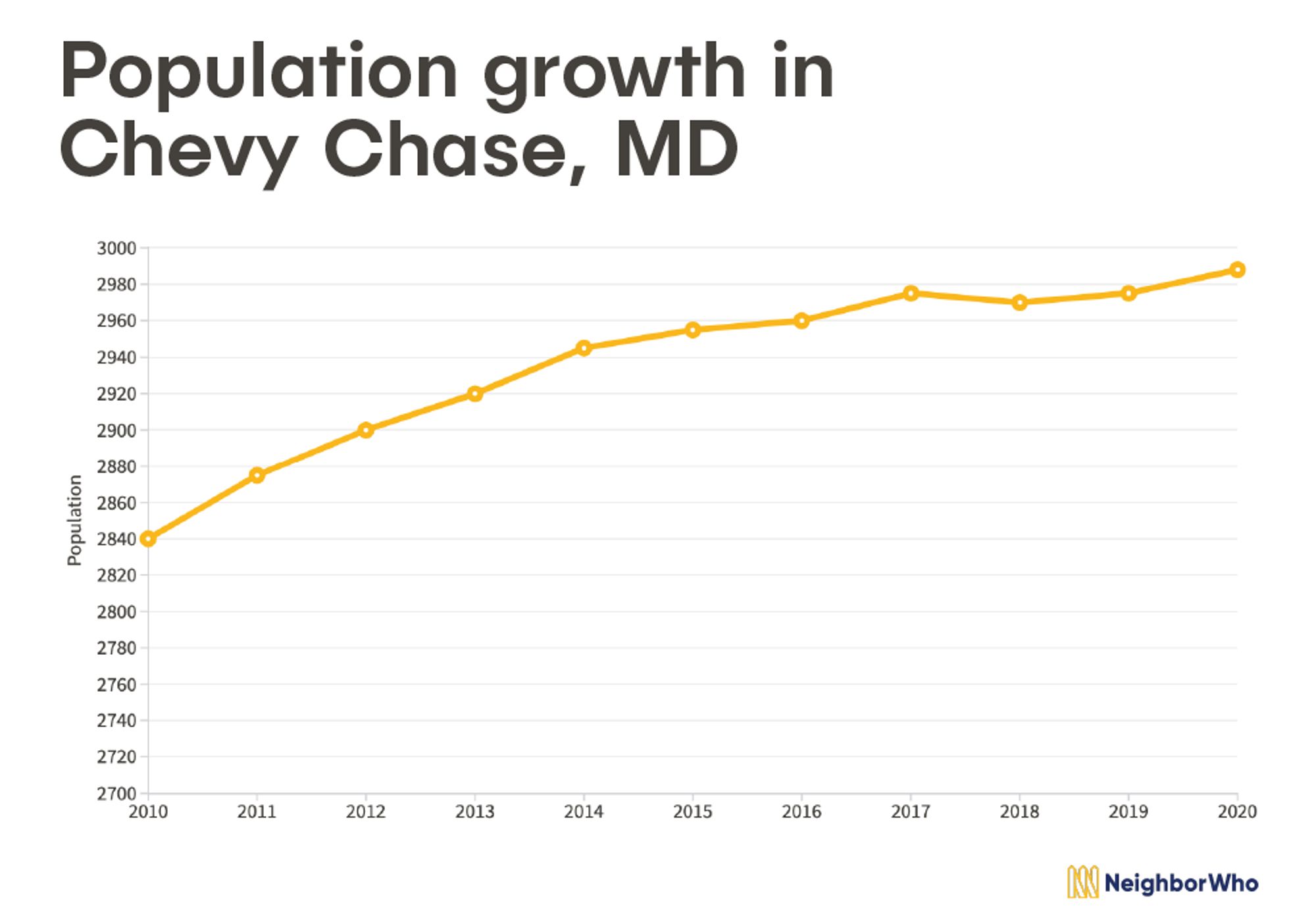 Chevy Chase, MD." />
Cost of living in Chevy Chase, Maryland
Interested homebuyers should know the cost of living in Chevy Chase is not cheap. Salary.com estimates it is 56% higher than the national average, which is on par with living in Washington, DC. The cost of living is still less compared to famously expensive coastal cities like San Francisco or New York.
The cost of living is, however, on the rise, with the biggest increases in housing, transportation and food.
Median household income in Chevy Chase, Maryland
Most people living in Chevy Chase, Maryland, are fairly well off. The census found the median household income was more than $181,000. Likewise, the per capita income, a measure of the amount of income made per person, was more than $104,000 in 2019.
Chevy Chase, Maryland, neighborhood map
Top 5 Chevy Chase, Maryland, neighborhoods by population density
Here's an overview of the top five neighborhoods in Chevy Chase, where most of the houses are single-family colonial-style residential homes.
North Chevy Chase
There's a good reason why North Chevy Chase is the most populated neighborhood in the area. The neighborhood is adjacent to Rock Creek Park and the Georgetown Branch Trail, which offer plenty of opportunity for outdoor living, including hiking and biking.
Although construction on the new purple Metro line has stopped temporarily because of the pandemic, a station is scheduled to be built in this vicinity, which will make commuting into the city even easier.
"Properties in North Chevy Chase are newer than average," said Nalls. "They were built in the '40s and '50s as opposed to a hundred years ago."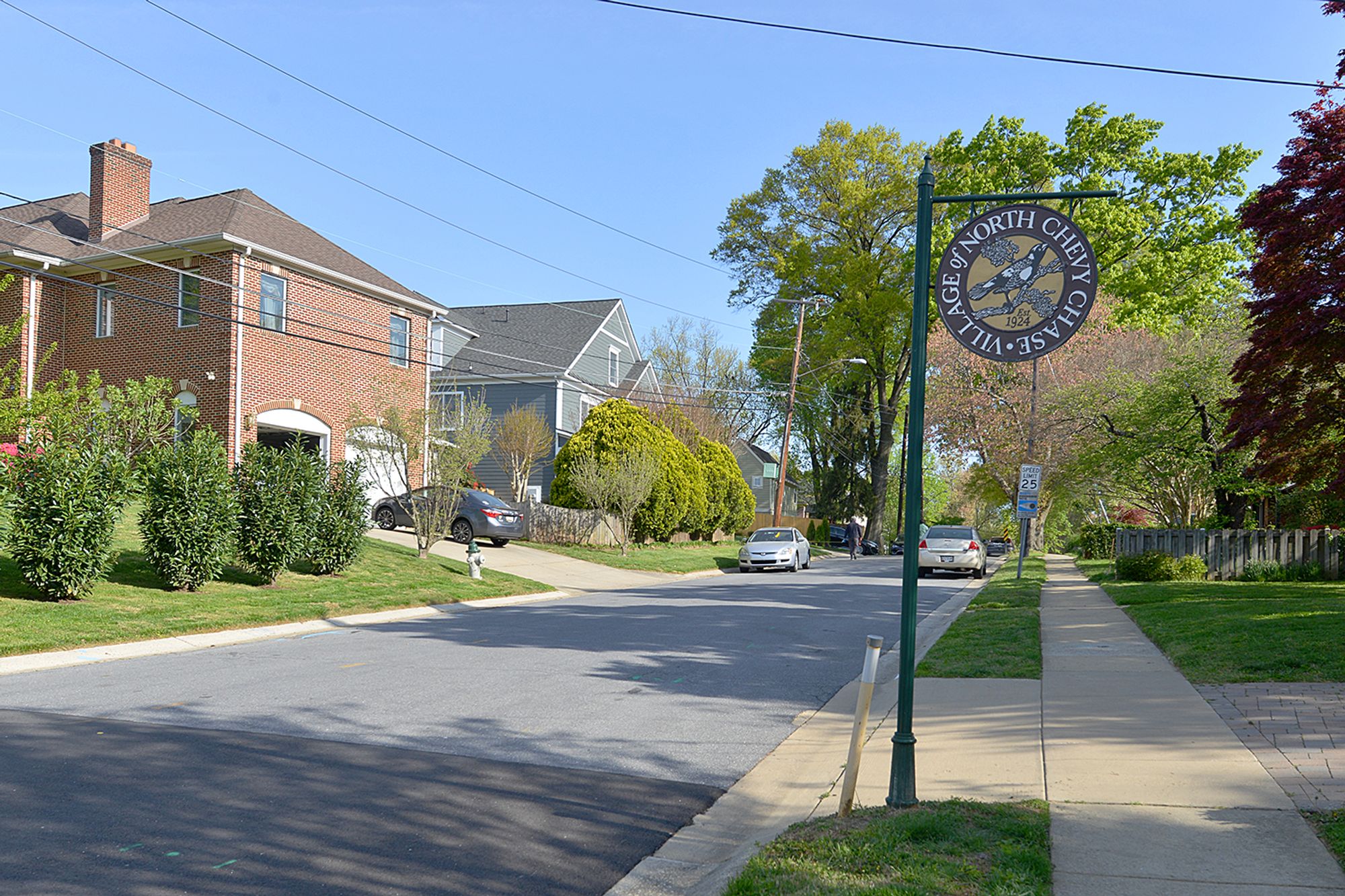 Photo Credit: G. Edward Johnson/wikimedia (CC BY-SA 4.0)
Chevy Chase Section 3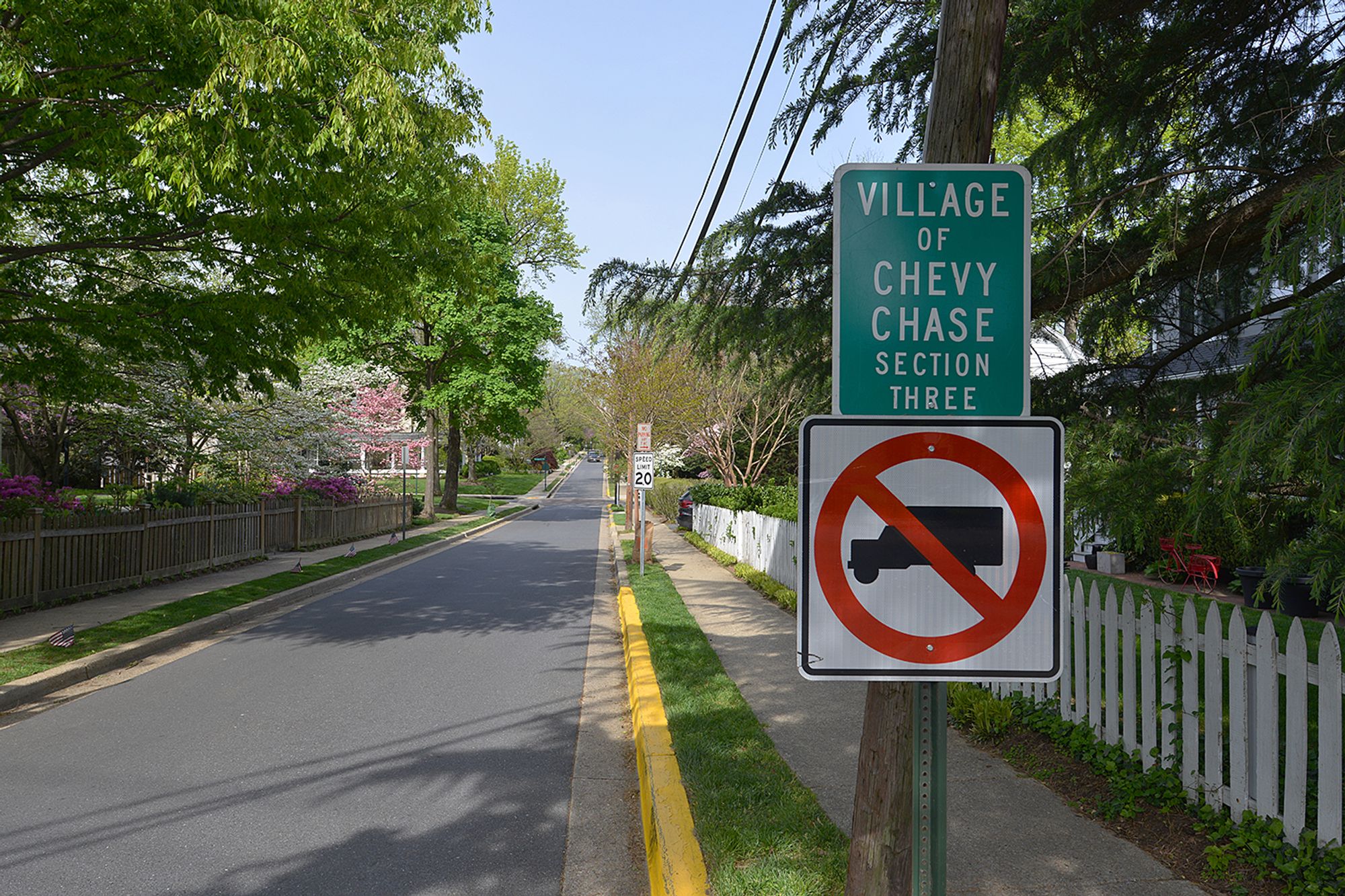 Photo Credit: G. Edward Johnson/wikimedia (CC BY 4.0)
Chevy Chase Section 3 is situated just north of the District of Columbia line. Measuring just one-tenth of a square mile, Section 3 is home to 192 lots. It is bordered on both sides by parks and is known for its monthly, neighborhood-wide social events.
Chevy Chase Section 5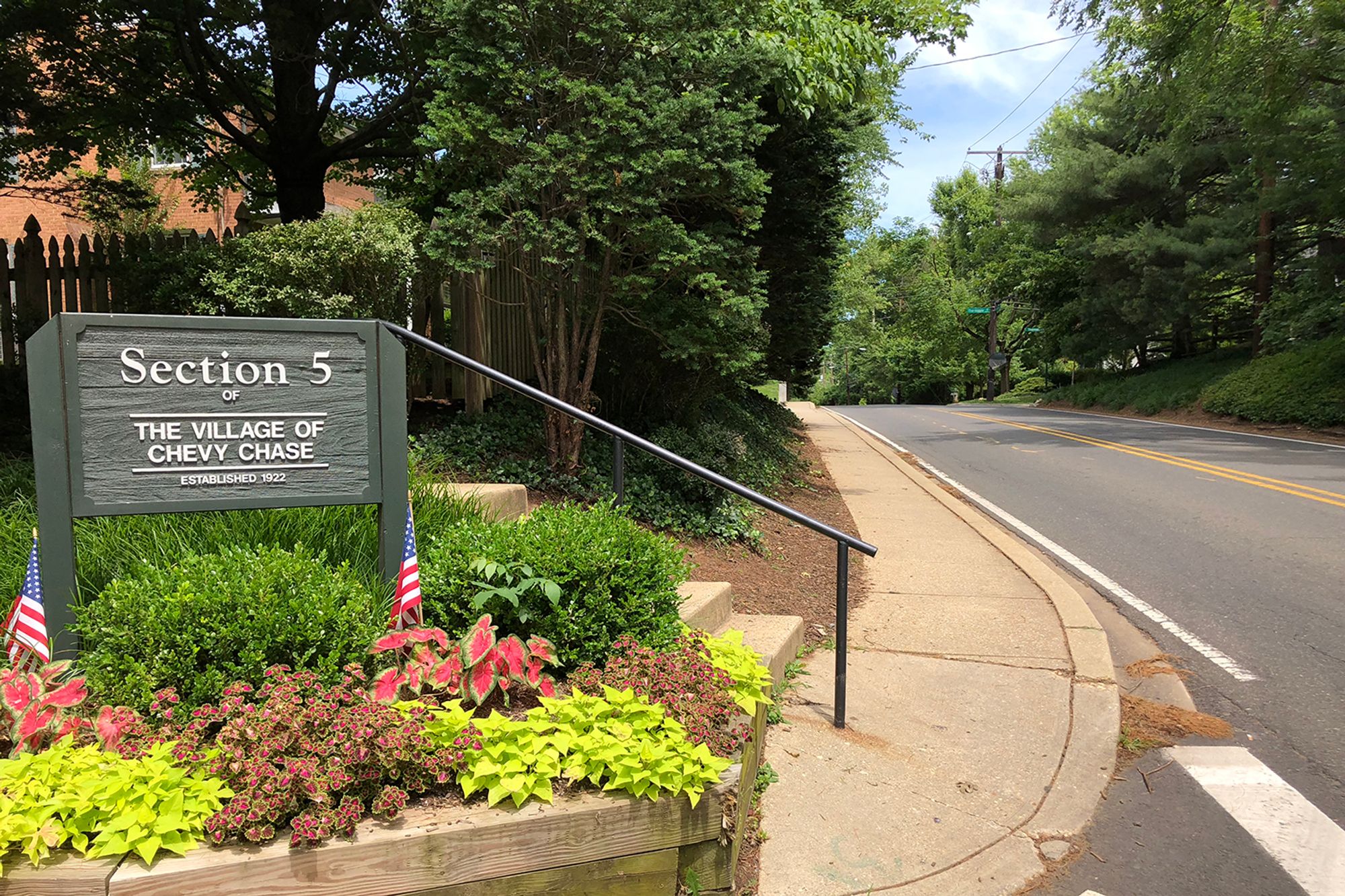 Photo Credit: Famartin/wikimedia (CC BY-SA 4.0)
Established in 1922, Chevy Chase Section 5 includes a total of 227 houses and one restaurant. This area is known for its tree-lined streets, porches and friendly neighborhood atmosphere.
West Chevy Chase Heights
Located just east of Bethesda, West Chevy Chase Heights provides easy access to some of the area's best restaurants and shops. This neighborhood is also home to Lynnbrook Park and the Columbia Golf Course. The park offers access to tennis courts and a baseball field and playground.
Westboro
One of the smaller neighborhoods in the Chevy Chase area, Westboro's defining feature is its convenient location. Just a 10-minute walk from the Bethesda Metro station, residents have easy access to all the city has to offer.
Median home price in Chevy Chase, Maryland
Although the Census Bureau estimates the median home value in Chevy Chase is $944,000, that number may be outdated, given the recent real estate market.
Realtor.com estimates the average sale price is now more than $1.2 million. Homes in the area go for around $477 per square foot.
While that number may cause sticker shock for some, it's worth noting that residents typically get a lot of house for their money. Nalls adds that homes here are typically large properties with long histories.
Although he admits that many have had additions put on over the years or have been renovated to be more modern inside, from the outside, he feels that it's incredibly easy to fall in love with the historic charm that the single-family Colonial homes in the area have to offer.
Average rent in Chevy Chase, Maryland
The Census Bureau also found the average gross rent in 2019 in Chevy Chase was $1,957, which is rent plus the estimated average monthly cost of utilities such as electricity and gas. More recent data suggests the average rent for a one-bedroom apartment in the Chevy Chase area is up to $2,400 per month, an increase of 7% year-over-year.
Keep in mind that average gross rent from the census includes the monthly housing expense as well as the average cost of monthly utilities such as electricity and water.
Moving to Chevy Chase, Maryland
Living in Chevy Chase offers some of the best of what the Washington area has to offer—at a high price. As a suburb of the nation's capital, not only will you be close to city life, but you will also get to take advantage of a quiet suburb as well as its world-class schools, transportation and entertainment.