Founded in 1630, Boston is one of the oldest cities in the country and the birthplace of the American Revolution. Today, the area is known for having some of the best schools and hospitals in the world along with several Fortune 500 companies and five major league professional sports teams. If you're already living in Boston or considering a move to the Boston area, here's what you need to know.
Living in Boston: What to expect
You may have heard about Boston's sports scene, historic sites and college atmosphere—and you'll find all of that in the City on a Hill. But there are also abundant outdoor activities, a booming job market and top-notch restaurants and breweries, so there's something for everyone. You also won't feel quite as overwhelmed as you would in nearby New York City, as Boston's surrounding suburbs have a distinctly small-town feel.
Walkable areas in Boston
With a nickname like "America's Walking City," it's no surprise about 13% of Boston commuters get to work by foot, earning the city a pedestrian friendly score of 82 (out of 100), a Transit Score of 72 and a Bike Score of 70.
Boston weather
Like neighboring New York City, Boston experiences four distinct seasons, and both cities get comparable rainfall and sunshine. However, Boston's winters are more severe, with a winter low of 19.2 degrees and 48.1 inches of snowfall on average, compared to New York City's 25.3 inches of snow and low of 26.1 degrees. High temperatures average 80 degrees in July, then dip to just below freezing in January.
The cold season lasts about 3.4 months, starting in December and goes through mid-March. June through mid-September is considered the warm season, with humidity spiking in August and averaging 67% year-round. In between, you need a jacket and raincoat in the spring when days get rainy, while the autumn starts to cool off.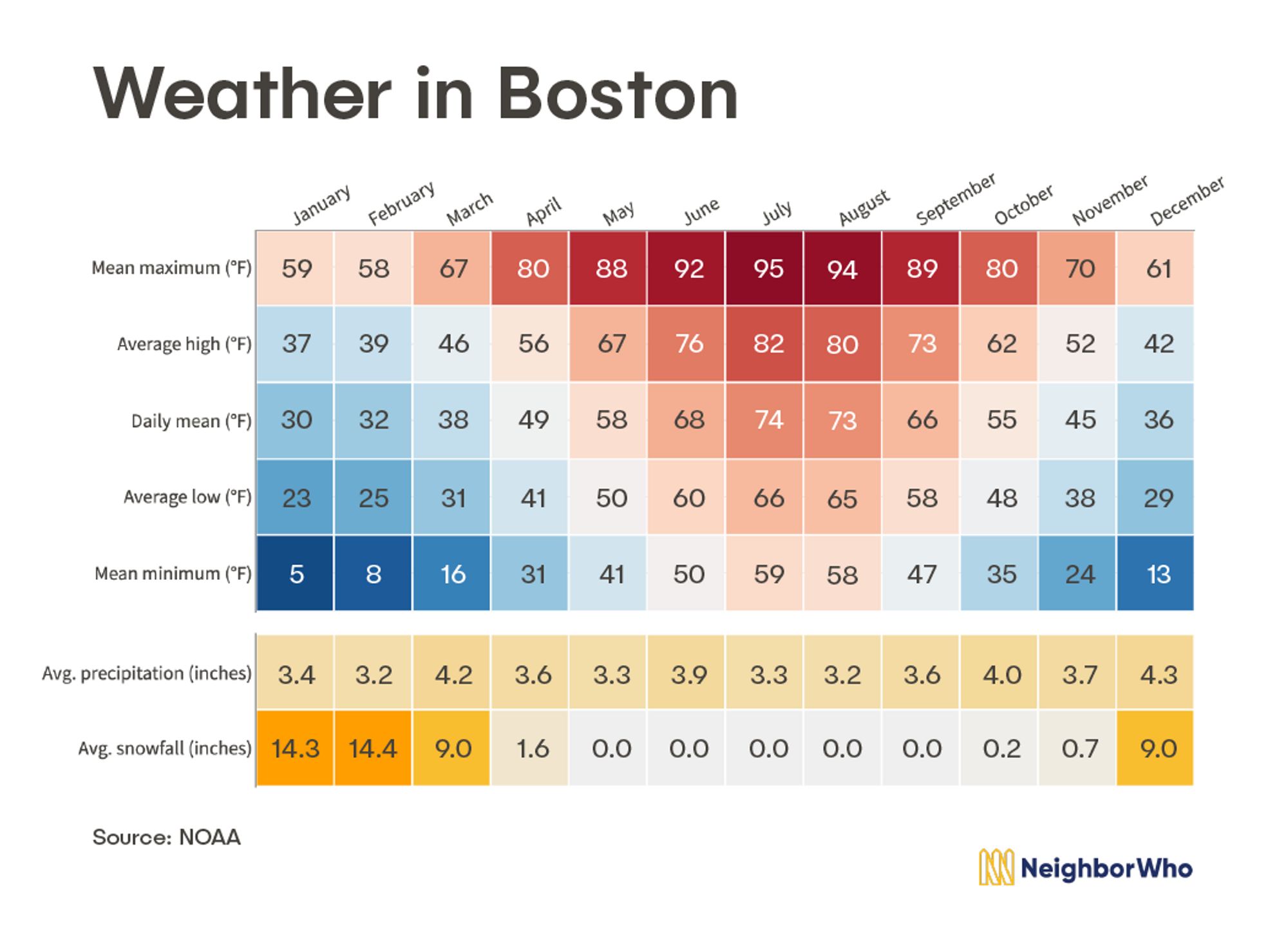 Best public schools in Boston
If you're bringing your kids to the city, you need to learn some fast facts about schools in the area. The Boston Public School System was ranked No. 99 in the most diverse school districts nationwide and the No. 2 safest district in the county. The city boasts the first public learning institution, Boston Latin School, which opened in 1635 and is now regarded as the No. 1 school in the state and No. 36 in the country.
According to U.S. News & World Report, about half of the state's high schools ranked in the top 25th percentile. The following schools are the top public schools at each level in all Boston school districts.
Top 3 elementary schools
Blackstone
Dudley Street Neighborhood Charter School
Eliot Elementary
Top 3 middle schools
Boston Latin
Carter School
Eliot Elementary
Top 3 high schools
Boston Latin
Match Charter Public School
Edward M. Kennedy Academy for Health Careers
Commute time in Boston
Named the most congested city in America in 2019, Boston requires a little bit of patience when driving from point A to point B. Traffic cleared a bit during the pandemic, but it may soon rise as more people return to the office. The average commute takes about 30 minutes each way, and you have plenty of transportation options including car, train (the "T"), commuter rail and bus.
Boston crime rate
Boston is safer than just 14% of all US cities, and its crime rate is higher than the national average. During the 2019 calendar year, 14,007 property crimes and 4,324 violent crimes were reported to the police, according to the FBI. Theft was the most frequently reported crime, followed by assault, burglary and robbery. However, statistics are trending in the right direction: In 2020, crime reports fell by 23% in almost every category tracked by the Boston Police Department.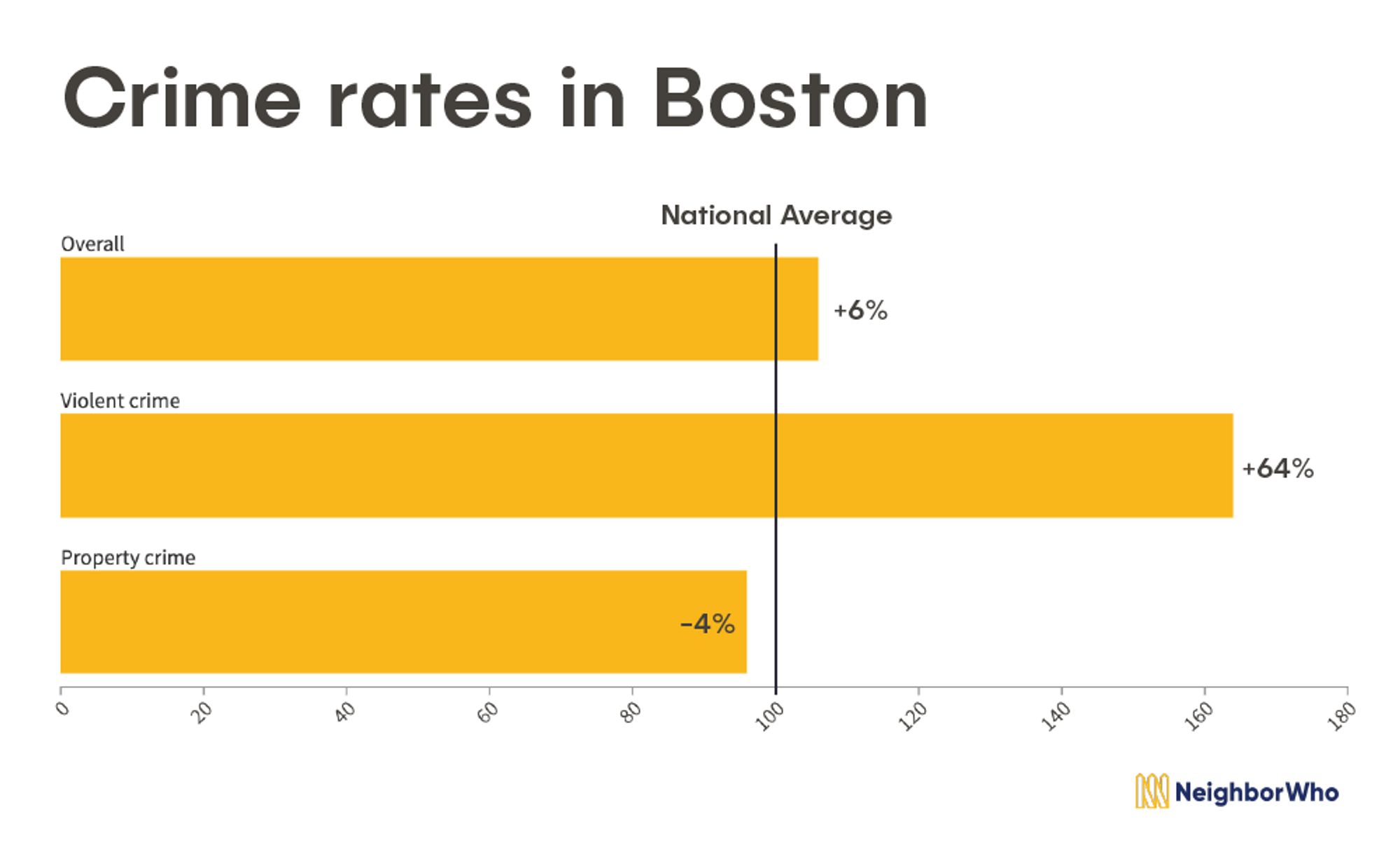 Boston city population
Greater Boston is the fourth-most densely populated region in the country, with 675,647 people in the city and more than 4.87 million across the metro area. It's ranked behind the New York metro area, greater Los Angeles and the South Florida metro area. While Boston's population grew by 9.3% within the last decade, the trend recently reversed within the state. More people moved out of Massachusetts in 2020 than relocated there.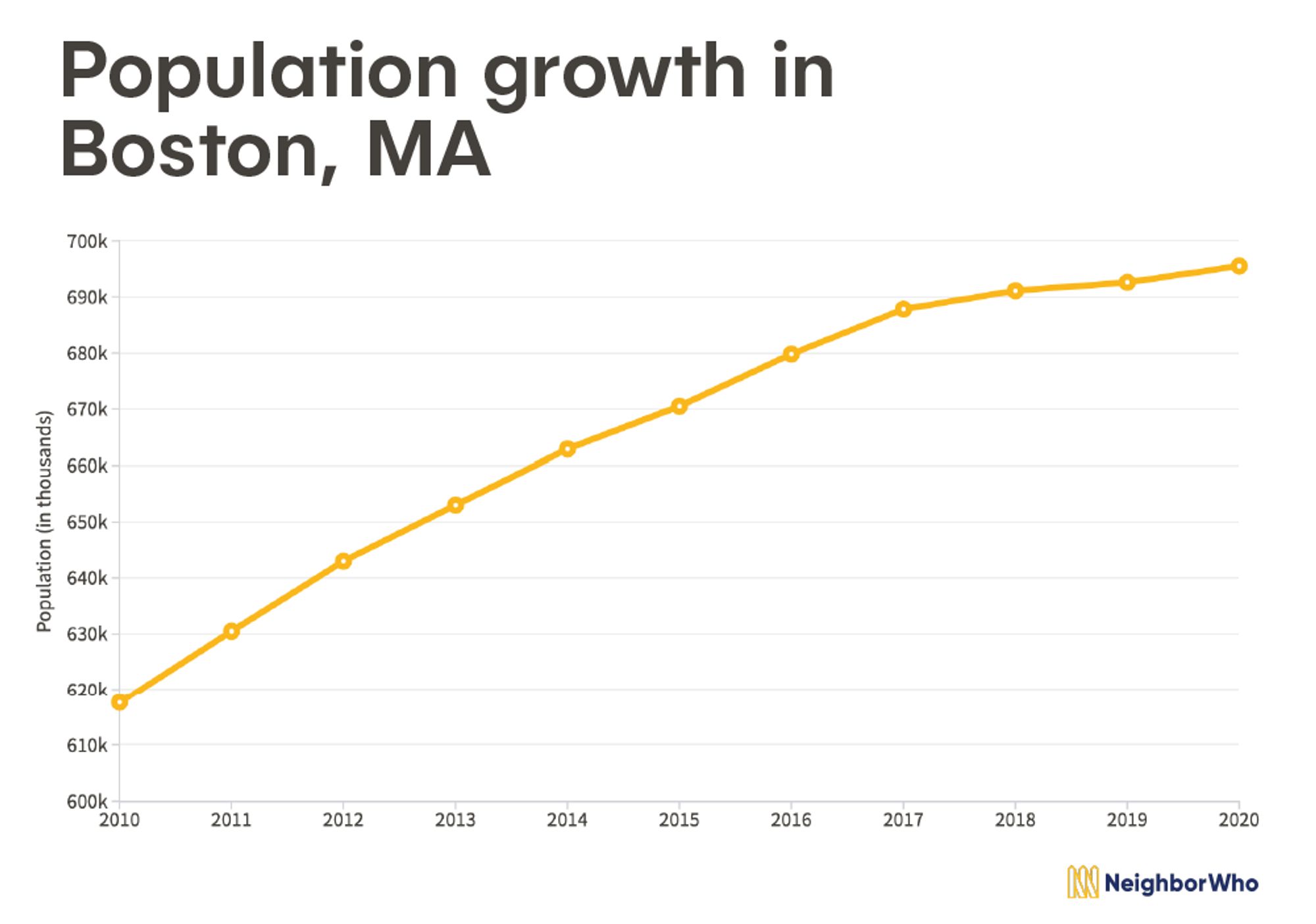 Cost of living in Boston
Everything's more expensive in The Hub—but you'll mostly feel the sticker shock in the cost of housing, which is 107% higher than the national average. Groceries cost about 6% more here while utility prices are 41% higher and health care will cost you 35% more, too. All in all, Payscale puts Boston's total cost of living at 48% higher than the national average.
According to Numbeo estimates, a family of four spends about $4,248 a month on living expenses, while a single person might need $1,180 per month. Both estimates leave out the cost of a mortgage or rent payment.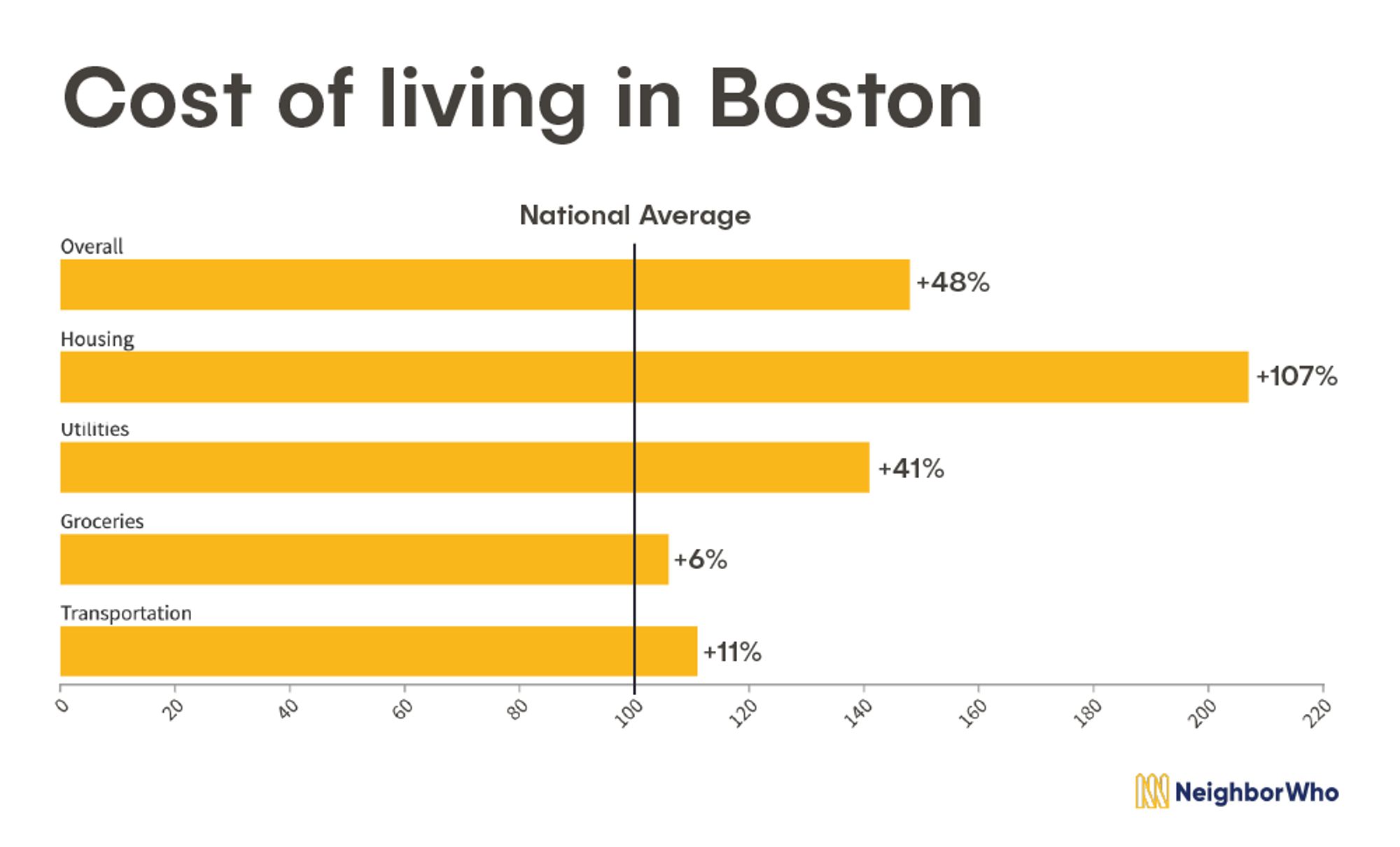 Median household income in Boston
According to the Census, the median household income in Boston was $71,115 in 2019, which is slightly lower than the median state income of $81,215. It is higher than the national median income of $62,843.
Boston neighborhood map
When looking to move to Boston, you need to choose your neighborhood carefully. In addition to the monthly price, think about your lifestyle and daily commute and whether you want to live in a single-family house or a unit in a condo or apartment.
Top 5 Boston neighborhoods by population density
Here are five neighborhoods in Boston to look into, from most densely populated to least:
Chinatown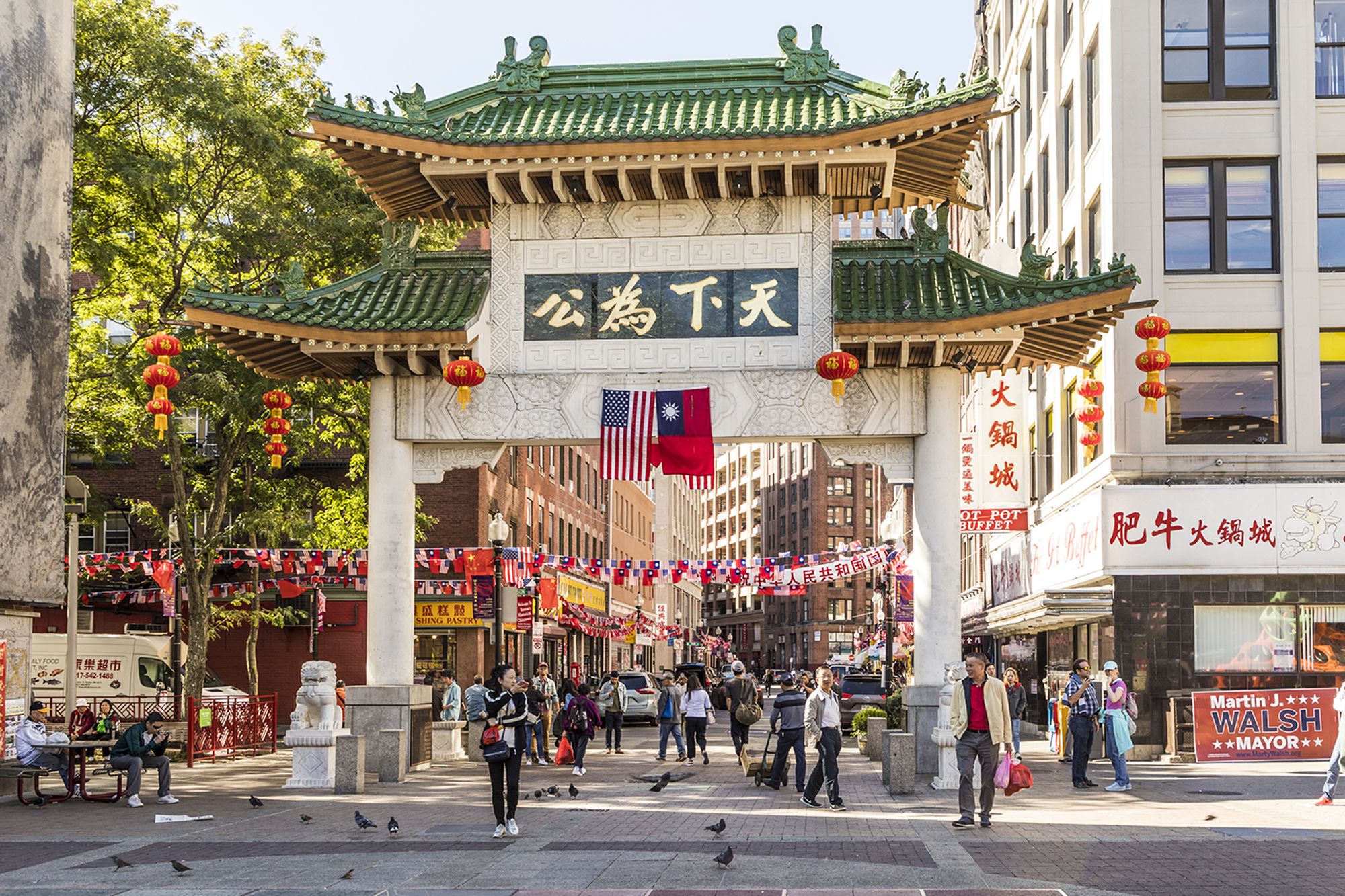 Photo Credit: Travelview/Shutterstock
Located near downtown Boston and Tufts University, Chinatown is the most densely populated neighborhood with a residential count of about 7,880. Homeowners tend to stay put, so there aren't many housing units for sale. About 82% of the residents are renters.
Chinatown's median condo price is $1.35 million with an average rent price of $3,815 per month. While parking is hard to find in this ultra-urban neighborhood, you might not need a car. Chinatown earned a Walk Score of 98 and a perfect Transit Score of 100.
Bay Village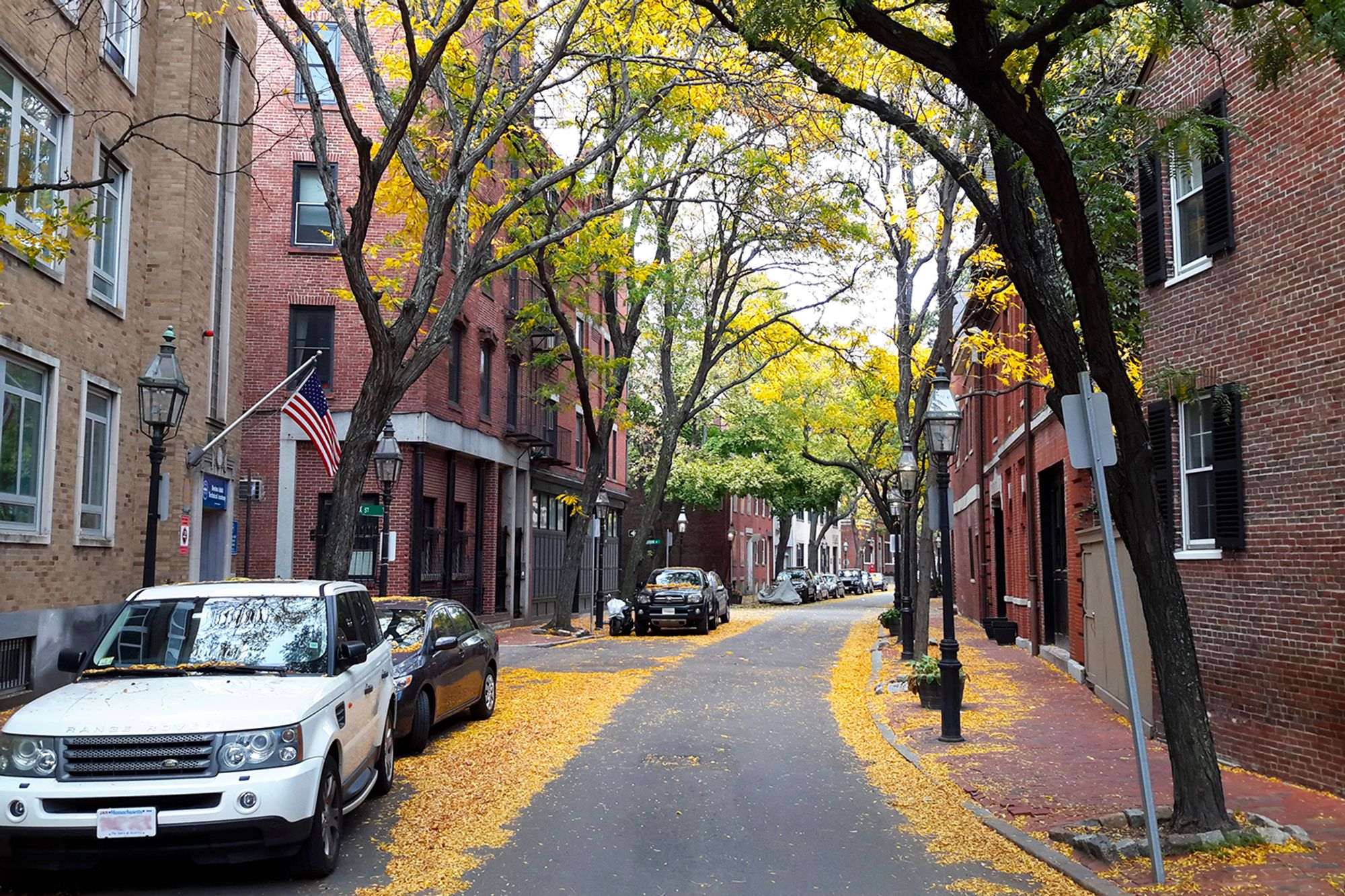 Photo Credit: Ro4444/wikimedia (CC BY-SA 4.0)
Bay Village is located just a few blocks from Boston Common, known as America's oldest park. Although it's the second-most densely populated neighborhood in the city, Bay Village fits within a relatively small area and contains just more than 2,000 residents. Here you find tree-lined streets filled with brick row houses dating from the 1800s. The median home sale price is $1.59 million and rent costs about $1,435 per month and about two-thirds of the population rents. Bay Village earned a Walk Score of 98 and a Transit Score of 100, so you can easily get to wherever you need to go without a car.
Beacon Hill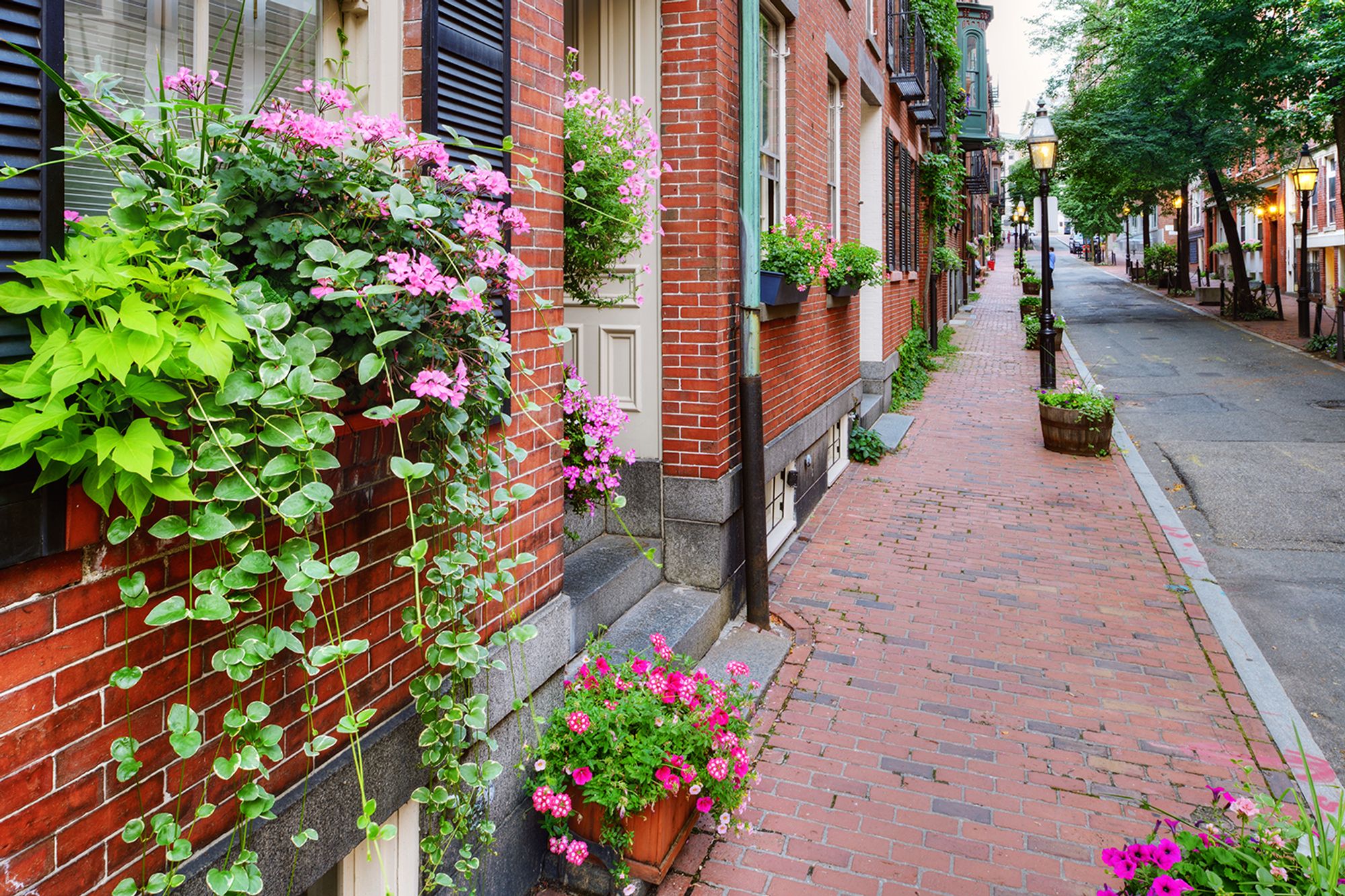 Photo Credit: Jorge Salcedo/Shutterstock
One of Boston's oldest neighborhoods, Beacon Hill is situated near the Boston Common and is home to Acorn Street, one of the most-photographed streets in the U.S. About 9,650 residents live here with roughly two-thirds of them renting. The median price for a single-family home is $2.29 million, while condos typically cost about $726,000 and rent sits at $3,415 per month.
This upscale neighborhood boasts plenty of townhouses and brownstones set along cobblestoned streets and brick sidewalks, and it's one of the best areas for a stroll. Beacon Hill earned a Walk Score of 98 and a Transit Score of 100.
North End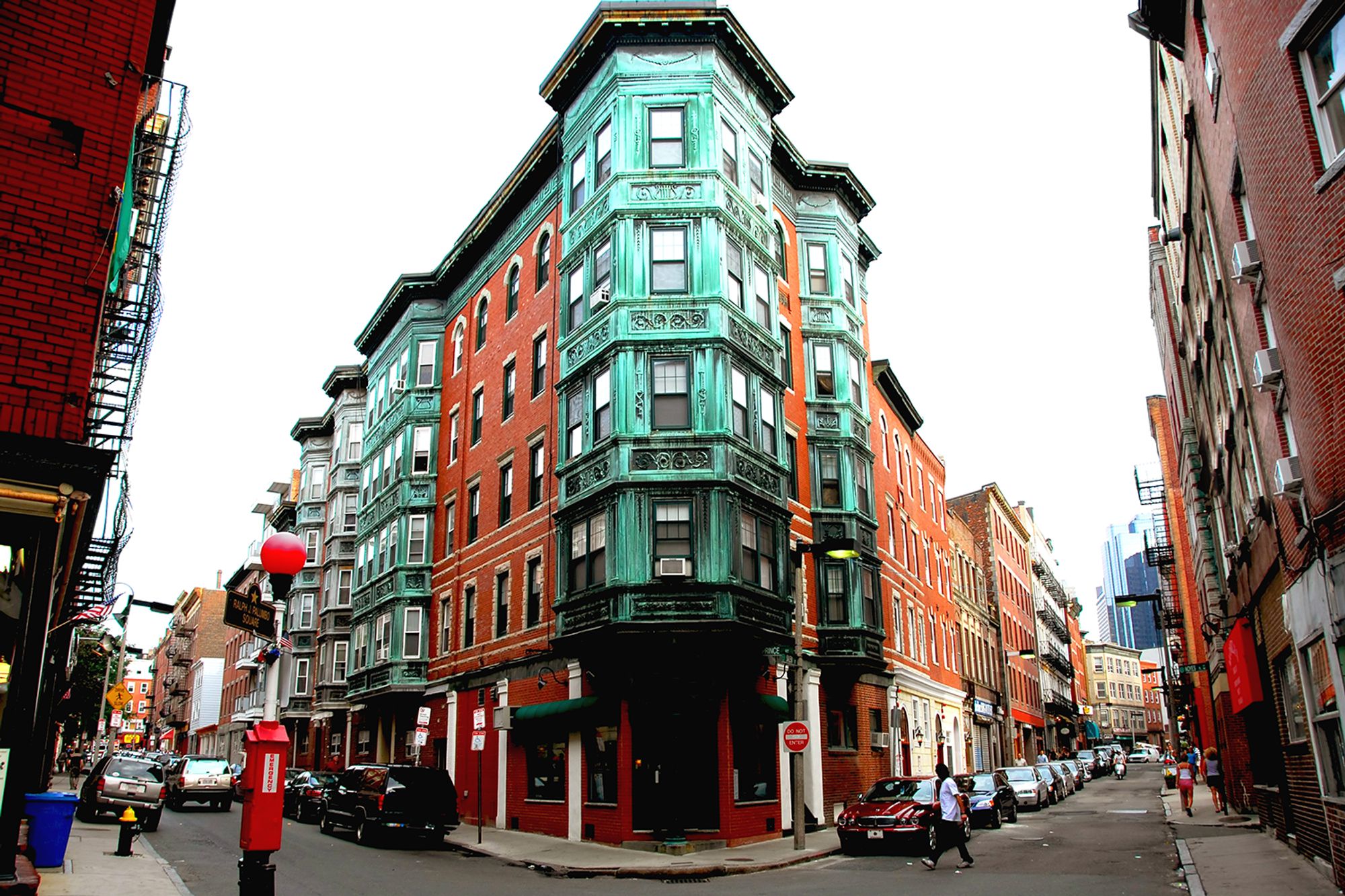 Photo Credit: Elena Elisseeva/Shutterstock
The North End serves as the city's Little Italy, filled with countless Italian restaurants, food markets and cafes—plus plenty of paths to explore. This neighborhood is situated along the Boston Harbor and earned a Walk Score of 98 and Bike Score of 86. The median condo price is $959,000 while the average one-bedroom apartment costs $2,300 per month to rent. About 12,000 residents live in the North End, with more than two-thirds renting their homes.
Fenway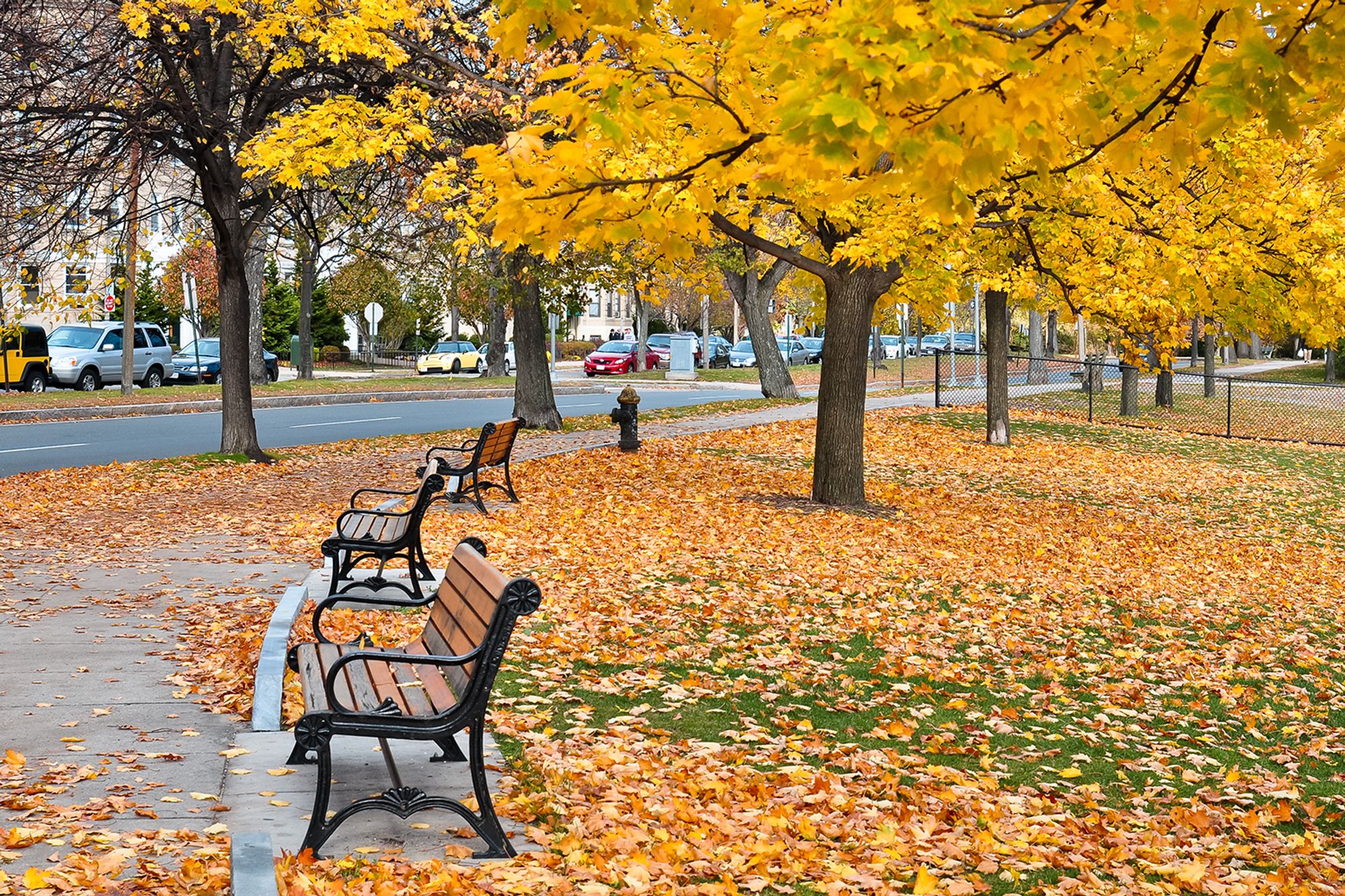 Photo Credit: SweetRiver/Shutterstock
Among neighborhoods on this list, Fenway has the largest population at 33,625 and is home to iconic Fenway Park (home of the Red Sox), the Citgo Sign and the Charles River Waterfront. The median condo value is $566,000 and the average rent price is $3,321 per month. Fenway earned a Walk Score of 94, a Transit Score of 95 and the highest Bike Score of neighborhoods on this list at 91.
Median home price in Boston
Whether looking to rent or buy, most people hire real estate agents in Boston to navigate the competitive housing market.
The median listing price on all homes is $799,000 or $678 per square foot, according to Realtor.com data. On a 30-year fixed-rate home loan with 20% down, a $799,000 price tag may translate to a mortgage payment of about $3,185 per month. You also need to factor in the cost of a homeowners association (HOA) fee if you're buying a home under an association.
"Being a seller's market, most properties are receiving multiple offers, driving up the price," said Adam Marchand, a real estate agent in the Boston area. "In the near future, signs are pointing toward the market continuing to be strong and properties in Boston continuing to appreciate."
The fall market tends to be busy, but inventory "typically takes a bit of a nosedive in the winter months," said Marchand. If you're planning to buy in Boston, try to plan your search around the spring, summer and fall. While you might find lower prices in the winter because demand is lower, there's also less inventory.
Average rent in Boston
According to the Census, the median price to rent in Boston is $1,620 versus the median state price to rent of $1,282.
"Rental prices are back up after price reductions and incentives during the height of the pandemic," Marchand said.
Rentals are being processed within days, so don't wait to submit an application if you find one you like.
And plan to pay four months' worth of rent before moving in: the first and last month's rent, a security deposit and a fee that goes toward any real estate agents who helped close the deal. It's also good to know that most rental units are owner-occupied two- and three-unit houses rather than the typical apartment complexes you may find in other cities.
Moving to Boston
Boston is a young city, with an average age of 32.2 years and a student population of 152,000 at last count.
But there's something for everyone in Boston, from the city's 80 museums and 30 hiking trails to its 930 parks and 42 music venues. You'll also find everything from beaches on the North Shore to mountains in the west and ski resorts nearby. And for frequent flyers, the Boston Logan International Airport is located a few miles east of downtown, the city boasts several options for keeping your luggage safe if you happen to land early, get delayed or otherwise need a spot to store your items while you explore.
Just be sure you plan your budget and determine the best neighborhood before you get here. Homes (both rentals and purchases) are cheaper and offer more square footage as you get farther from the city center. Once you're settled, it's easy to call this place home.