Atlanta–Georgia's capital city–is quickly gaining a reputation as one of the most popular metropolitan areas in the U.S., in large part due to its diversity and affordability. Between its versatile restaurant scene, notable parks and outdoor spaces and extensive cultural and entertainment offerings, it's easy to see why more people are choosing to move to Atlanta.
Living in Atlanta: What to expect
While Atlanta is located in the heart of the South, it's growing into an increasingly progressive city. Atlanta has a large LGBTQ population and is actually considered an epicenter of the gay South. The city is also drawing more young professionals and families to the region as more employment opportunities open up.
Walkable areas in Atlanta
Many central parts of Atlanta proper are very walkable, including its downtown, Midtown and college neighborhoods. Many people might not know it due to the city's reputation for bad traffic, but it also has a better public transportation system than many other cities. Its Metropolitan Atlanta Rapid Transit Authority (MARTA) rail trains are a good option for commuting to and from city landmarks, sporting events and even to Hartsfield-Jackson Atlanta International Airport (long known as the busiest airport in the world, as well as being Delta Airlines' biggest hub). It also serves some of the city's suburbs.
According to Walk Score, the city has a walking score of 48 and is described as a "car-dependent city," due to the limited scope of the public transit system and scarce number of bike lanes.
Best public schools in Atlanta
According to Niche.com, the Atlanta Public Schools district has 52,416 students from prekindergarten through 12th grade. According to reported state test scores, 34% of students are at least proficient in math and 37% in reading. Niche.com gives the district a "B-" grade based on factors such as academics, teachers, diversity, resources, college prep and more.
Top three elementary schools
Morningside Elementary School
Jackson Elementary School
Springdale Park Elementary School
Top three middle schools
Inman Middle School
Charles Drew Charter School Ja/Sa
Sutton Middle School
Top three high schools
Gwinnett School of Mathematics, Science and Technology
Columbus High School
Davidson Magnet School
Commute time in Atlanta
Just like most major U.S. cities, Atlanta area residents can expect to navigate quite a bit of traffic and congestion on the regular. The average commute time in Atlanta, according to the U.S. Census Bureau, was 32.5 minutes (which includes a mix of transportation modes) in 2019, compared to the national average of 27.9 minutes. According to Walk Score, the city has a transit score of 44, and a biking score of 42.
Atlanta weather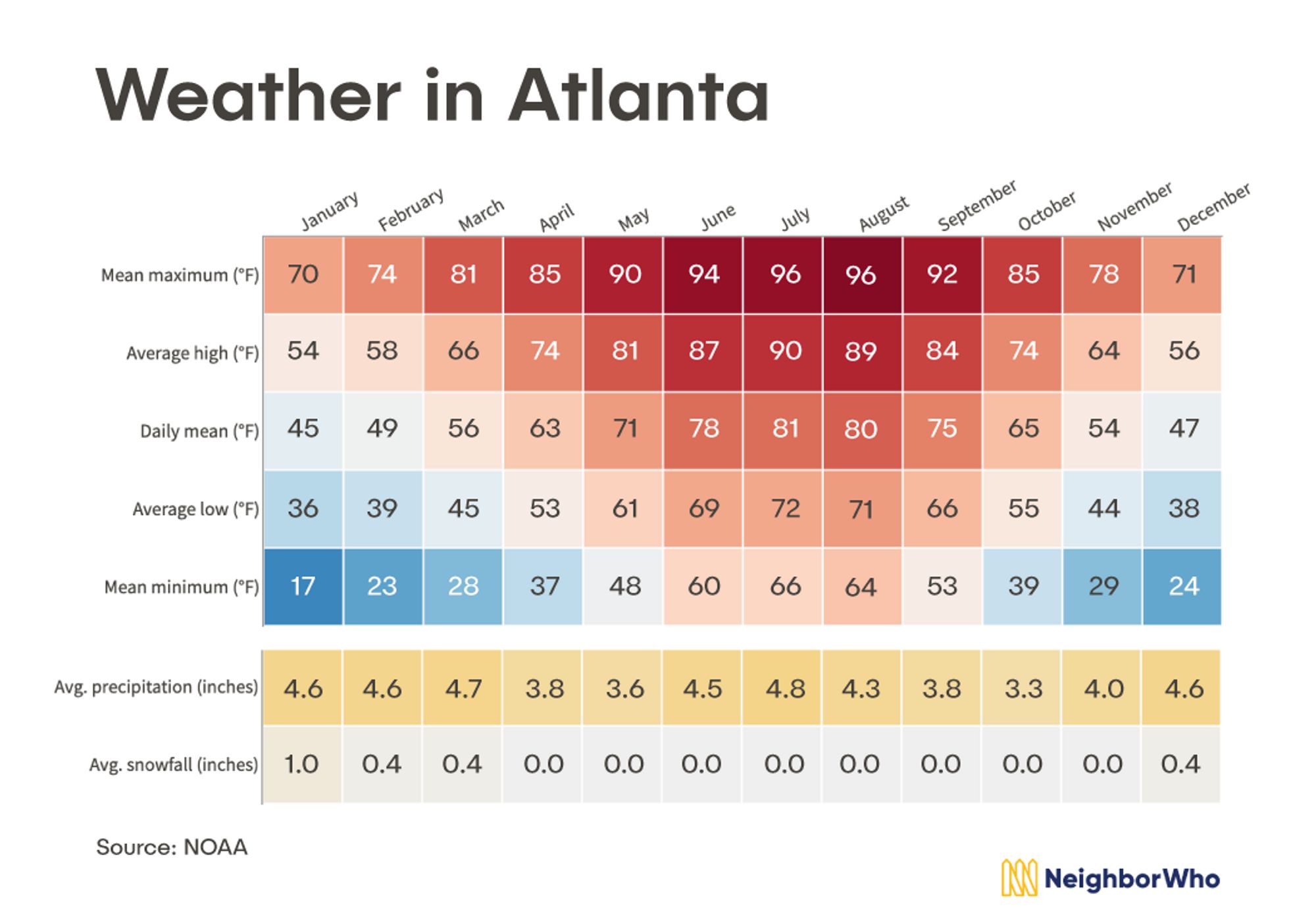 If you want to live in a region that experiences all four seasons, you're in luck. Unlike its neighbor state of Florida, Georgia is notorious for hot and humid summers, but it also gets quite cold in the winter months, even sometimes experiencing snow.
The average high in January is 61 degrees Fahrenheit and the average high in June is 87 degrees, though highs in the 90s and the occasional 100-degree day are known to occur between May and September. Atlanta also experiences quite a bit of rainfall throughout the year, with the most falling May through August.
Atlanta crime rate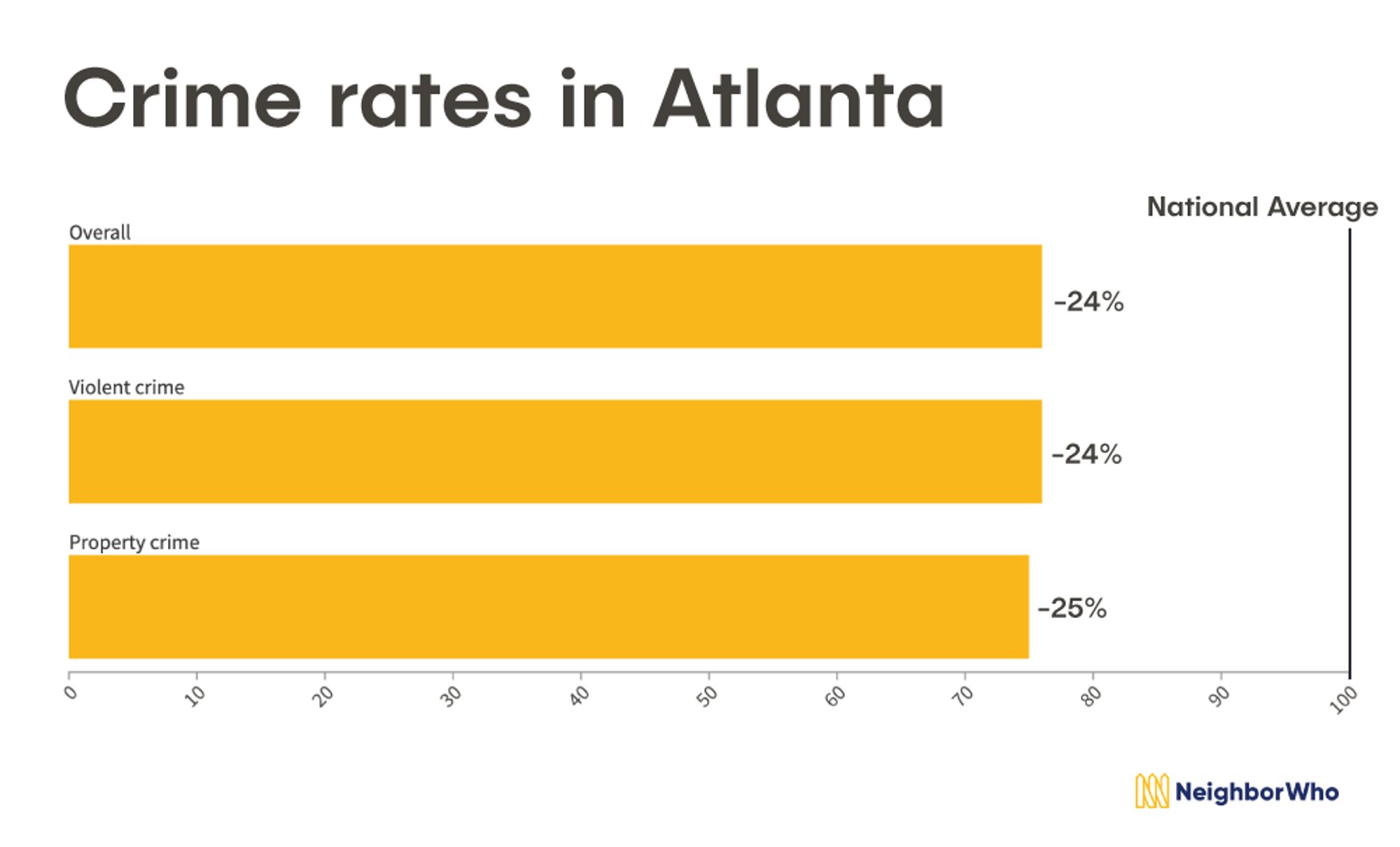 Crime rates in Atlanta are roughly 26% lower than the state average, 24% lower than the national average overall and on violent crime (such as robbery, rape, murder and assault), and 25% lower on property crime. There are 295 violent crimes per 100,000 people compared to 388 on a national level, and 1,478 property crimes per 100,000 compared to 1,958 nationally.
Atlanta city population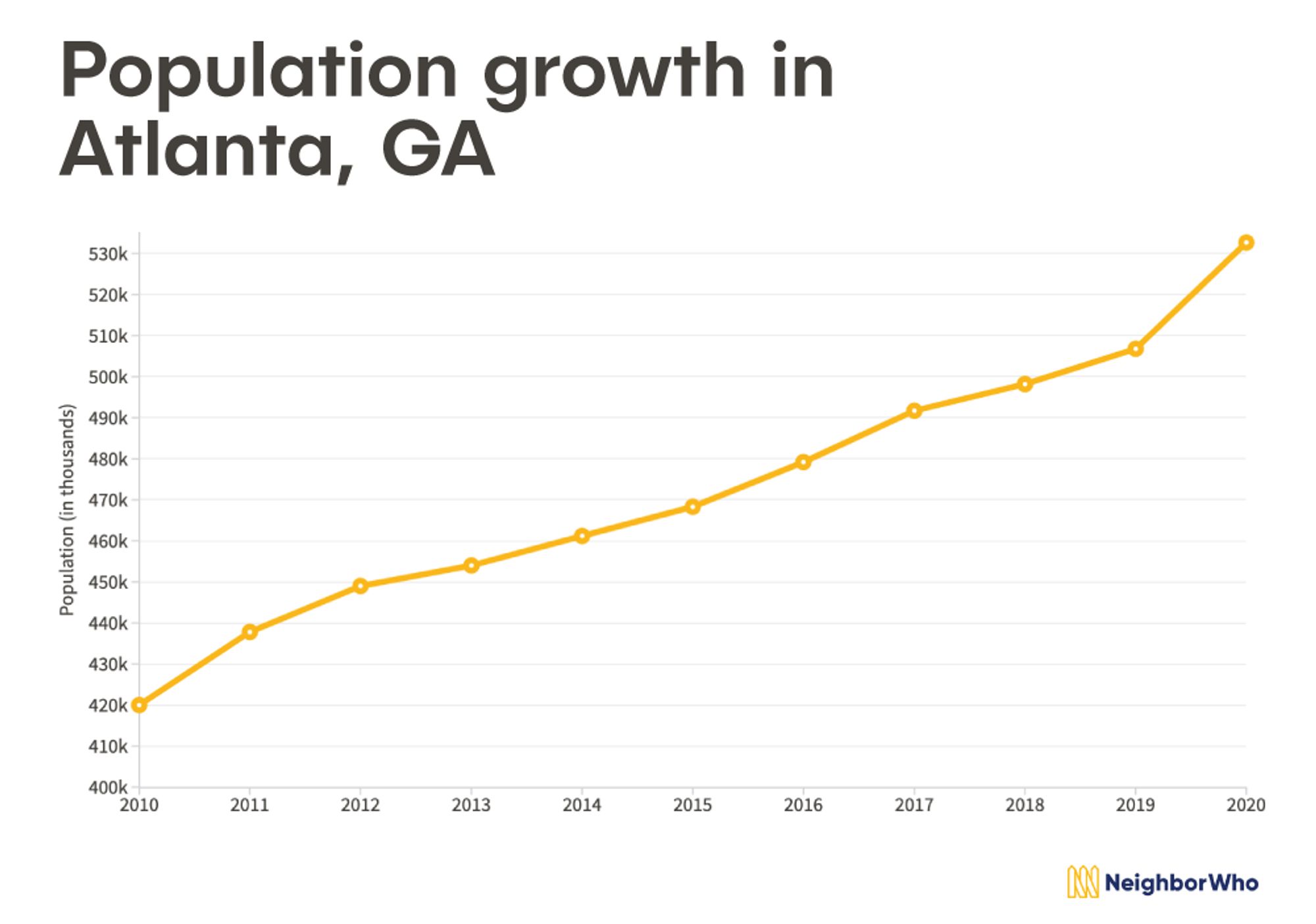 Atlanta's estimated population in 2020 was 512,550. It's the ninth-largest metro area in the U.S. and has seen its population rising to nearly 6.1 million. Much of this growth has been driven by job availability and volume.
Cost of living in Atlanta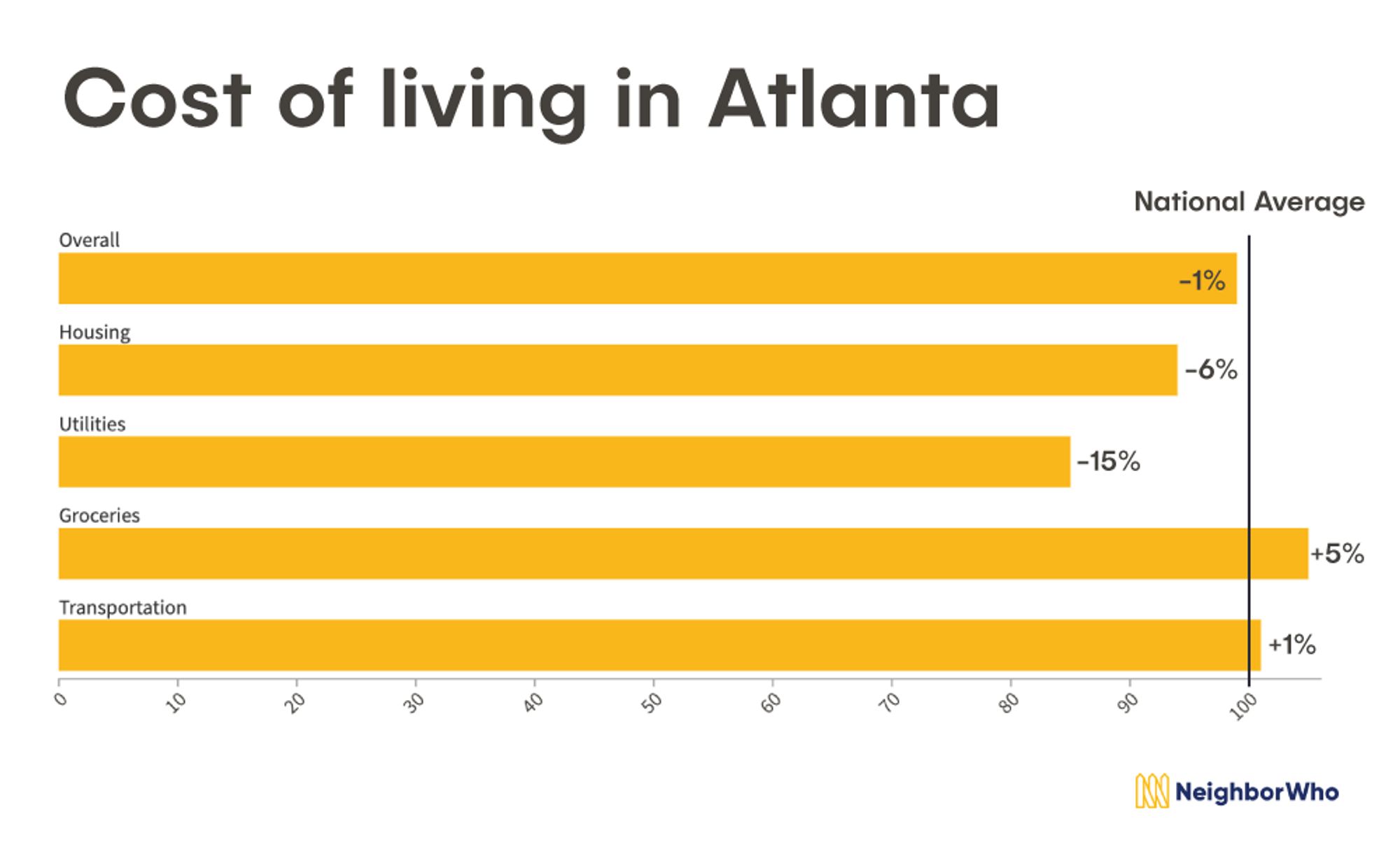 According to PayScale, Atlanta's cost of living is 1% lower than the national average. To get more specific, Atlanta's housing expenses are 6% lower than the national average and utility prices are 15% lower. Transportation expenses, including public transit fares and gas prices, are 1% higher than the national average.
Median household income in Atlanta
The median household income in Atlanta is $64,179 as of 2020, compared to $64,994 on a national level.
Atlanta neighborhood map
Top 5 Atlanta neighborhoods by population density
Below are five of Atlanta's most popular neighborhoods, with keynotes provided by an area real estate agent.
Georgia Tech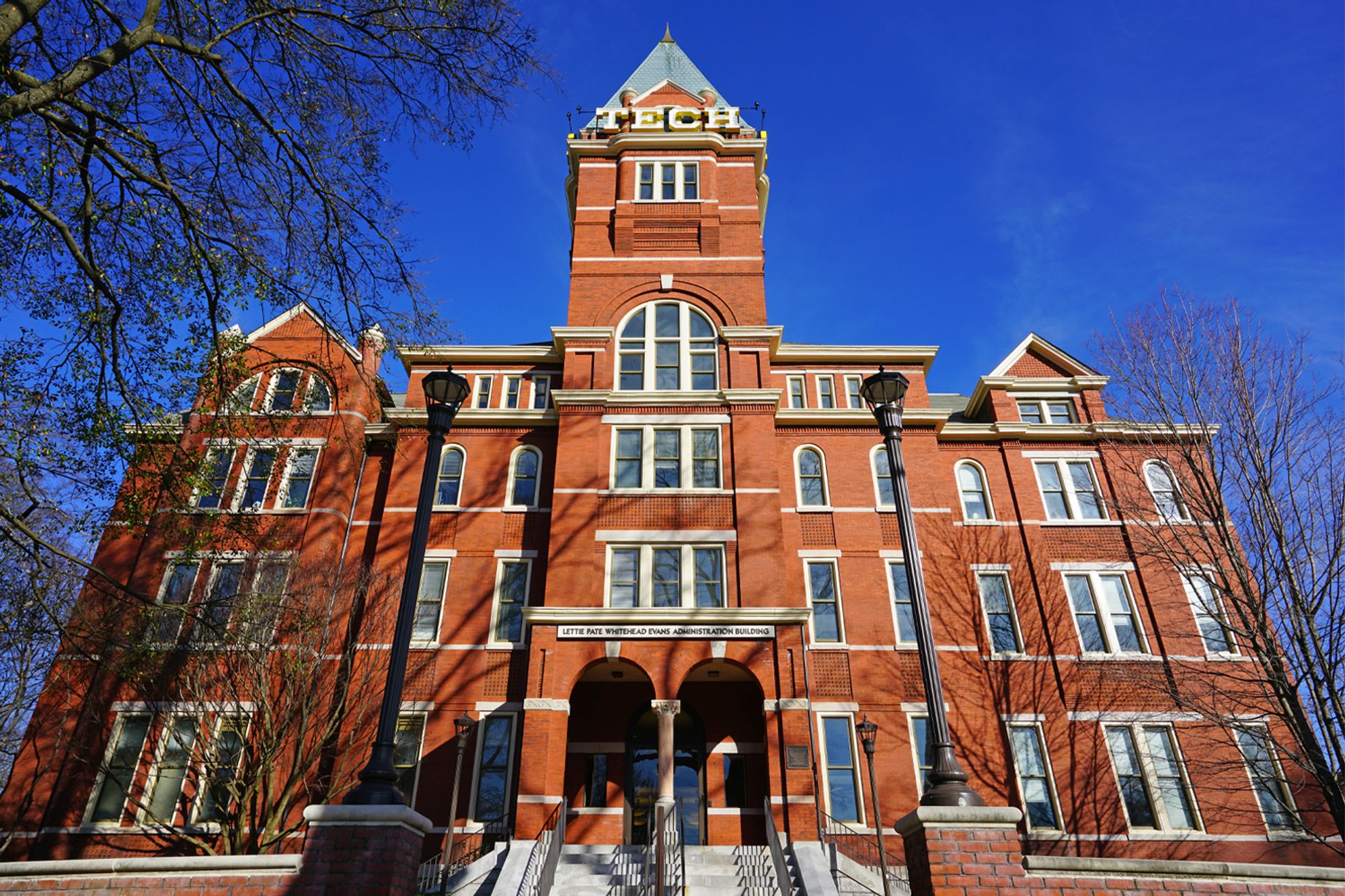 Photo Credit: EQRoy/Shutterstock
This is one of Atlanta's most centrally located neighborhoods, located in Midtown and within close proximity to Downtown and major tourist attractions, said Skylar Topper, a real estate agent with Team Toth at Compass Atlanta.
"It's also minutes from the bustling West Midtown area, which has experienced vast growth and development in the last several years," she said.
The university is located in the heart of the city, which means Georgia Tech students and employees can walk all over campus and beyond for dining, shopping and more. Condos and apartment buildings are most prominent in this area, including student housing, with lots of newly built and updated roommate-style apartments around and just off campus, in nearby Midtown or West Midtown.
Atlanta University Center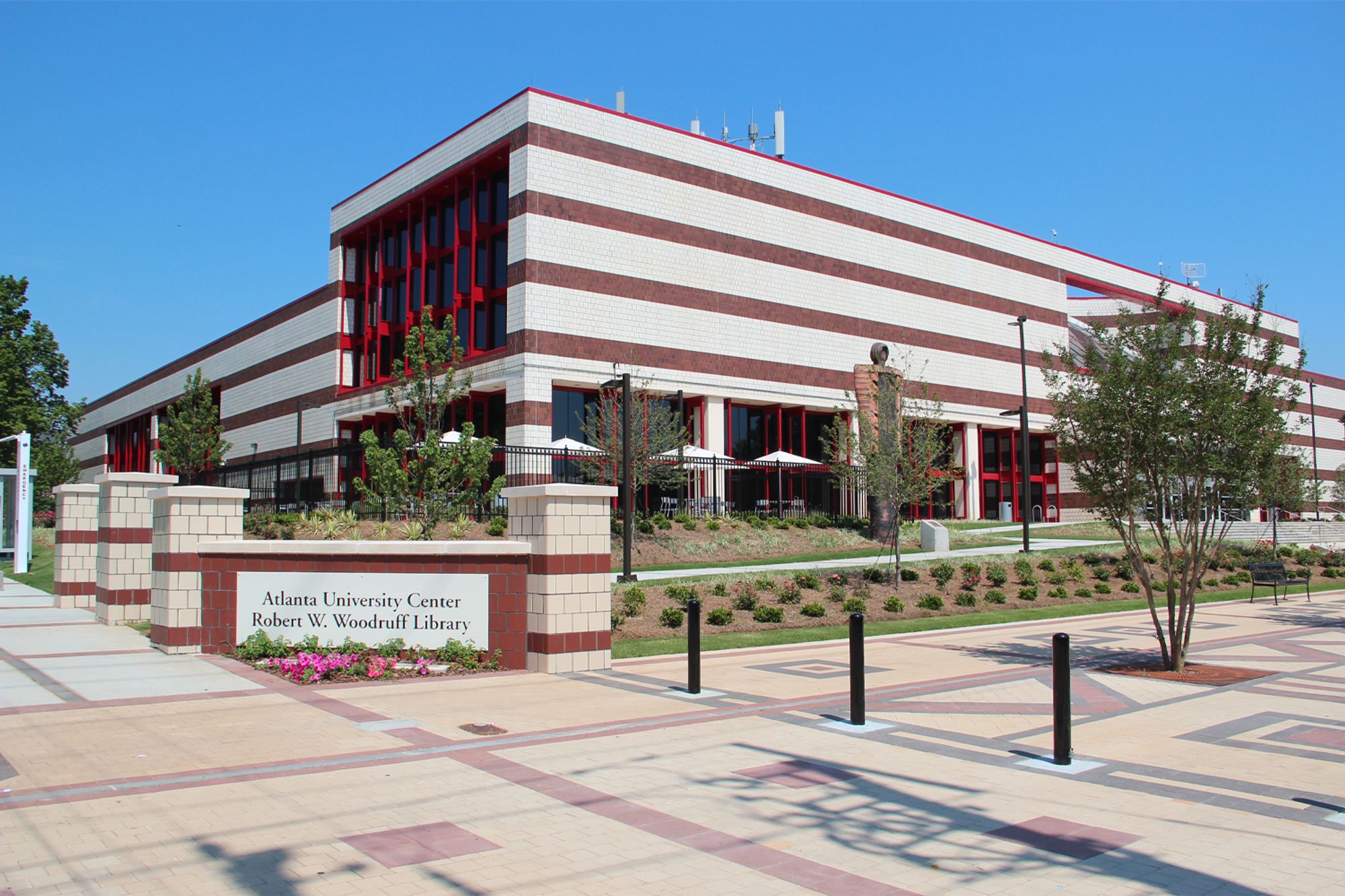 Photo Credit: Thomson200 via Wikimedia (CC0 1.0)
Also in the heart of Atlanta, Atlanta University Center is home to Atlanta's four historically Black colleges and universities. Located just southwest of State Farm Arena, Mercedes-Benz Stadium, Georgia World Congress Center and many of Atlanta's tourist attractions, Atlanta University Center is surrounded by several of Atlanta's historic neighborhoods, including West End, English Avenue, Hunter Hills and Mechanicsville.
"Most of these neighborhoods are lined with single-family homes, many of which were built in the 1920s through 1950s," said Topper. "Many of these areas are popular with investors; a lot of the homes are bungalow-style and have experienced full or partial renovations in recent years."
Additionally, because the area is so close to Downtown, there are some popular apartment buildings that students choose to live in, she said.
Midtown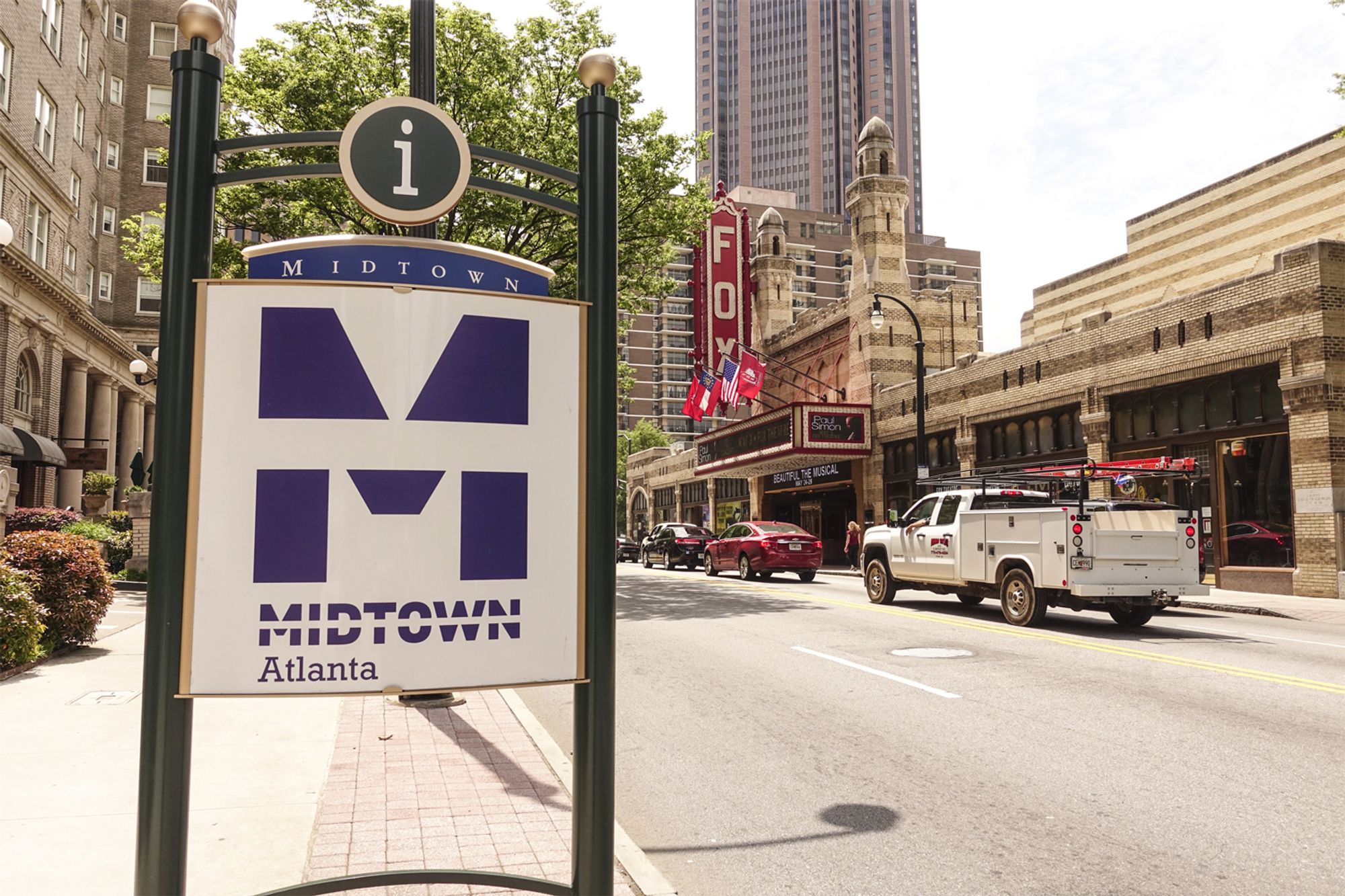 Photo Credit: 4kClips/Shutterstock
Midtown is home to Piedmont Park and primarily offers high-rise apartments and condo buildings, Topper said.
"Midtown is very walkable, especially with its proximity to the bustling park—perfect for a walk, run, bike or to bring your dog," she said.
While it is primarily known for its high-rise apartments, many of which are newly built, there are many older condo buildings, both high-rise and mid/low-rise.
"Lots of these buildings border the park, and nearly all of Midtown is very walkable with countless restaurants and shops," Topper said. "Events and concerts are always being held in Piedmont Park, making it a hot attraction for Atlanta residents."
Midtown Atlanta is unique in that while it primarily has apartment and condo buildings, it also has several streets lined with historic homes. It also borders the popular Virginia-Highland neighborhood and Morningside/Ansley Park, which are known for their historic homes.
Old Fourth Ward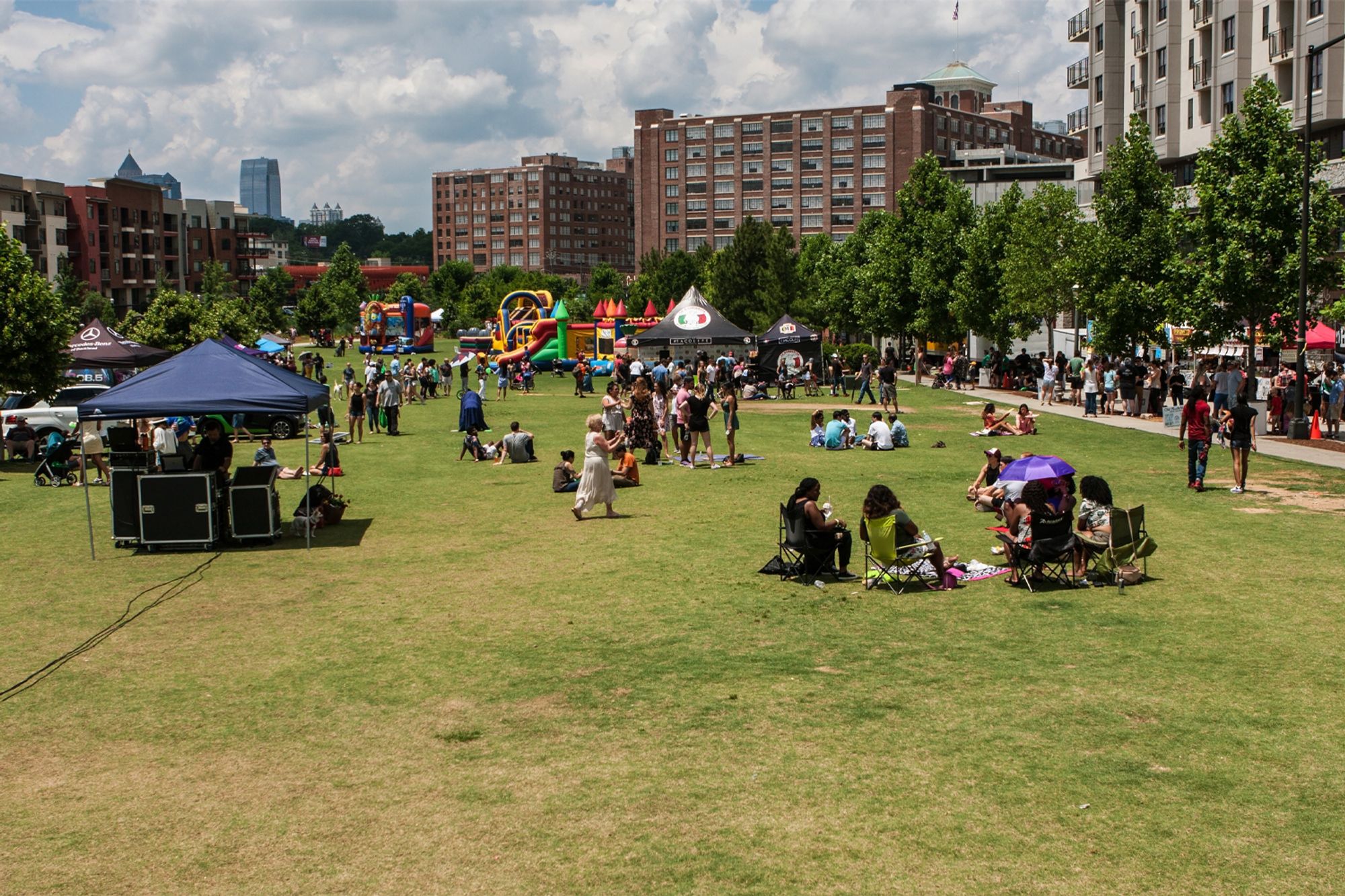 Photo Credit: Blulz60/Shutterstock
Old Fourth Ward has experienced immense growth and development in the last 5 to 10 years, Topper said.
"Nestled just between Midtown and Downtown, Old Fourth Ward is arguably one of Atlanta's most popular neighborhoods due to its proximity to the city and popular neighborhoods, including Inman Park," she said.
What's perhaps most desirable about the neighborhood is its proximity to the Beltline, which is essentially a walking/biking trail that runs through Atlanta, running straight through the Old Fourth Ward. The Beltline is also home to the popular Ponce City Market, a more than two-million-square-foot mixed-use development with shopping and dining and a popular rooftop.
"The popularity of the Beltline has brought a ton of attraction to Old Fourth Ward, with many popular parks, dog parks, breweries, restaurants and bars popping up throughout the area," she said.
In the last several years, commercial and residential development in Old Fourth Ward has exploded, and demand for homes increased exponentially, with many builders developing new townhomes and condos in the neighborhood and along the Beltline.
There are also a number of single-family homes that have recently been built and/or renovated, but similar to many of Atlanta's other neighborhoods, there are still original homes people can purchase and renovate.
Brookwood Hills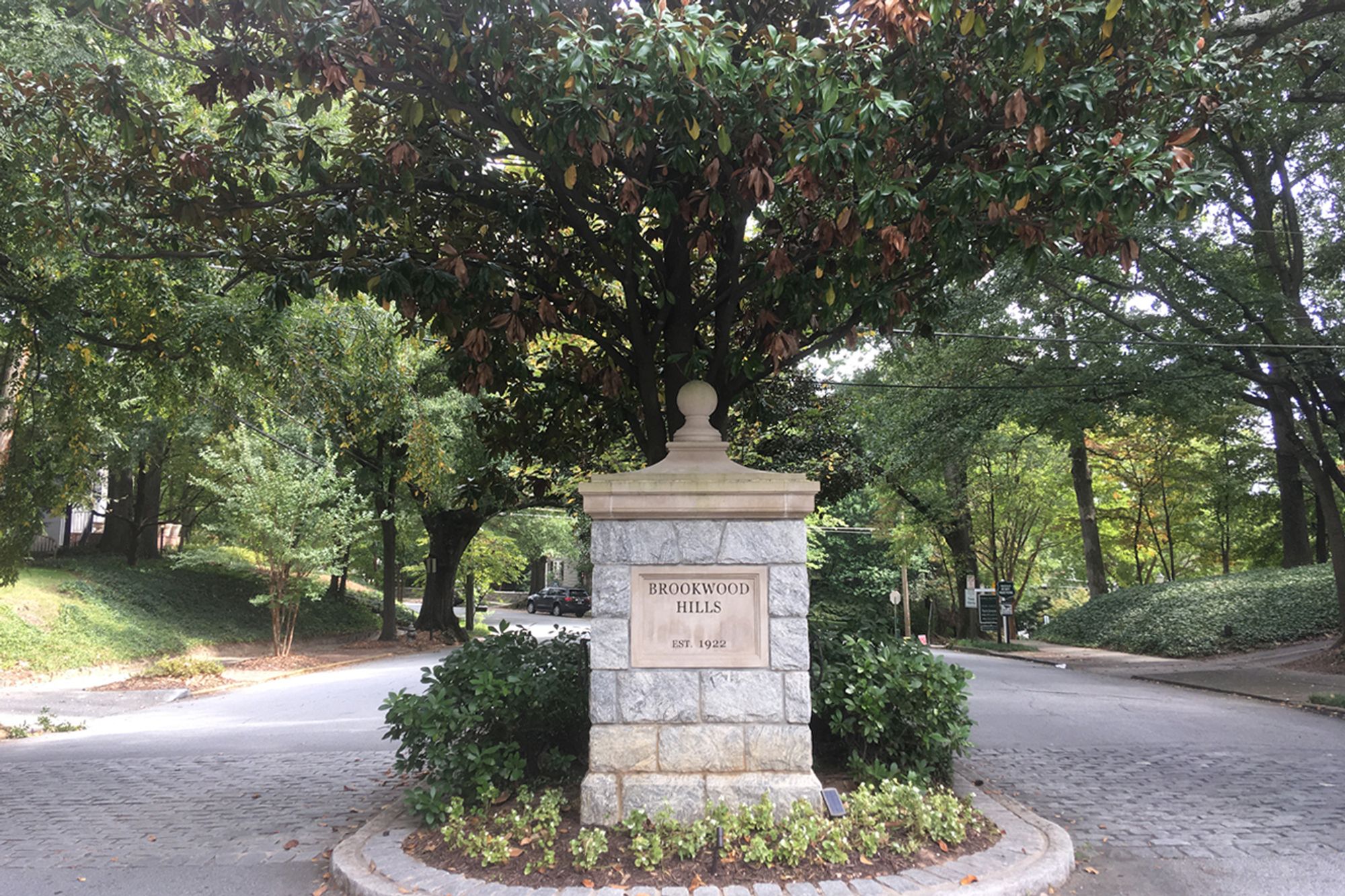 Photo Credit: Bama in ATL via Wikimedia (CC BY-SA 4.0)
Brookwood Hills is a historic neighborhood nestled between Buckhead and Midtown, comprised of single-family homes built in the 1920s. It's within close proximity to Interstates 75 and 85, making it perfect for a commute to Midtown or Downtown, Topper said.
"The Brookwood area is just south of Brookwood Hills, home to lots of dining and shopping, and just outside of the Brookwood Hills neighborhood, you'll find these spots as well as condo and apartment buildings," she said.
Median home price in Atlanta
The median listing price per square foot for a home in Atlanta is $253. The median listing home price is $395,900 and the median sold home price is $394,100.
Average rent in Atlanta
The median gross rent from 2016 to 2020 in Atlanta was ​​$1,227, compared to the U.S. national average of $1,096.
Moving to Atlanta
While Atlanta is lacking in some areas, such as public transit usability and an increasing cost of living that's close to the national average, the city is continuing to see growth due to its diverse population and an uptick in job availability. If you're looking for an increasingly progressive metropolis to move to, offering all four seasons to boot, you're not likely to regret considering Atlanta.