Whether you love shopping, dining, culture or exploring the outdoors, Denver's neighborhoods have something for you. You'll find bustling city streets and quiet tree-lined avenues, each with its own unique community. Here are some of the best neighborhoods in Denver, from quiet family neighborhoods to big-city destinations.
Best neighborhoods in Denver for families
Denver has plenty of neighborhoods where growing families can be safe and thrive. These neighborhoods have low crime rates, good schools and kid-friendly activities.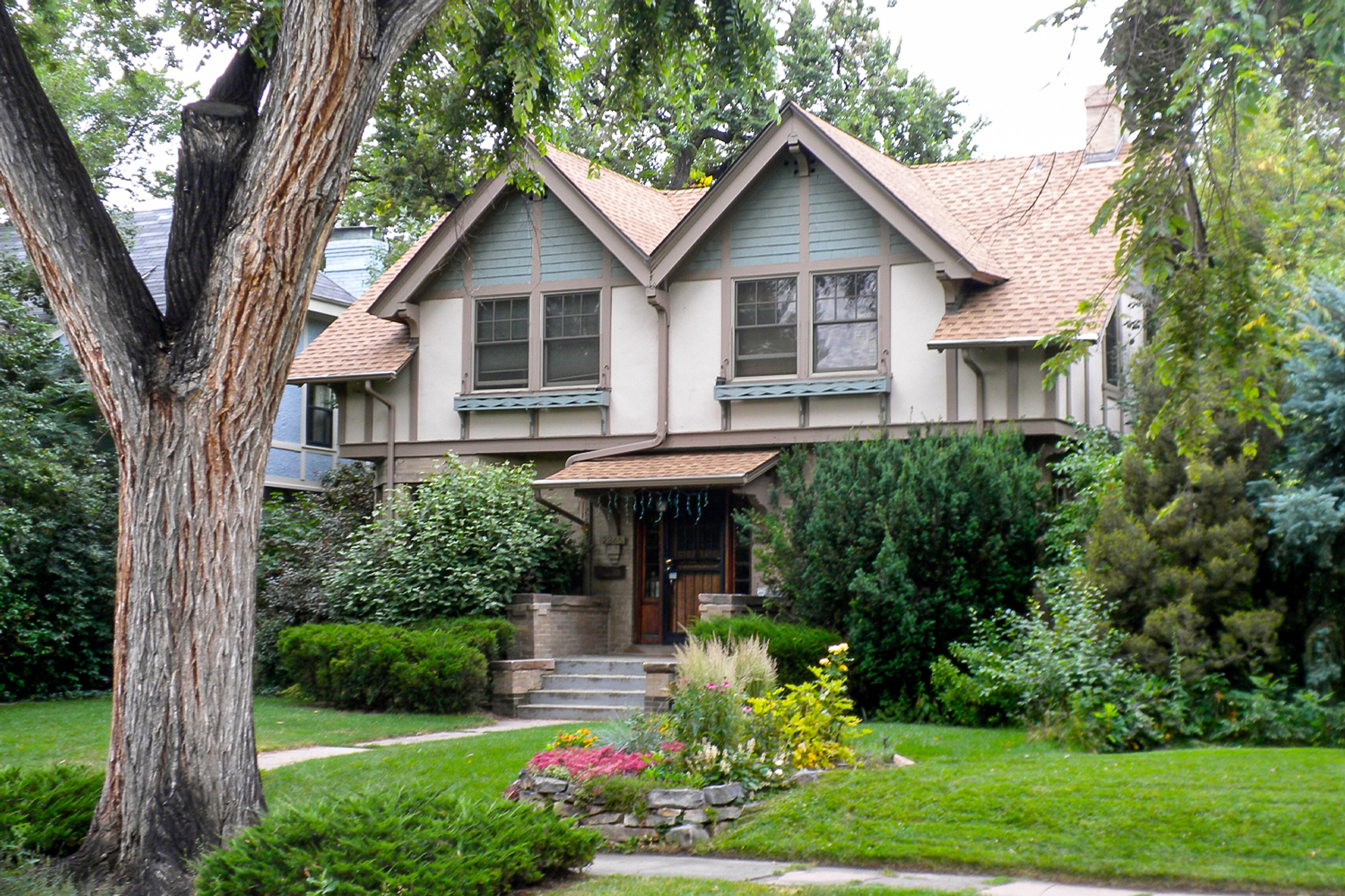 Photo credit: Smallbones via Wikimedia (Public Domain)
North Park Hill
Rating site Niche.com has named this neighborhood as the best for family living in Denver, based on available data on school quality, safety, family amenities and more.
According to the Denver Post, it has the third-lowest violent crime rate in Denver. Burglary rates are higher, but theft is less than half the national average.
North Park Hill offers top-rated public schools such as Park Hill School, US News and World Report's ninth-ranking Denver elementary school. It's also number 35 among Colorado elementary schools and has a nine out of 10 overall rating on GreatSchools.
Park Hill is full of single-family homes with backyards for kids to exercise and enjoy the fresh air. There's a wide selection of kid-focused and kid-friendly activities, including the Denver Zoo, home to 3,500 animals.
Washington Park
Washington Park is a quiet residential area located in the southern part of Denver. Its 155-acre namesake park draws many families with its wide-open space and range of outdoor activities. Park visitors particularly appreciate the available paths, tennis and basketball courts and boating.
Washington Park is also one of Denver's safest neighborhoods, ranking below just 15 of the city's 78 neighborhoods for property crimes and similarly for violent crimes. Its schools are rated among the best in Colorado according to neighborhood- and school-rating site Niche.com.
Cherry Creek
There are plenty of children's and family activities in Cherry Creek, from kids' classes at the Denver Botanic Garden to the nearby Denver Museum of Nature and Science.
The famous Cherry Cricket burger restaurant is one of the city's best family dining destinations, complete with a varied kids' menu. You'll even find a video arcade and lawn games in the outdoor garden. For dessert, families can head over to Heaven Creamery for a gourmet frozen treat or pick up some locally made toffy from Enstrom Candies.
Cherry Creek ranks close to the middle of the pack for crime rates, the vast majority of incidents being nonviolent.
Schools are high-quality, with strong ratings for academics, student activities, quality of instructors and community diversity.
Wellshire
"Considering every aspect, Wellshire of Denver is one of the most prominent places to raise your family," said Brian Burke, a real estate agent with Kenna Real Estate in Highlands Ranch, Colorado. "It's a safe haven for young families."
Wellshire has the city's second-lowest crime rates and some of its best schools. The Slavens K-8 school is known statewide and beyond for its strong curriculum, high test scores and experienced teachers.
Families have plenty of green space for relaxation and fun, including the Mamie D. Eisenhower Park, which features a recreation center and a swimming pool with lessons available.
Safest neighborhoods in Denver
Denver's family-friendly neighborhoods aren't the only low-crime areas of Denver. The following neighborhoods top the list for safety, both in terms of property crime and violent crime rates.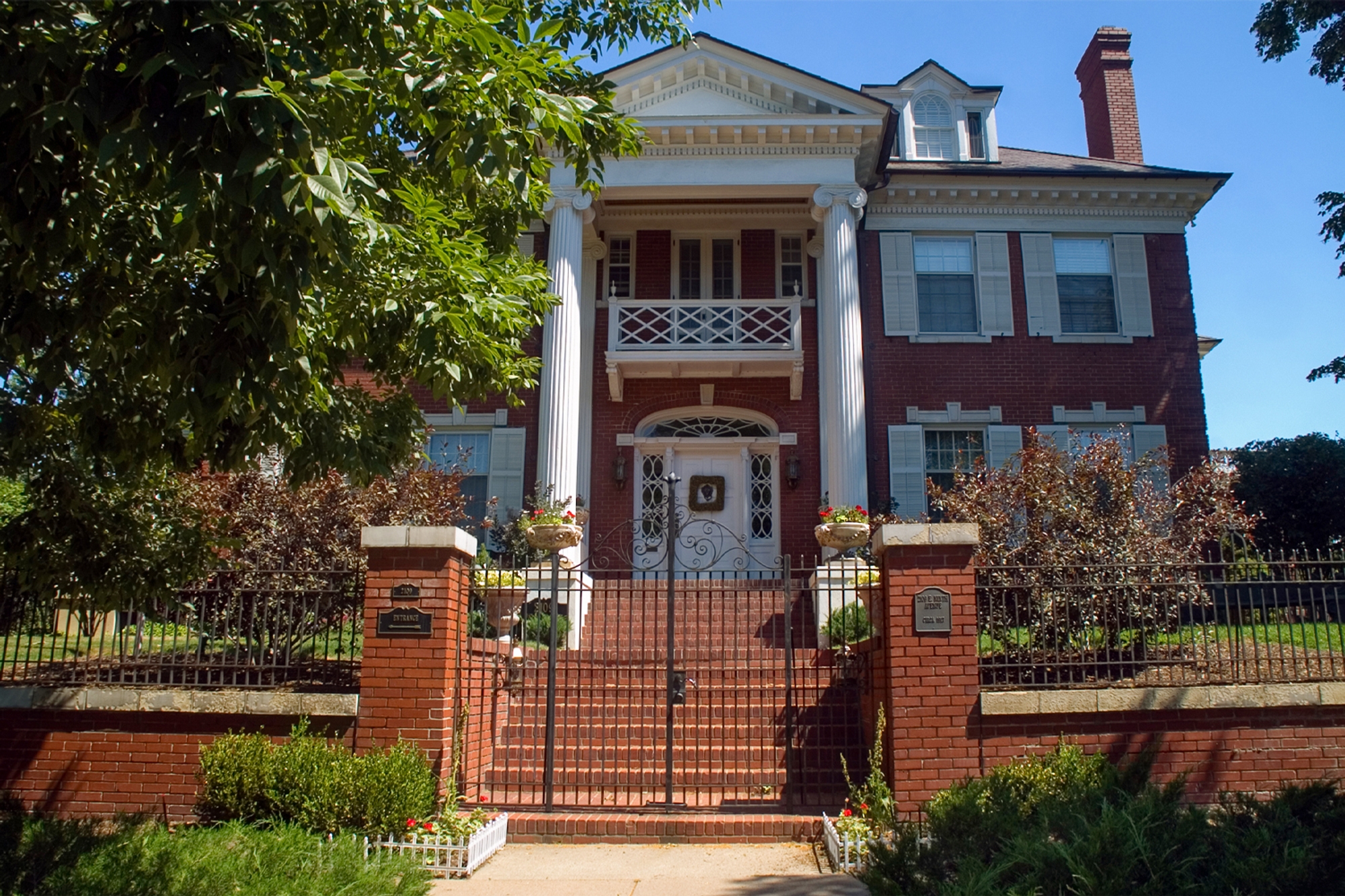 Photo credit: John De Bord/Shutterstock
Wellshire
Wellshire's impressive safety record earns this neighborhood a place on both the "safest" and "best for families" lists.
In the first five months of 2022, Wellshire experienced just 5.65 property crimes and less than one violent crime per thousand residents—less than half of its area neighbors. In a two-week period recently analyzed by local newspaper Westword, Wellshire saw only one criminal offense and no violent crimes, marking it as the safest Denver neighborhood.
Country Club
Country Club is comparable to Wellshire in terms of safety. It has the lowest crime rate for both property crimes and violent crimes in Denver thus far in 2022. In the two weeks measured by Westword, it saw only four offenses and no violent crimes.
Theft and robbery are below the national average in Country Club. When crime does occur, it's most likely burglary, according to Niche.com.
Indian Creek
Indian Creek has the lowest violent crime rate of any neighborhood in Denver, according to the Denver Post. The vast majority of incidents in Indian Creek are nonviolent, and even those are well below the national average. Niche.com's calculations show that theft is the most common type of criminal incident, followed by burglary.
Most affordable neighborhoods in Denver
Home prices in Denver are going up. The Denver Metro Association of Realtors recently reported an average closing price of $726,988—up 17% from 2021. Luckily, several Denver neighborhoods are still affordable.
According to the National Association of Realtors, Windsor is the most affordable neighborhood in Denver. Its median home price is just $269,900, compared to $575,000 for the city. The cost of living is also 7% cheaper in Windsor than in Denver overall.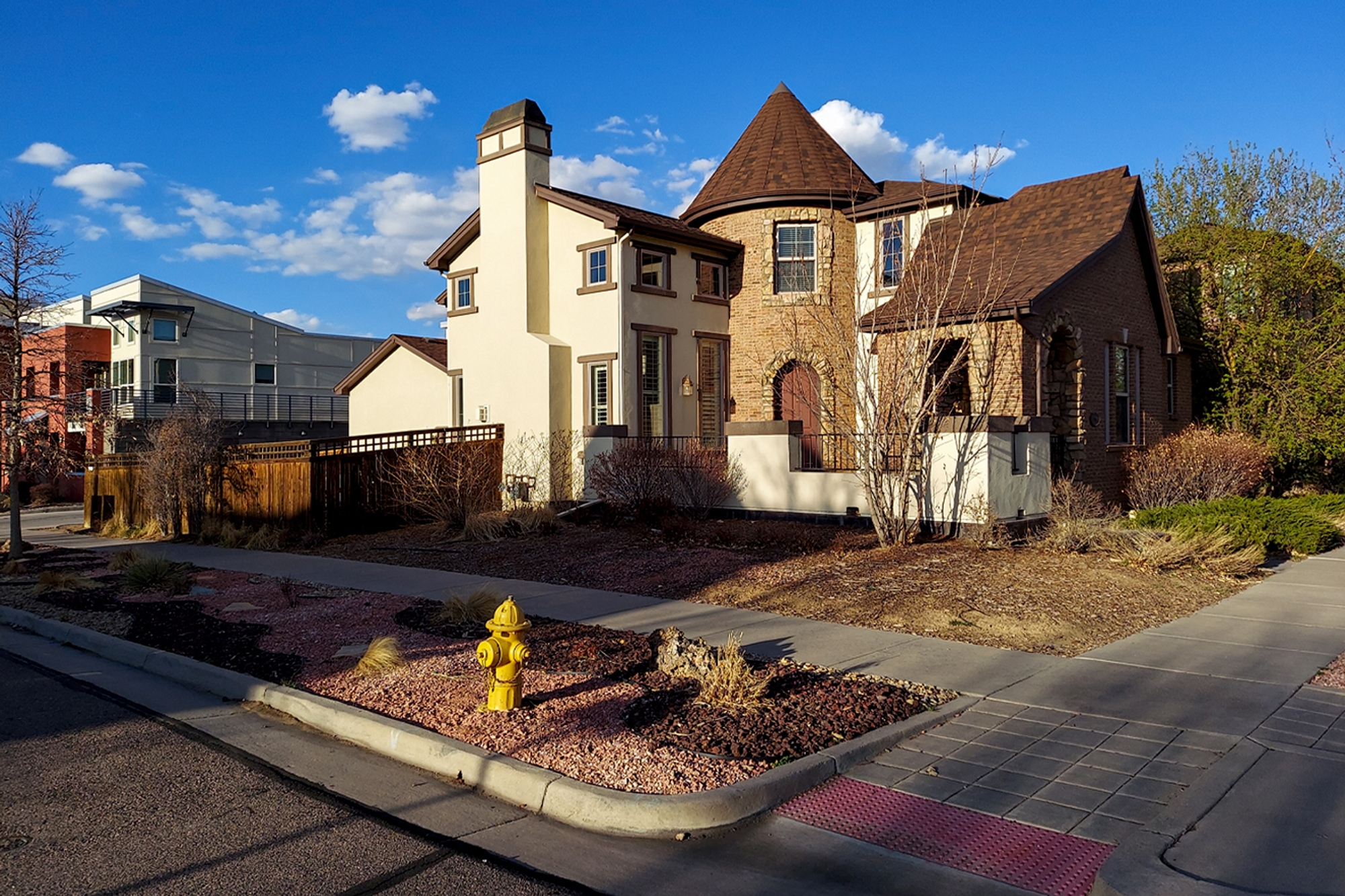 Photo credit: photo-denver/Shutterstock
Gateway–Green Valley Ranch
The Gateway–Green Valley Ranch area has a slightly higher median home price than Windsor at $480,000, but the cost per square foot is still just $269, compared to Windsor's $239. Its cost of living score is the fifth cheapest in the city, according to the livability rating website HomeSnacks. HomeSnacks uses Bureau of Labor Statistics and census data to determine neighborhood affordability.
Central Park
Formerly Stapleton, this Denver neighborhood is the sixth cheapest neighborhood in Denver, according to HomeSnacks. The median home price is $469,300 and the average rent is $1,832. That's below the city's average according to RentCafe, which also calls Central Park "Denver's most popular neighborhood."
Coolest neighborhoods in Denver
If you're planning a visit and looking for the best places to stay in Denver—or if you're moving in and want to be at the center of the action—here's where to go.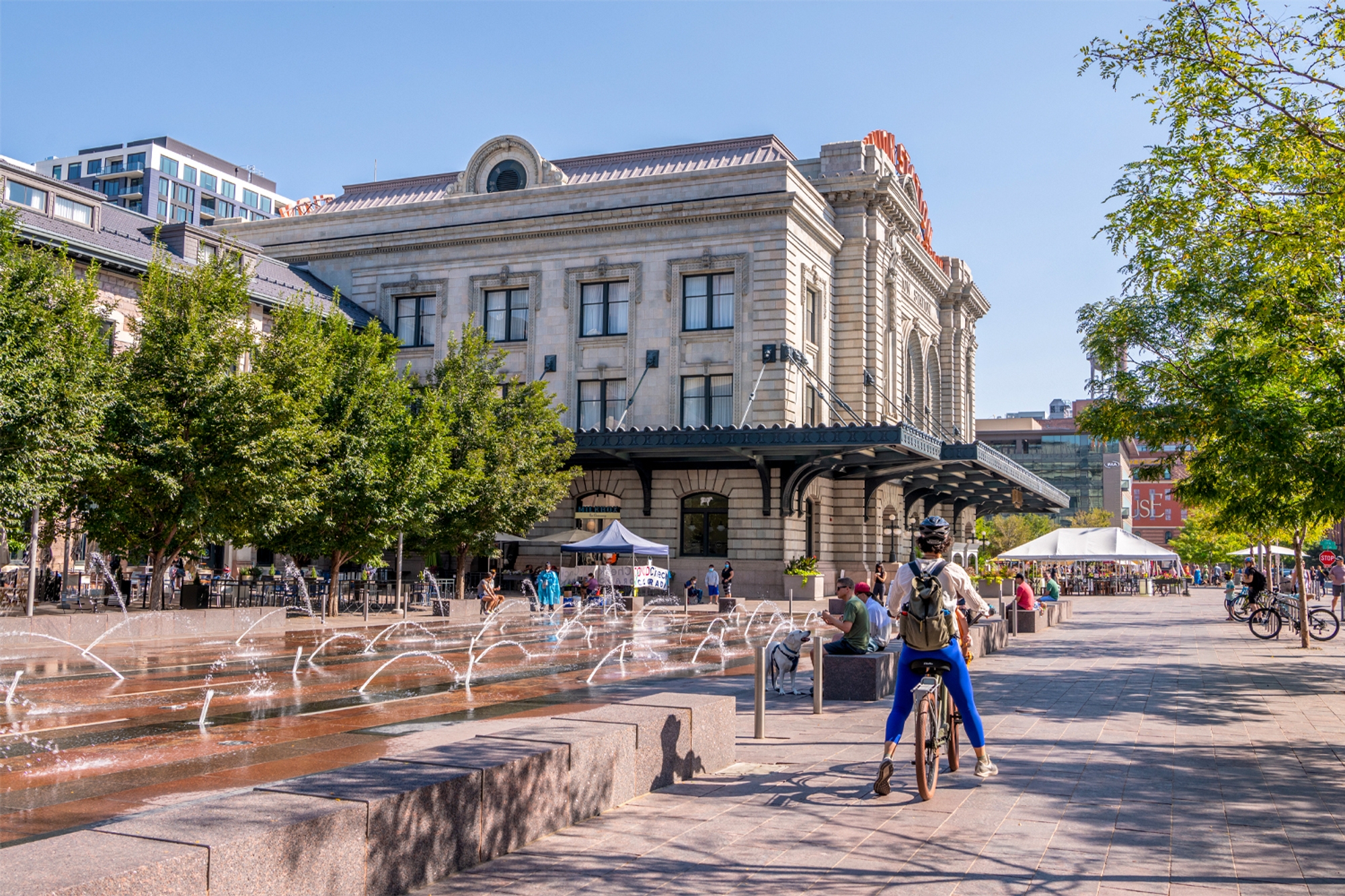 Photo credit: Page Light Studios/Shutterstock
Lower Downtown (LoDo)
LoDo is lower downtown Denver's historic district and one of the city's most exciting neighborhoods. It's rich with arts and culture, including the Denver Art Museum and Denver Performing Arts Complex.
"With Union Station and all its family activities nearby, you can't go wrong by choosing an excursion to LoDo," said Kyle Shirley, a Denver business owner. "And at night, the district comes alive with lively pubs and clubs, street performers and incredible fine dining."
Capitol Hill
"Capitol Hill is Denver's quintessential walkable neighborhood filled with gorgeous architecture and mansions from the early 1900s and tons of bars and restaurants," said Jill Collins, a local Capitol Hill resident for over nine years and owner of Denver Walking Tours.
"What makes this neighborhood in the Mile High City so amazing is its blend of old and new and its storied past," said Collins. The area's most famous historic destination is the Molly Brown House Museum, where one of the Titanic's most famous survivors lived.
The area is packed with hip restaurants, bars, coffee shops and iconic local stores such as Wax Tracks Records. It's also the 10th most affordable neighborhood in Denver, according to HomeSnacks, so you'll get more for your money.
Congress Park
Congress Park has something for everyone. There are many local shops and restaurants to explore, including the famous Tattered Cover Book Store. Culture lovers can enjoy plenty of live music and the annual Denver Film Festival in November.
The neighborhood also offers plenty of opportunities to stay active with tennis and pickleball courts and ball fields. The local pool recently underwent a $10.1 million renovation.
Best neighborhoods in Denver for businesses
"Denver is a friendly city for entrepreneurship, [thanks to] economic growth and increased profit from investments," said Kenna Real Estate's Brian Burke. Multiple publications agree. In 2022, Denver ranked sixth in WalletHub's list of the best large cities to start a business. Denver is also insurance-company search website The Zebra's sixth-best city for entrepreneurs and second-best for small business funding.
These are Denver's most promising areas for startups and small businesses.
River North (RiNo)
River North is recommended for small business owners. "It's a young neighborhood undergoing a lot of development," said Shirley. "RiNo is full of innovative minds collaborating at chic coworking spaces, as well as creative boutique storefronts, cafes and offices."
RiNo is part of the broader Five Points neighborhood, drawing visitors and locals with its trendy bars, cafes and restaurants. It offers plenty of foot traffic and affordable rent. HomeSnacks rated it one of Denver's more affordable neighborhoods.
Upper Downtown
The Downtown Denver Partnership began a revitalization effort of the city's Central Business District in 2019. The neighborhood already boasted the city's highest concentration of jobs and taxable economic activity.
Construction is currently underway on a major renovation of the 16th Street Mall, with plans for "amenity zones" to host kiosks and other small businesses. Real estate firms have also invested $10 million in renovating a 24-story office building to make it attractive for tenants, like espresso roastery Little Owl Coffee.
Momentum in Upper Downtown is high, but rents remain low, making this a great area for newer and smaller companies.
Baker
One of Denver's most affordable neighborhoods for startups and small businesses, Baker is home to some of the city's top talent. Its residents include young professionals and families. It's close enough to nightlife to bring in visitors.
Its proximity to light rail and bus service makes it a great destination for commuters.
Exploring the Best Neighborhoods in Denver
The best neighborhoods to live in Denver are fun, safe and full of things to do. Every new Denverite will thrive somewhere different, so take the time to explore. Talk to locals. When you find the right neighborhood, you'll feel at home.