Portland, known as Silicon Forest, is a unique and growing city because of the influx of technology sector jobs. The city is also known for its artistic and quirky vibe as well as its natural and laid-back lifestyles. Living in Portland means embracing its many green initiatives, the Pacific Northwest lifestyle and a love of the outdoors.
Living in Portland: What to expect
Portland is known for its arts and culture. You can find great museums and small local shops. Portland is also one of the most unique and diverse cities for great food. With fresh ingredients, a thriving farm-to-table scene and a variety of different types of cuisine, there is no shortage of wonderful places to eat.
The job market in Portland is robust but competitive. While wages are higher than average, they are lower than other large cities of comparable populations, and the cost of living is on the rise. There are plenty of ways to balance work with life and a ton of free or at least budget-friendly things to do.
Walkable areas in Portland
Portland is the 13th-most walkable large city in the US. Because of the warm weather, being outside in Portland can be more comfortable than other major cities. The city registers a Walk Score of 67, which means that some errands can be accomplished strictly on foot. Most of the neighborhoods have places to eat, entertainment and grocery stores within walking distance.
Portland is also a bikeable city, with many residents riding bicycles to school and work and using their two-wheelers as a favored mode of transportation. The public transit system is highly rated, with multiple bus and train lines that make getting around the city easy for residents and tourists.
Best public schools in Portland
Portland's public schools are highly rated and rank above the national average. The PPS district is one of the largest in the Pacific Northwest, and enrollment increases every year. Graduate rates are also increasing.
Top 3 Elementary Schools
Forest Park Elementary School
Le Monde French Immersion Public Charter School
Ainsworth Elementary School
Top 3 Middle Schools
Winterhaven School
West Sylvan Middle School
Beverly Cleary School
Top 3 High Schools
Grant High School
Lincoln High School
Wilson High School
Commute time in Portland
The commute time in Portland is slightly shorter than the national average of 26.1 minutes. However, in Portland, there's a much greater emphasis on taking a green approach, with more residents taking public transit (12.3%), riding their bike (6.5%) or walking (5.7%) to work. With more people taking slower modes of transportation, a higher percentage of Portland residents live closer to their jobs than the national average, too.
Portland is a bike-friendly city, with a Bike Score of 82, meaning most travel can be accomplished via bike.
Portland weather
Portland summers are mostly clear and warm, lasting from June through September. The average temperature during the warm months is a comfortable 76 degrees, and it rarely goes above 95. The cool months are from November through February with an average temperature of 52 degrees and an average low of 36.
The weather is cloudier here than in most locations, with overcast weather averaging approximately eight months of the year. You can expect a lot of rain in Portland, but temperatures are mild.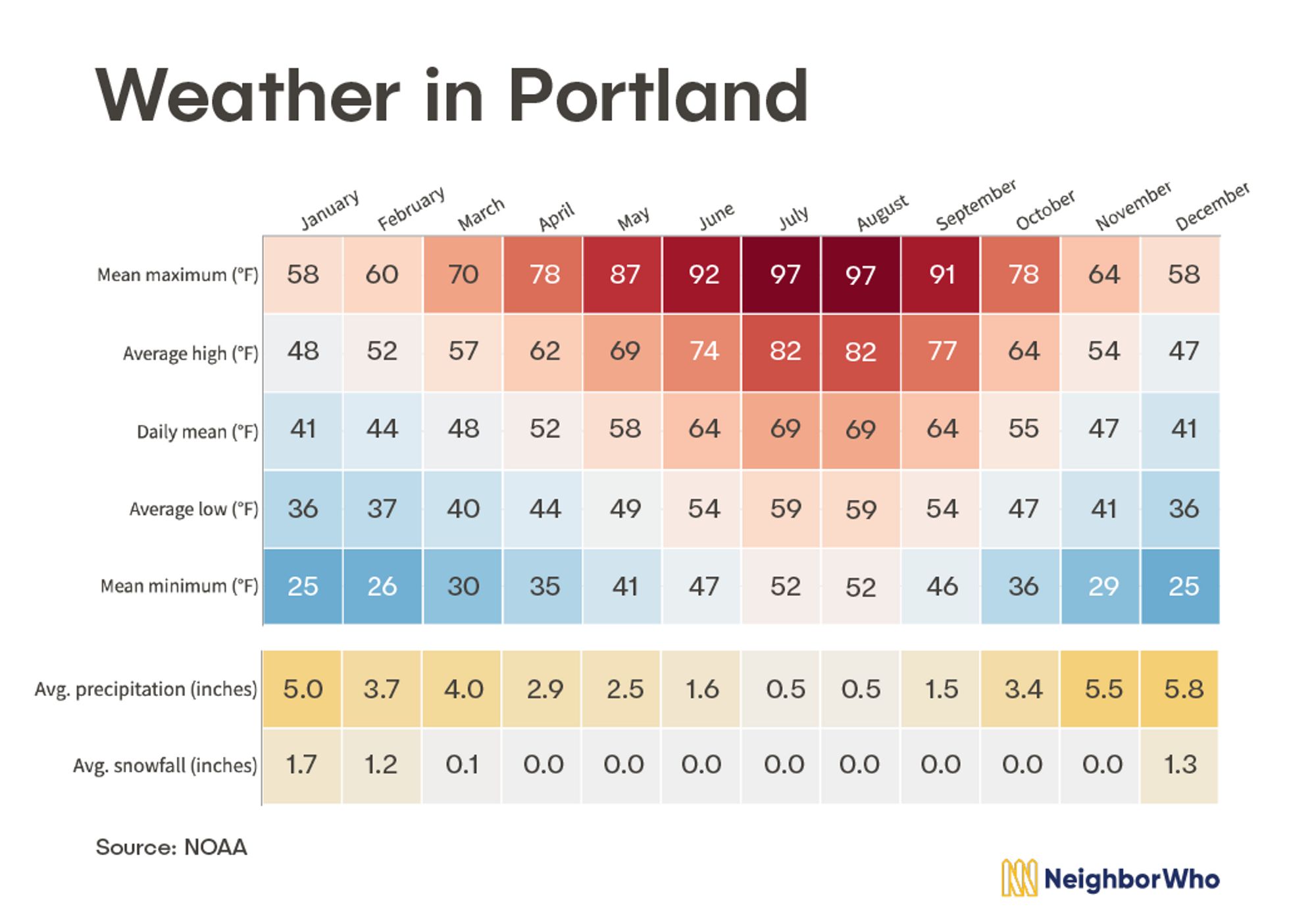 Portland crime rate
The crime rate in Portland is higher than the national average across all categories. This includes both property and violent crime.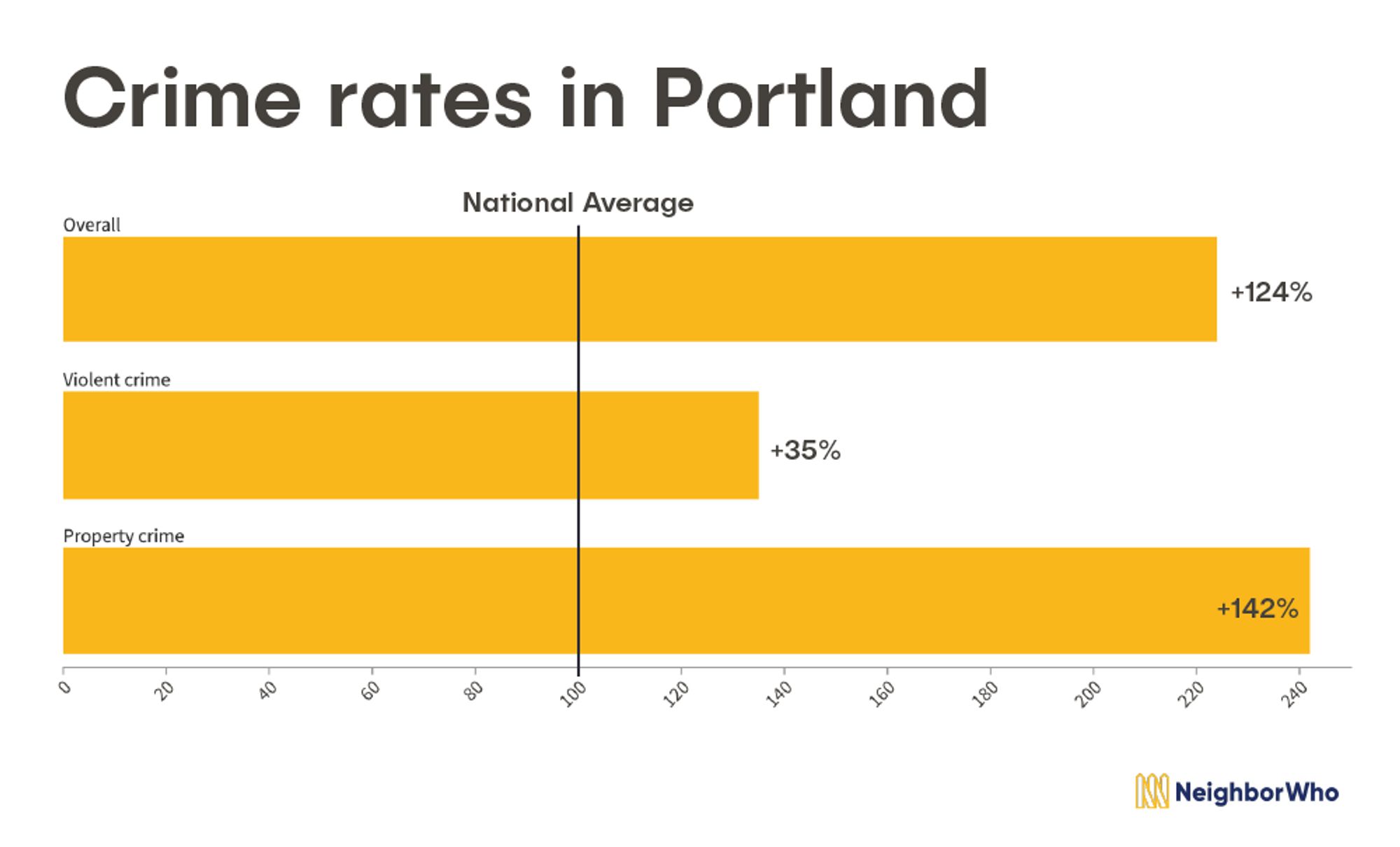 Portland city population
Portland is the eighth-largest city in the West by population, with 620,589 residents in 2021. It is the 21st-largest city by square mile, making it a densely populated area. Portland has experienced a 12.2% increase in residents since the census in 2010.
Portland is the most populous city in Oregon and the second-most populous American city in the Pacific Northwest behind Seattle. It is the 26th-largest city in the US, and the population increases every year.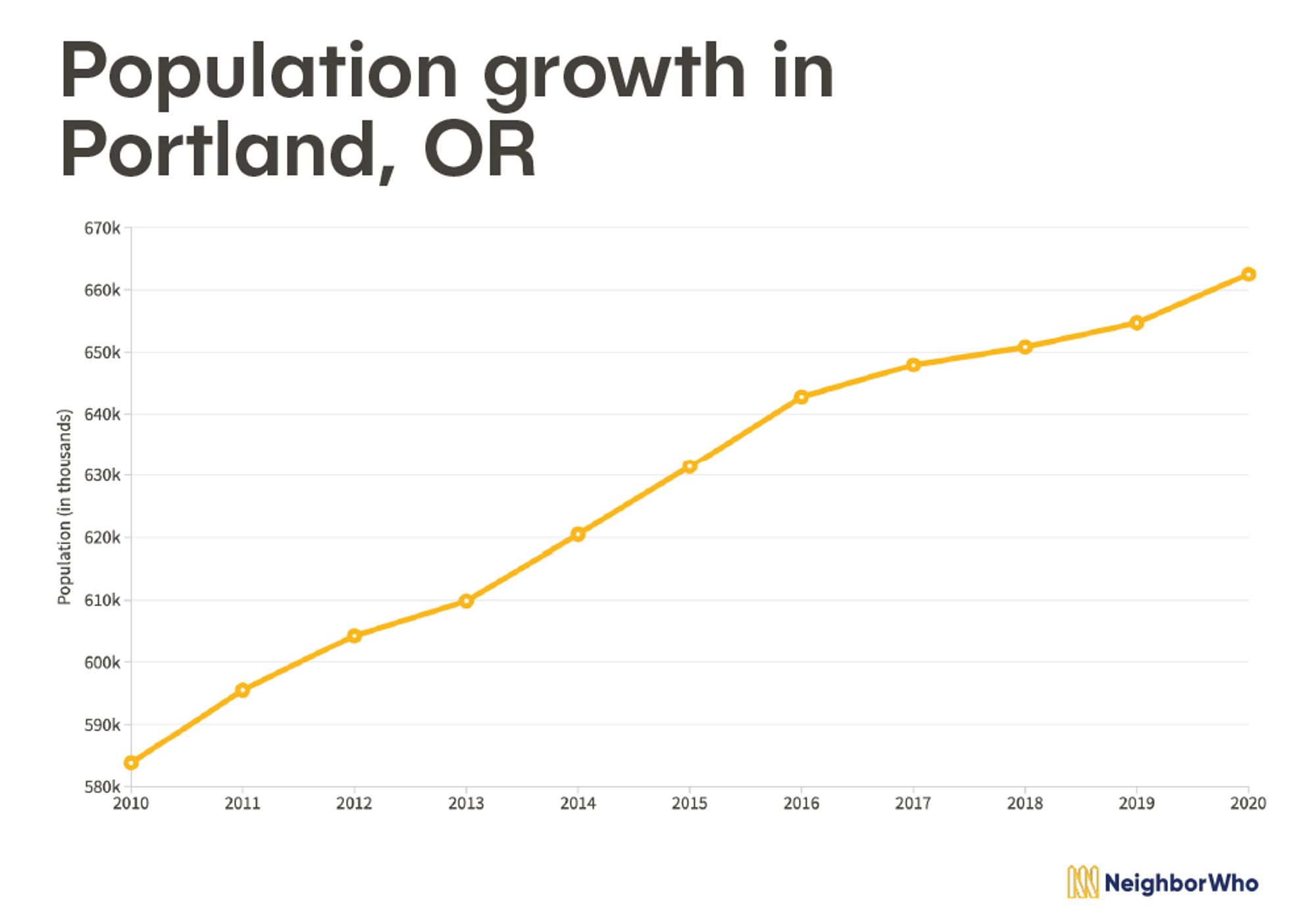 Cost of living in Portland
The job market in Portland is robust but competitive. While wages are higher than average, they are lower than other large cities of comparable populations, and the cost of living is on the rise.
The cost of living in Portland is lower than New York by 23.2%. When you count the cost of rent, Portland is 48.3 % lower than the cost of living in New York. The median income in Portland is higher than the national average at $71,005 per household.
While the cost of living in Portland is higher than the average in the state of Oregon, it is lower than average for cities with similar amenities. According to some sources, you need to make $60,000 per year to live comfortably in Portland.
The median income in Portland is $71,005 per household and $41,310 per person. More than 13% of the population is at the poverty level. The median household income for the United States is $67,521, putting Portland slightly higher than the national average.
Portland neighborhood map
Top 5 Portland neighborhoods by population density
Portland is a city of neighborhoods. It's divided into six quadrants. Each area has its own hub of business and cultural vibe. You'll find a lot of deference to artisans and handmade objects in this city. Portland very much supports local businesses, and many residents go out of their way to shop local. You'll also find many ways to get involved in the community.
Here are the top five neighborhoods by population:
Pearl District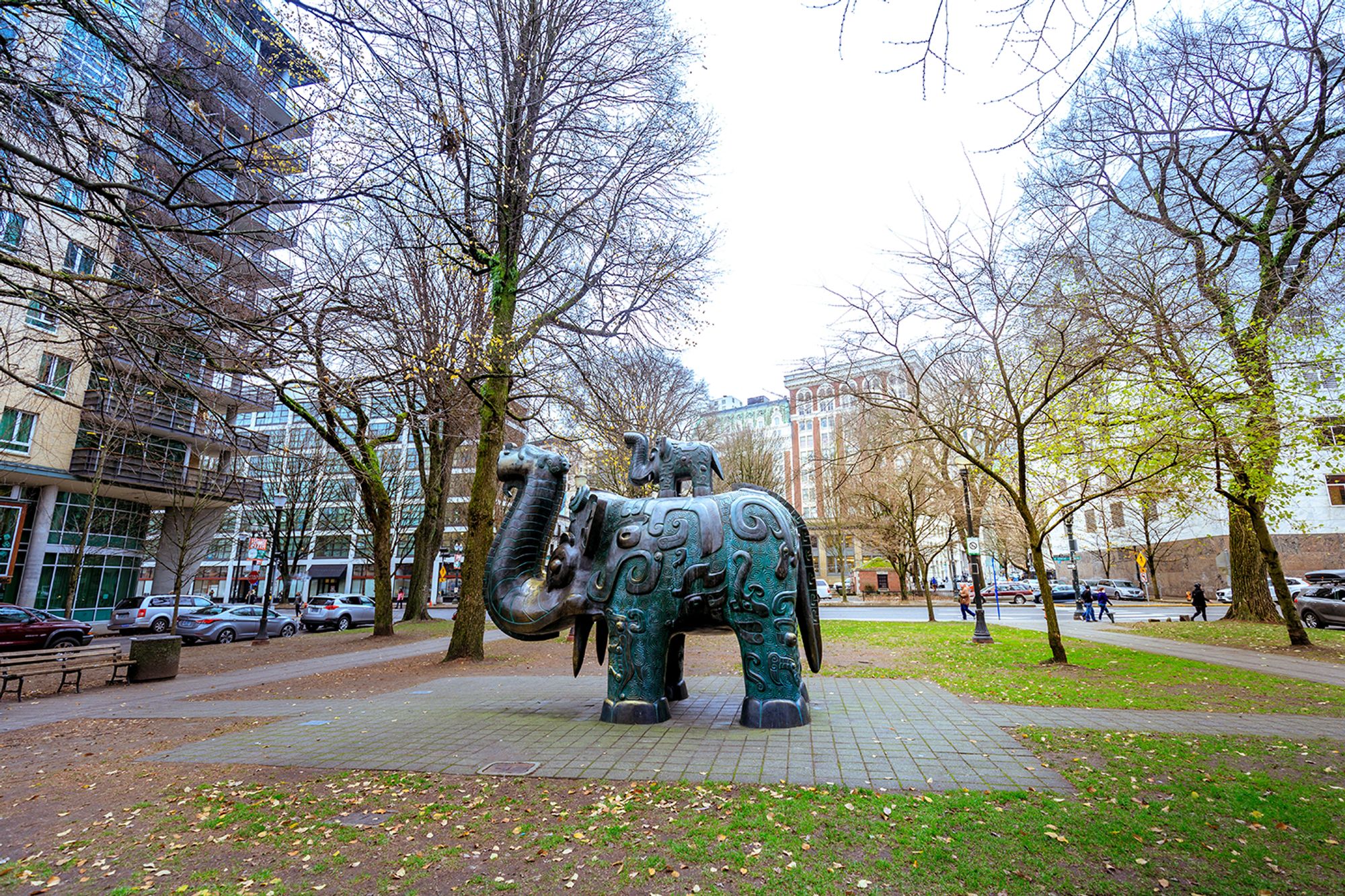 Photo Credit: ARTYOORAN/Shutterstock
The Pearl is one of the premier neighborhoods of Portland. This is the destination for up-and-comers and those who enjoy the finer things, with art galleries, world-class dining and more. Many professionals make their homes there.
Downtown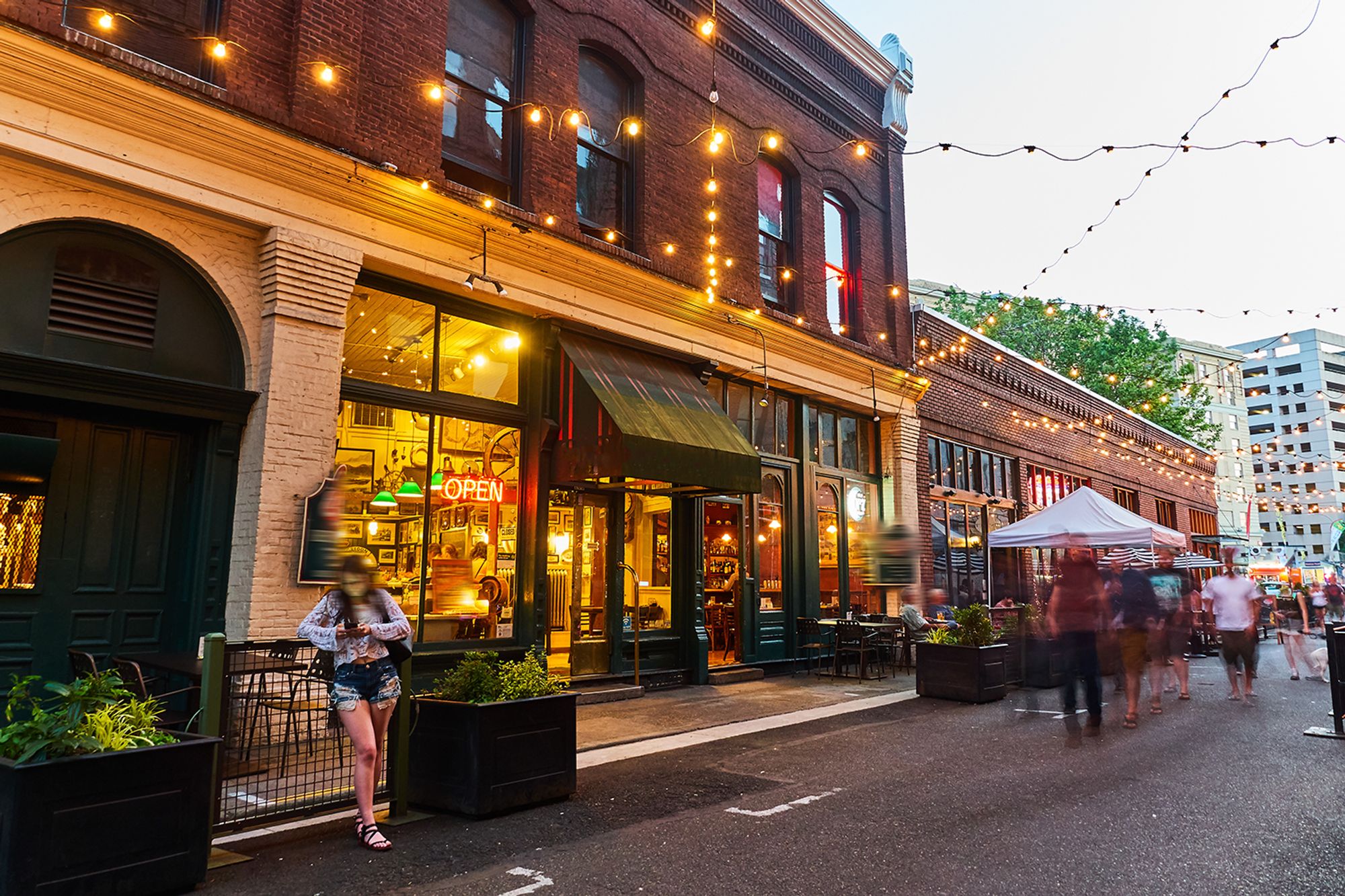 Photo Credit: Twin Sails/Shutterstock
Portland's Downtown offers all of the tourist vibes you want and a great deal extra. This is the area of the city with some of the most highly-rated hotels and restaurants. It's walkable and easy to get around.
Goose Hollow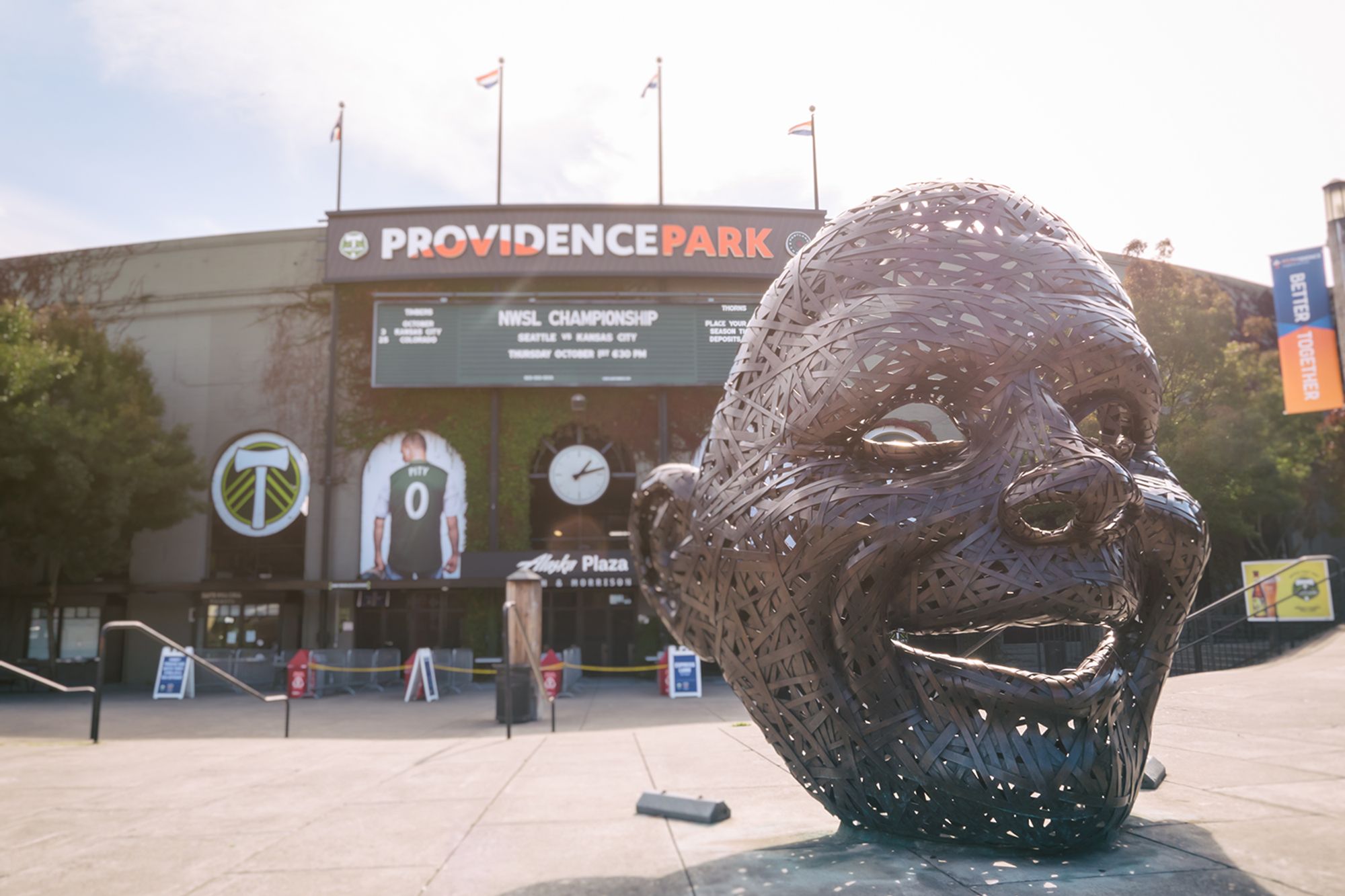 Photo Credit: Atomazul/Shutterstock
Located in southwest Portland, Goose Hollow is home to Portland State University, so there is a distinct college vibe to the area. Goose Hollow has an eclectic mix of stunning historic architecture and new high-rise condos, wonderful eateries and entertainment venues. It's also close to some of Portland's top attractions, including Washington Park, the Oregon Zoo and Portland Art Museum.
Sunnyside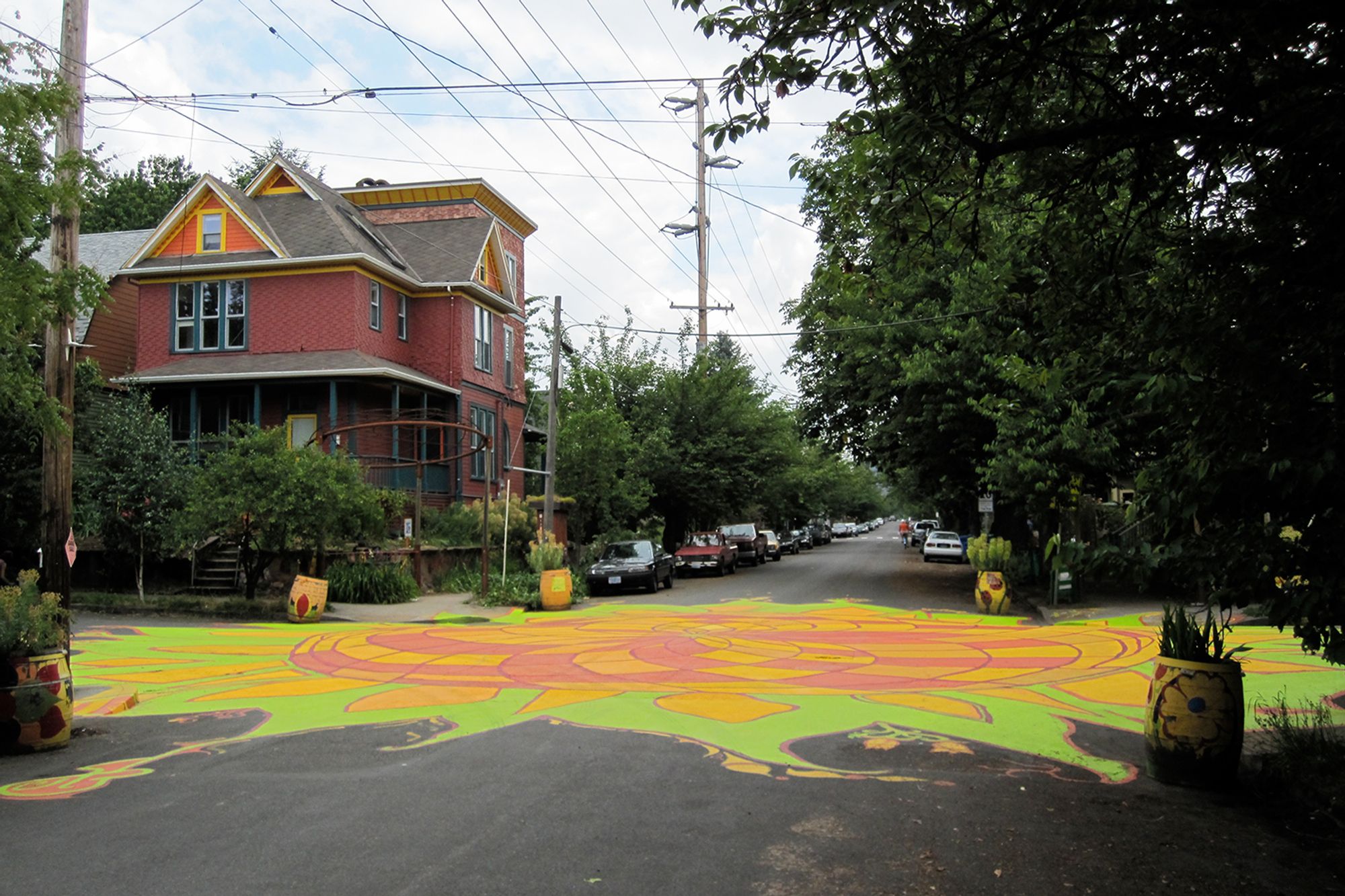 Photo Credit: urbzoon/wikimedia (CC BY 2.0)
Sunnyside is one of the top-rated neighborhoods in Portland. It's full of young professionals, and the political climate leans decidedly liberal. Like the rest of Portland, there is no shortage of interesting parks, coffee shops and breweries.
Irvington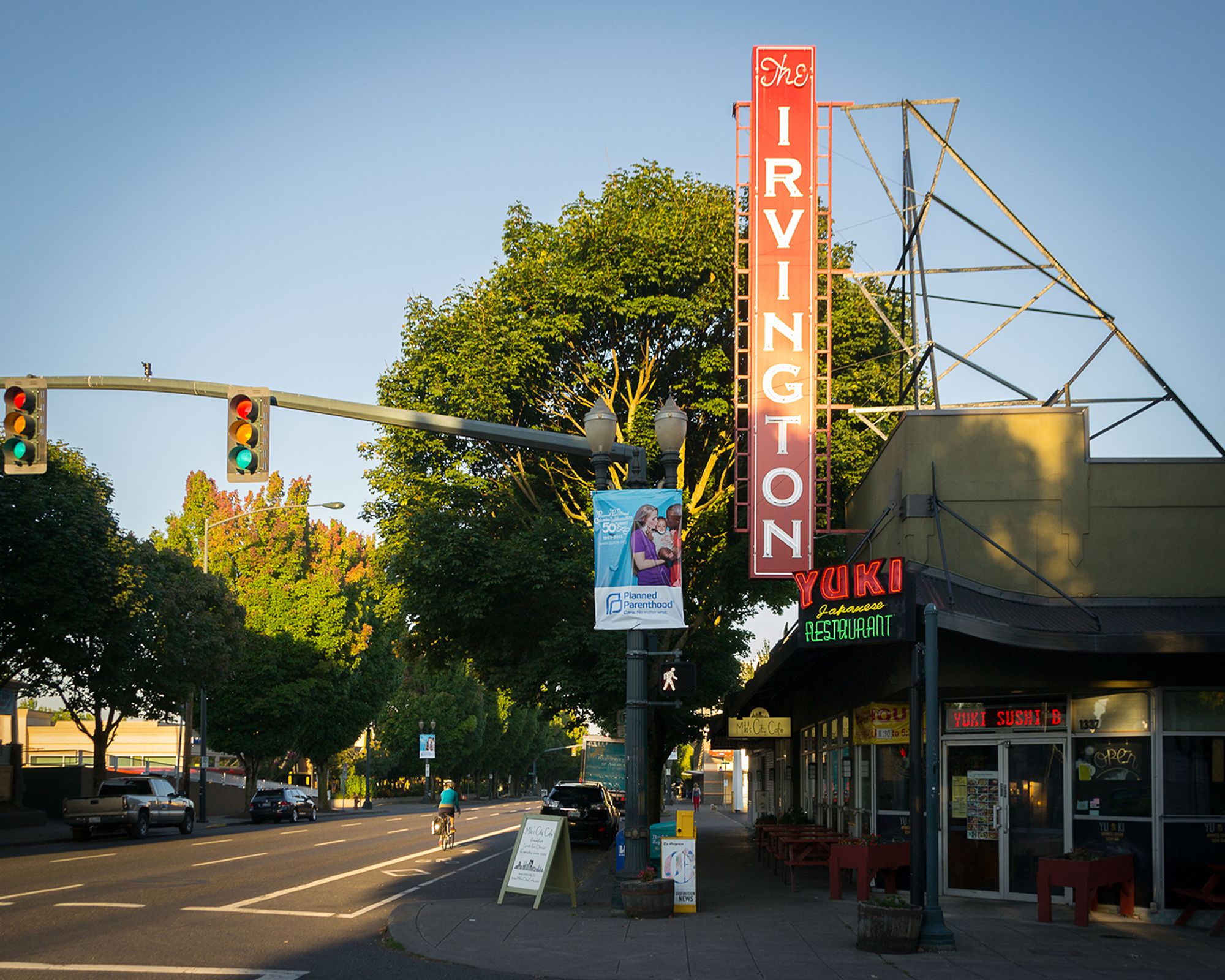 Photo Credit: Visitor7/wikimedia (CC BY-SA 3.0)
Irvington is an eclectic neighborhood with a mix of older and newer homes. Many residents here rent, and you can find parks, restaurants and businesses within the neighborhood. The area is walkable and bikeable.
Median home price in Portland
The median home price in Portland is $525,000, with an average cost of $306 per square foot. In October 2021, the median home listing price was trending up by 4.4% year over year. On average, homes in Portland sell in 42 days.
On par with the rest of the country, the housing market has been especially competitive in Portland. With a short supply of houses on the market and a large demand from buyers, it's never been such a great market for sellers or a more stressful one for buyers.
According to Dustin Miller, a real estate agent with Windermere, people have to decide what's "non-negotiable" and adjust their expectations. Many buyers will need to buy homes with aspects they weren't looking for to find the right location in the neighborhood they want.
Average rent in Portland
The median rent for the US was $1,062 in 2019, making Portland slightly higher than average.
The median rent in Portland for a two-bedroom apartment is $1,350.00, with the highest rent price for a studio apartment being $1,685.
Moving to Portland
If you need to make an average of $60,000 a year to live comfortably in Portland, you might wonder how costly it is to move to the city. The total cost to move to Portland depends on several factors, such as where you're moving from, the number and size of the items you are bringing and whether you move yourself or hire movers to help.
Moving your own items and renting a truck will be the most cost effective. If you're hiring movers, moving might cost as much as $178 an hour in Portland.