Nicknamed the Charm City for its hidden gems and historical charm, Baltimore offers top-notch arts, culture and education. But for residents, life in Baltimore is all about community, neighborhoods and local atmosphere. Learn almost everything you need to know about living in Baltimore and its neighborhoods.
Living in Baltimore: What to expect
"Baltimore is a little big town, which makes it a great place to live," said Andrew Sachs, a lifelong Baltimore resident and the owner of Harbor Park Garage in the city's Inner Harbor. "While it has many of the amenities of a large city, it feels like a small town."
Baltimore is an ideal city for both professionals and families. It's affordable and walkable and has some of the state of Maryland's best schools. If you're a new resident or resident-to-be, here's what to expect in the Charm City.
Walkable areas in Baltimore
Baltimore is the 14th-most walkable city in the United States, according to Walk Score. The city's most walkable area is downtown, where residents can complete daily errands without a car. Residents also enjoy top-notch public transportation and can get almost anywhere in the city proper within 30 minutes.
Mount Vernon is a close second for walkability. The average Mount Vernon resident lives within a five-minute walk of 20 restaurants, bars and coffee shops. It's also an extremely bikeable neighborhood.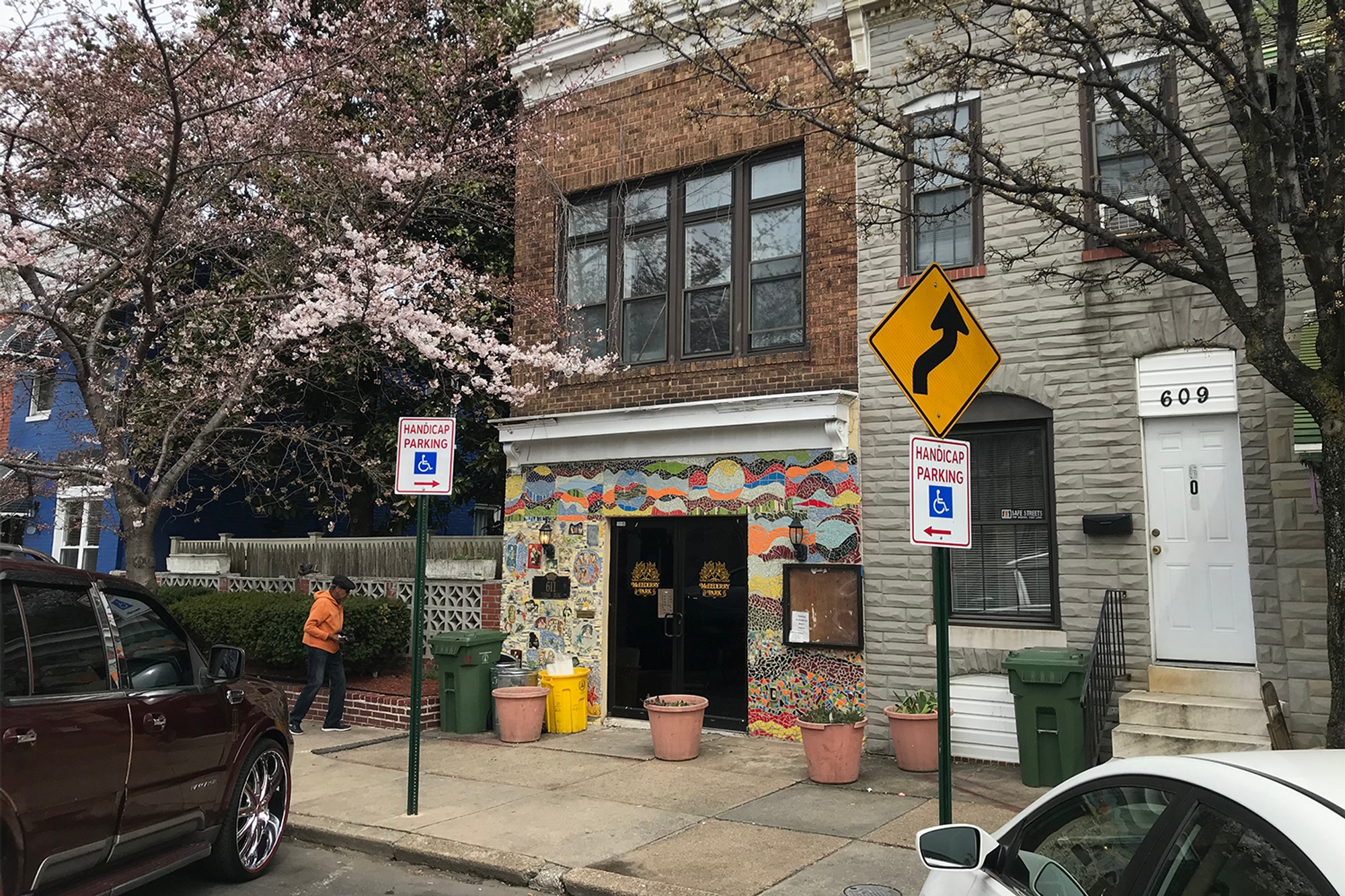 Baltimore Heritage via Wikimedia (public domain)
Public transportation and connectivity
Baltimore has a strong public transit infrastructure with one subway line, three commuter rail lines, three light rail lines, a free water taxi, free downtown shuttle called the Charm City Circulator and a comprehensive bus system. You can complete most to all daily errands on foot in central neighborhoods.
Areas like Leakin Park and Cold Spring have more green space but typically require a car. Baltimore Penn Station provides connections to Amtrak, MARC, the light rail and Charm City Circulator. It's the eighth-busiest Amtrak station in the US.
For frequent fliers, the Baltimore/Washington International Thurgood Marshall Airport is just nine miles south of downtown Baltimore, serving as a base for Southwest Airlines. It's also the 22nd-busiest airport in the US.
Best public schools in Baltimore
Baltimore's public schools serve 77,856 students in pre-kindergarten through 12th grade. It's one of the most diverse school districts in Maryland and the sixth-best school district for student-athletes, according to Niche.com.
The district has a 70% graduation rate and a teacher-student ratio of 15-to-1, slightly lower than the national rate of 17-to-1.
As in any city, Baltimore schools vary in quality and outcomes. Here are nine of the city's best schools, based on US News and World Report ratings.
Top 3 elementary schools
1. Thomas Johnson Elementary/Middle School: A pre-K-8 school near Riverside Park. Of 516 students, 62% of students score at or above reading proficiency level and 51% of students score at the same level in math.
2. The Mount Washington School: A K-8 school with 552 students, located in the northern part of the city in the Mt. Washington neighborhood. One-third of students are economically disadvantaged, and 74% come from minority populations. Half of the students score proficient in reading and 32% score the same in math.
3. Federal Hill Preparatory Academy: A school in the Federal Hill-Montgomery area serving 345 students in pre-kindergarten through fifth grade. The school has a student-teacher ratio of 14-to-1 and has a 42% math proficiency and a 47% reading proficiency rate, which is above expectations.
Top 3 middle schools
1. Roland Park Elementary/Middle School: A pre-K-8 school that ranks No. 1 among Baltimore City middle schools and 21st among Maryland middle schools. Out of 1,402 students, 64% score at or above proficiency level for reading and 58% score at that level in math.
2. Hampstead Hill Academy: A pre-K-8 charter school ranked second among Baltimore schools and 32nd statewide among middle schools. Middle school students perform well above expectations in both reading and math.
3. Tunbridge Public Charter School: Also a pre-K-8 charter school, Tunbridge ranks third in the city and 81st among middle schools in the state. Math performance at the middle school level is well above expectations while reading performance meets expectations. More than 85% of students come from minority backgrounds.
Top 3 high schools
1. Baltimore City College: Rated No.1 in Baltimore City and eighth in the greater metro area, Baltimore City College is also the 17th-ranked high school in Maryland. Seventy-eight percent of students here take International Baccalaureate (IB) classes and exams. The graduation rate is 94%.
2**. Baltimore Polytechnic Institute:** The No. 2 high school in the city and No. 19 statewide, Baltimore Polytechnic also ranks 827th nationwide. Student performance is more than double the state average in science and math and nearly double the average score in reading. The graduation rate is around 95%, significantly above the state median.
3. Baltimore School for the Arts: Ranked 33rd statewide and No. 3 in the city, the Baltimore School for the Arts serves just 433 students. It ties with Baltimore Polytechnic for the highest graduation rate in the city. More than half of all students take Advanced Placement (AP) classes and exams.
Commute time in Baltimore
According to BestPlaces.net, the average Baltimore commuter takes 30.7 minutes to get to work. That's nearly five minutes above the national average.
Just under 30% of Baltimore residents travel less than 20 minutes to work. Only 6.7% travel less than 10 minutes. On the other end of the spectrum, 12.6% travel more than an hour each way.
Sixty percent of Baltimore residents drive to work alone—less than the national average of 76.4%. Another 18.2% take mass transit, compared to just 5.1% nationwide. Carpool and biking rates are close to the national average.
Baltimore weather
Baltimore has hot summers and cold winters. The highest temperatures usually come in July, when the average high is 88 degrees. The coldest days tend to be in January, which brings average temperatures in the mid-30s. January is also the cloudiest. More than half the month's days tend to be overcast.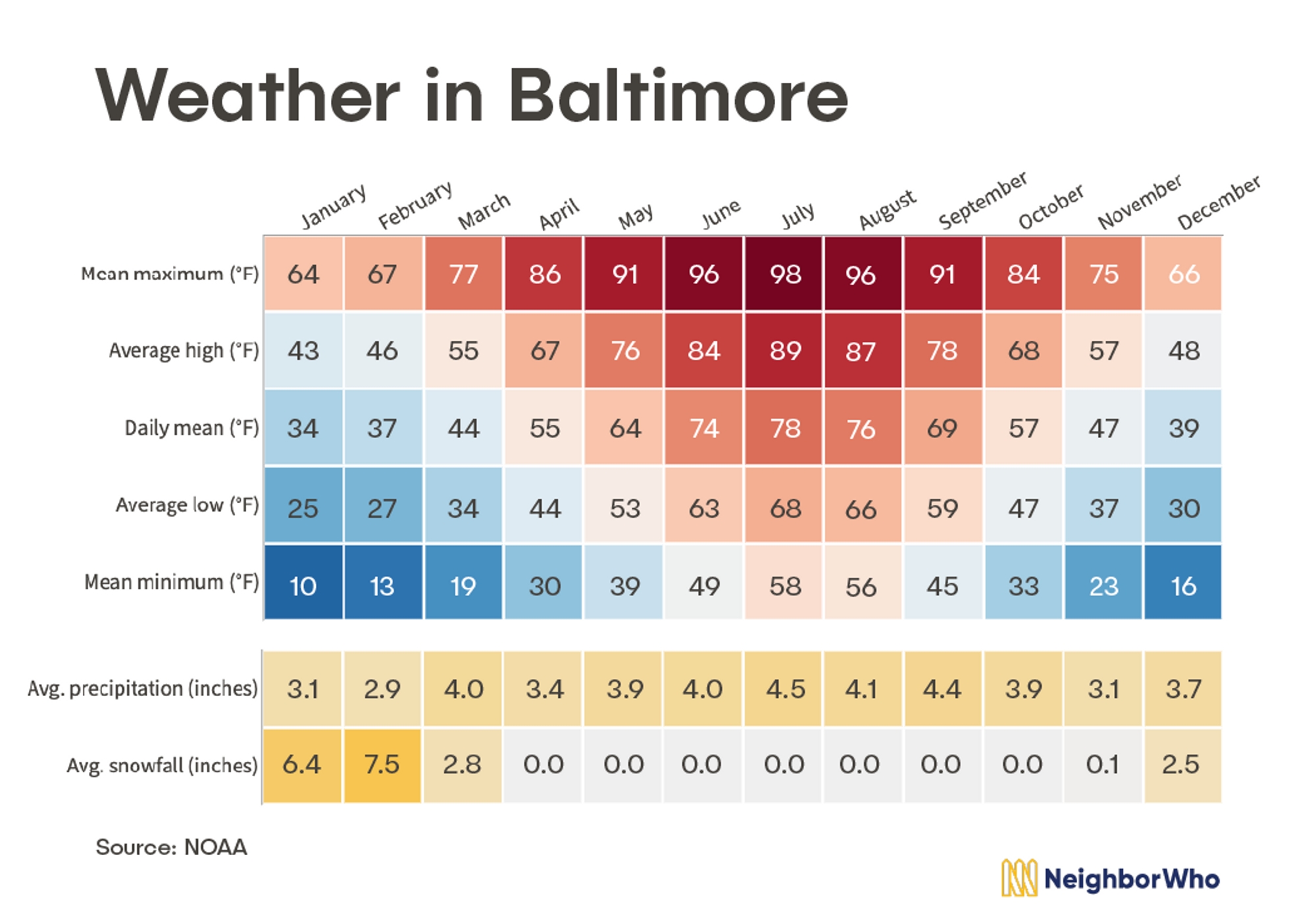 Mid-August to early October bring Baltimore's best weather for outdoor activities. September is the most temperate and the sunniest, with clear or mostly clear skies two-thirds of the time. Prime beach weather usually happens in the second week of August, when you have the best chance of sun and hot weather.
The snowy season in Baltimore lasts nearly four months—Nov. 27 to March 21. February has the highest average snowfall at 5.6 inches. The other winter months have an average of just one inch per month.
Baltimore crime rate
Baltimore has faced significant issues with crime in recent years. The city has consistently ranked among the top cities in the US for high crime rates, with a particularly high rate of violent crime.
Baltimore has higher-than-average rates of both violent and property crime. Theft is the most common incident type. Each year, the city receives 2,745 theft reports per 100,000 people. By comparison, Maryland as a whole has 1,185 thefts per 100,000 people and the nation as a whole has 1,398.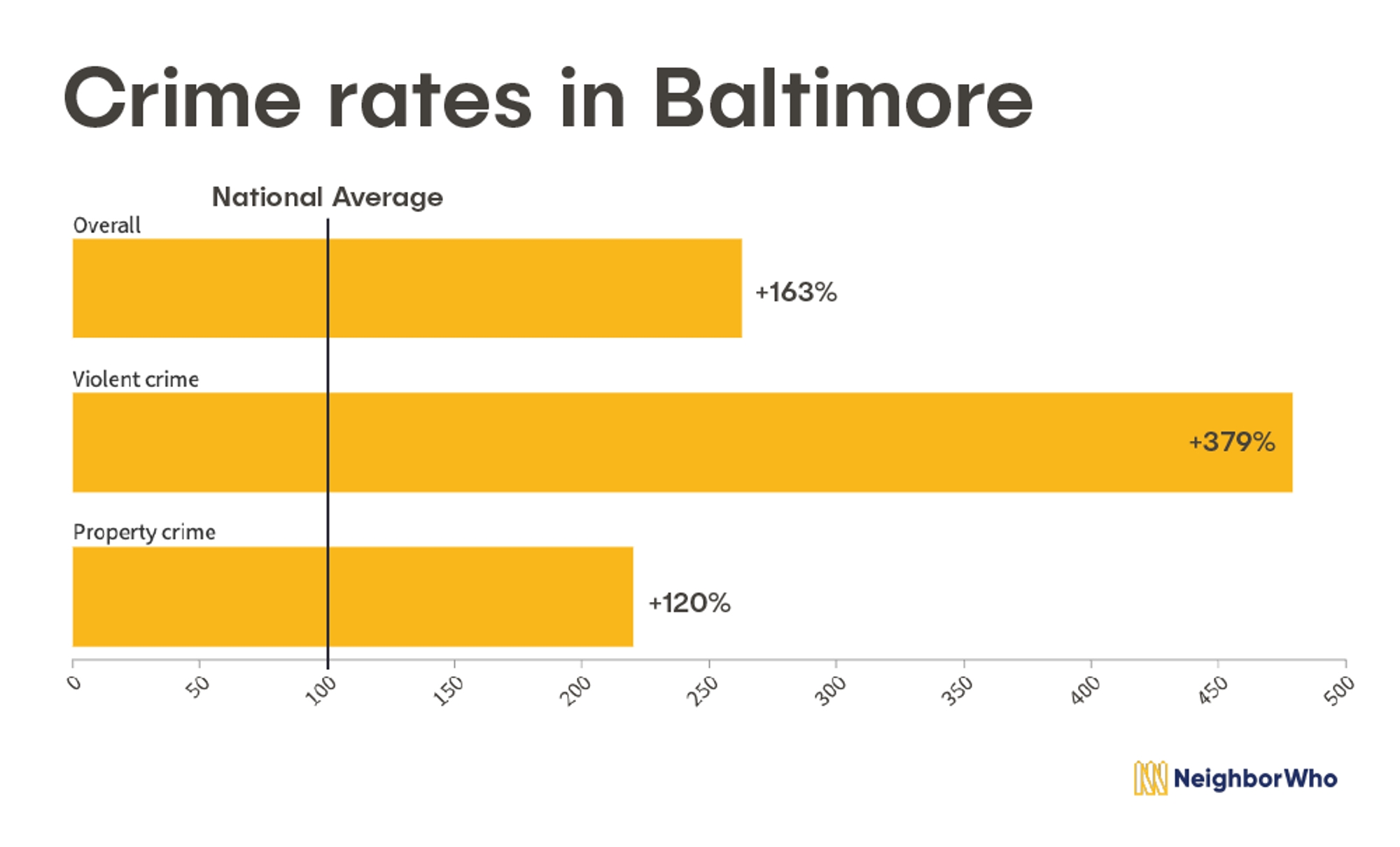 The most common violent crime is assault, with 933 reports per 100,000 people. That's close to four times the state average and more than three times the national average. Robbery comes in a close second at 813 incidents per 100,000 people.
The city has struggled to address this issue, despite efforts by law enforcement and the local government to increase public safety and reduce crime. Drug trafficking and gang-related activities have been major contributors to the high crime rate in Baltimore.
Additionally, a poverty rate of 20.3% and a lack of economic opportunities in certain neighborhoods have contributed to a cycle of crime and violence in the city. Efforts to address these underlying issues, such as community-oriented policing initiatives and job training programs, are underway, but progress has been hampered by the pandemic which resulted in a spike in violent crime.
Baltimore city population
According to the most recently available census data, Baltimore has a total population of 586,131. Last measured in 2020, this number has been dropping since 2014. That year saw the city's 10-year population high of 623,833. The 2010 census measurement put the city at 620,961.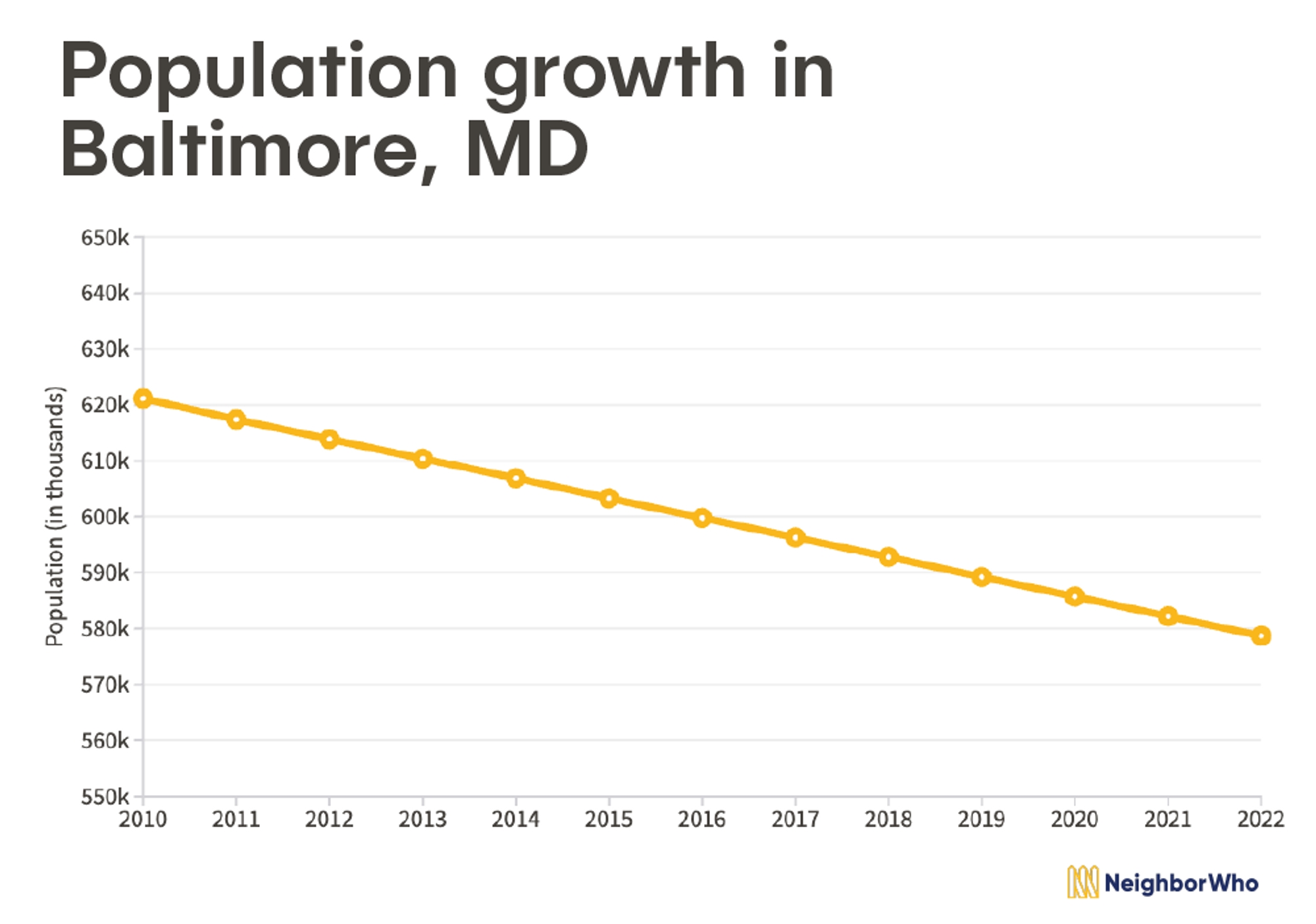 Baltimore is the 30th-most populous city in the US, slightly behind Detroit and just ahead of Milwaukee. The nation's largest city, New York, has 15 times as many residents as Baltimore.
Cost of living in Baltimore
The cost of living in Baltimore is 19% higher than the national average. Housing is 55% higher than the national average, making it the biggest contributor to Baltimore's inflated cost of living. Groceries cost 10% more than average.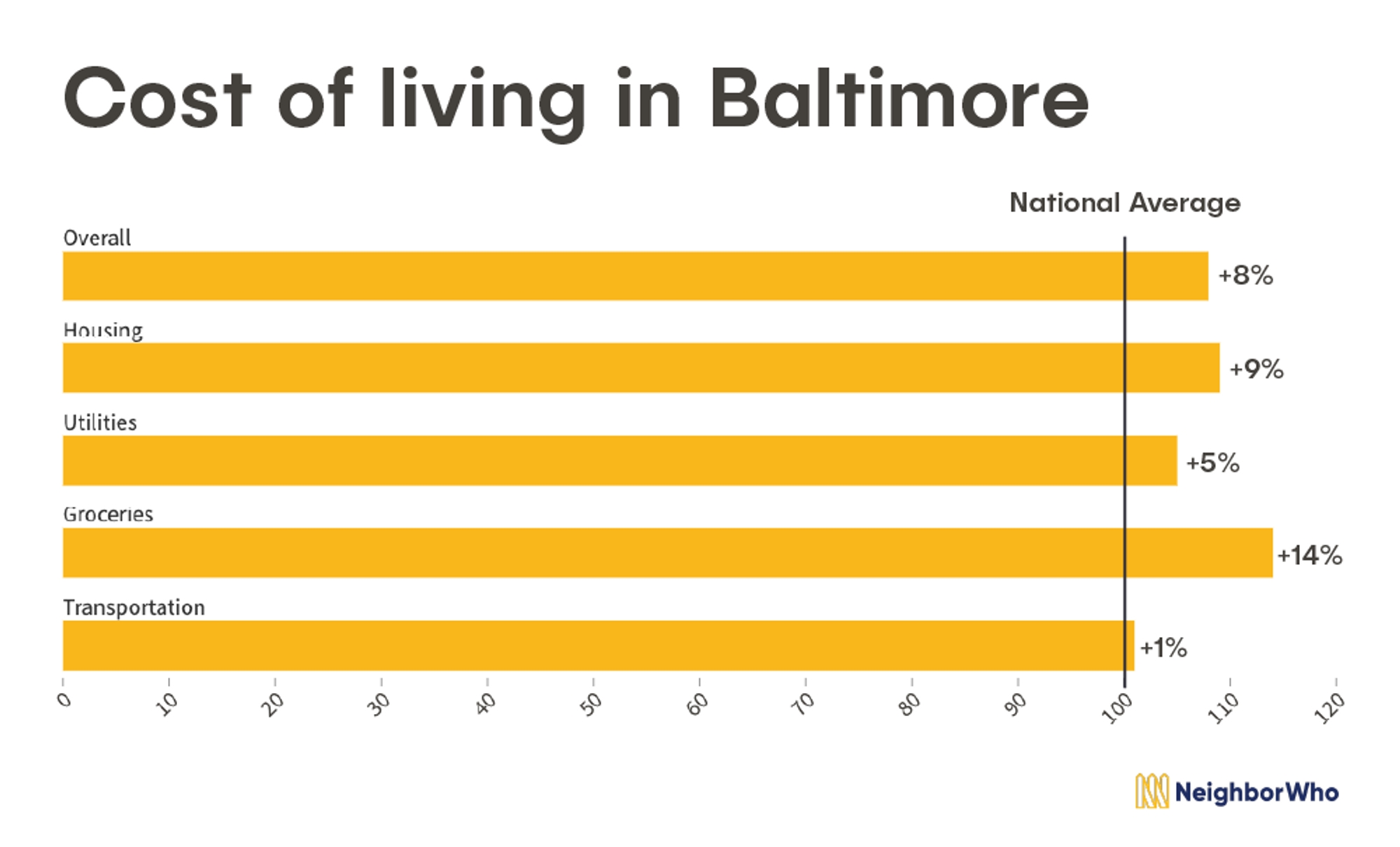 On the plus side, Baltimore residents pay below the national average for health care. Medical services in Baltimore cost 97.9% of that average.
Median household income in Baltimore
The median household income in Baltimore is $54,124. That's approximately 78% of the nationwide median income of $69,021. Per capita income is closer at $34,378 to that category's national average of $37,638.
Approximately 1 in 5 Baltimore residents live on a poverty-level income, compared to 11% nationwide. This may be because of the city's high cost of living and below-average income levels.
Top 5 Baltimore neighborhoods by population density
Baltimore's busiest neighborhoods are vibrant and thriving, thanks to active communities of residents. Here are five neighborhoods Andrew Sachs called "up-and-coming or, better yet, restoring their former glory."
Midway-Coldstream
Midway-Coldstream has a dense suburban feel with a mix of renters and owners. Single-unit attached units make up more than 82% of all homes in this neighborhood, with two-unit homes coming in a distant second at 5.32%. Just under 5% of homes are detached single-family residences.
Penn-Fallsway
Penn-Fallsway also heavily leans toward single-family attached units. More than half of all Baltimore renters live in attached homes, as do around 37% of owners. Condominiums in large buildings with 50 or more units are also popular with local property owners.
Perkins Homes
Perkins Homes is the site of a major redevelopment effort in Baltimore. After the tearing down of a 1940s public housing project on the site, developers are working on a $30 million replacement. It will consist of affordable multifamily housing with community amenities and supportive services for families.
Patterson Park
"Patterson Park is a historic district just off a large 155-acre urban park that has long been the center of the communities that surround it.," Sachs said. "Centrally located, the area of brick, small, single-family row houses [dates back to the 1820s. After some troubled times following a mass migration out of the city in the 1960s, the neighborhood is staging a comeback."
Patterson Park has an urban-suburban feel and almost two-thirds of residents own their homes. Single-family homes are the most common residence type among homeowners. Attached homes are much more common than detached ones. Smaller condominium buildings of five to nine units are also popular.
Renters are split relatively evenly among buildings of all sizes. Larger communities of 20 or more residents are slightly more common.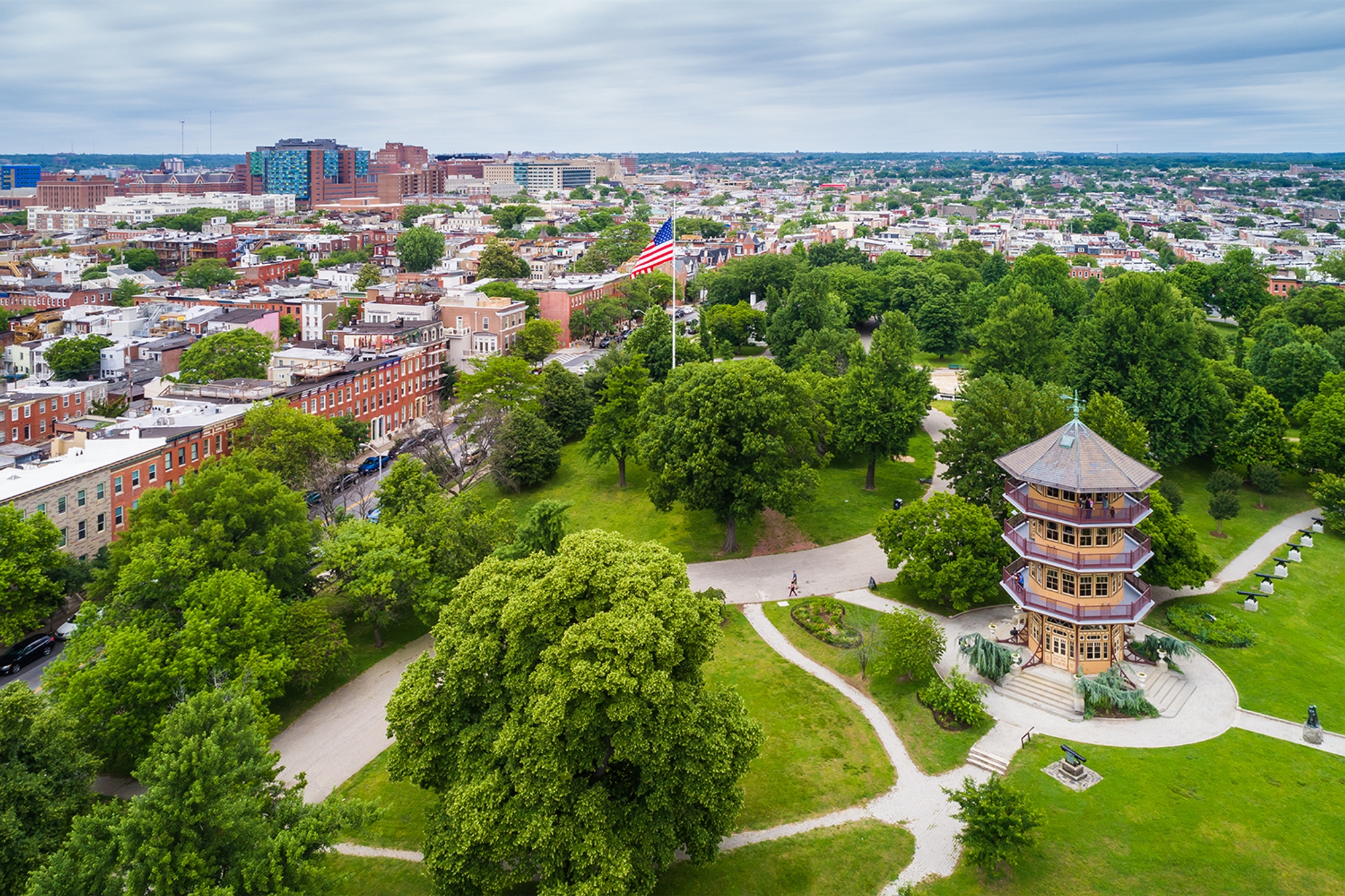 Jon Bilous/Shutterstock
McElderry Park
McElderry Park is a historic area where most homes were built before 1939. Approximately 62% of residents rent their homes.
The vast majority of renters live in attached or multi-unit residences. Larger buildings with 50 or more units are most common in the rental market. Homeowners predominantly live in attached or detached single-family homes.
Median home price in Baltimore
As of November 2022, the median listing price in Baltimore is $199,990 or $150 per square foot. The median sale price is $220,000—well below the national median of $370,700.
The median listing price is down 9.1% year-over-year and selling price is down 5.8%. There was a competitive buying peak in the summer of 2022 when homes sold for a median of $45,000 above listing. That gap has since narrowed, putting the city back into a balanced market.
Average rent in Baltimore
More than half of Baltimore residents rent their homes. The median monthly rent is $1,146, slightly below the national median of $1,184.
Baltimore rent has risen just 0.2% year-over-year. By comparison, the statewide increase was 2% and the nationwide increase was 4.6%. This puts Baltimore at No. 62 among the 100 largest cities in the US.
Moving to Baltimore
"Baltimore has a wonderfully eclectic quality that adds a colorful vibrancy," said Sachs. "People move to Baltimore for work or family. They stay because of community and quality of life. "
Part of what makes Baltimore unique is the variety you experience from one neighborhood to the next. Moving across town can feel like moving to a completely different city, and newcomers don't always expect those intense differences.
"A real estate professional in Baltimore can help you find out what each neighborhood offers," said Melanie Hartmann, the owner of Creo Home Buyers in Lutherville, Maryland. "It may be better to rent in a neighborhood before you buy, because you really won't be able to get a real feel for a neighborhood in Baltimore until you actually live in it."
Why do people move to Baltimore?
Baltimore is known for its rich history and cultural heritage, which is reflected in its many museums, historic sites and cultural institutions. Baltimore has a thriving job market, with many large employers, such as Under Armour and T. Rowe Price, having headquarters in the area.
Baltimore is home to numerous colleges and universities, including Johns Hopkins University, which attracts students and professionals in a variety of fields. Finally, the city has a vibrant arts and music scene, with many popular festivals, concerts and galleries, making it a great place for people who enjoy the arts.
Pros and cons of living in Baltimore:
Baltimore is a big city made up of unique neighborhoods. Homes are below the national median, and there are multiple top-rated high schools. Unfortunately, crime rates and overall living costs are higher than average, and Baltimore ranks among the worst places to raise a family.
Here are some of the things to keep in mind.
Pros of living in Baltimore:
Rich history and cultural heritage
Thriving job market with large employers
Numerous colleges and universities, including Johns Hopkins University
Vibrant arts and music scene
Access to a variety of outdoor recreational activities, such as boating, fishing and hiking in the surrounding areas
Convenient location on the East Coast, with easy access to major cities such as Washington DC, and Philadelphia by train, plane, bus and car.
Cons of living in Baltimore:
High crime rates in some areas
Relatively high cost of living
Limited public transportation options compared to DC or Philadelphia
Cold winters and hot summers
Limited housing options in some areas, with a shortage of new construction
Higher tax rates compared to some other cities in the area
Baltimore's key takeaways
"Unlike larger cities where the choices can be as overwhelming as it is easy to get lost in the crowd, Baltimore seems to have something going on every weekend where you can bump into friends and neighbors," said Sachs. "There is a healthy amount of choice and variety. After living here for just a few months, it is hard not to feel connected to your community."
Baltimore living is for families, couples and individuals from all walks of life. Whether you want a downtown feel or a more suburban environment, you can find the right neighborhood.